What Is Zoho Projects?
Zoho Projects is a cloud based project management software with over 200,000 customers worldwide. It helps you plan your projects, and execute them with perfection.
With Projects, you can assign tasks easily, communicate effectively with both your team and clients, be informed on all project updates, get detailed reports on work progress and deliver projects on time, everytime.
Who Uses Zoho Projects?
Teams of all sizes and industries that are looking for a PM tool to plan, track and collaborate on their projects.
Where can Zoho Projects be deployed?
Cloud, SaaS, Web-based, Android (Mobile), iPhone (Mobile), iPad (Mobile)
About the vendor
by Zoho
Founded in 1996
Phone Support
24/7 (Live rep)
Chat
Zoho Projects pricing
Starting Price:
£14.40/month
Yes, has free trial
Yes, has free version
Zoho Projects has a free version and offers a free trial. Zoho Projects paid version starts at £14.40/month.
Pricing plans
get a free trial
About the vendor
by Zoho
Founded in 1996
Phone Support
24/7 (Live rep)
Chat
Zoho Projects videos and images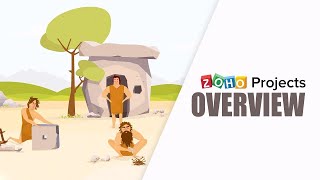 Features of Zoho Projects
Prathamesh M.
Tech Lead Manager in US
Verified LinkedIn User
Apparel & Fashion, 1,001-5,000 Employees
Used the Software for: 2+ years
Excellent tool for task management
Comments: My overall experience is great with Zoho projects, it works fine if given the right technology support. In past three years we have done multiple updates and customization on Zoho projects and they have worked well for us. I personally would recommend Zoho projects to others to built a very good project management tracking system.
Pros:
Zoho projects has been part of our organization from past 3 years. It is a very useful tool for project management. It has high importance in task management especially in tracking down deliverable in kanban projects. The user interface is very friendly and the dashboard is highly interactive. Milestones can be easily set and can be tracked throughout its completing period. Project lags, time delays, and bottlenecks can be identified easily in the system. This tool also helps to manage teams and individual tasks assigned to each person. Notifications can be enabled to track individual performances. Overall, this tool is multi-purpose tool that can perform wide range of tasks.
Cons:
Zoho projects are hard to customize. Its scalability is very limited to certain tasks. It is good in project management, but it fails to provide a communication channel between people. Chat windows lag a lot between communication and real time forums take lot of time to update. Zoho requires high internet bandwidth, slow internet creates problem with updates and Zoho starts lagging. Multi user portal has also lot of issues. Even multi user portal is a common feature. The feature creates issues with file sharing. It takes lot of time for file transfers.
Verified Reviewer
Strategy Prinicpal in US
Verified LinkedIn User
Marketing & Advertising, 2-10 Employees
Used the Software for: 1-5 months
Great solution for agency resourcing
Comments: We're very happy with the power of the solution and feel that it will support our growth. Getting the system configured and learning how to use it properly was a steeper curve than we anticipated.
Pros:
We evaluated tons of online solutions for managing our small agency's projects. Most would be good at one thing, but fall down in others. Zoho Projects allows us to see projects and tasks, capture timesheets, and view resource allocations across the agency. It may be slightly on the over-powered size for just the few of us, but we want a platform that can support our growth. This seems to be the one.
Cons:
The software seems to have a ton of features that we're still finding. It would be nice to have a way to make sure we're using it to it's fullest. For example, we were archiving tasks when they were complete but then realized that this process made it so timesheet hours couldn't be applied to those closed tasks. Adding a "closeout" custom status seemed to have solved it, but we'd love some info or training on best practices.
Alternatives Considered: Wrike
Reasons for Choosing Zoho Projects: We needed a solution that could manage tasks across multiple projects, provide resource allocation, and track hours of labor.
Switched From: Harpoon
Reasons for Switching to Zoho Projects: Cost
Verified Reviewer
Global IT Manager in Germany
Verified LinkedIn User
Automotive, 201-500 Employees
Used the Software for: 6-12 months
Excellent features and value
Comments: Excellent. The free trial is very robust compared to other trials. The personalization/branding is also nice.
Pros:
There are a ton of project management features that you find in most other PM software solutions. Zoho has bundled them into a convenient and well-priced package. We also appreciated adding another solution to our existing Zoho portfolio. I appreciated how it is not specifically built for software development, because Agile PM can be applied to all projects, not only development.
Cons:
Initial setup is a bit challenging for those with limited/no Project tracking experience. Overall, setup was reasonably intuitive. Additional "get started" training would've been helpful.
Alternatives Considered: Azure DevOps Services
Reasons for Switching to Zoho Projects: Better suited for general project management over more development-oriented solutions.
Amy W.
Operations Manager in US
Management Consulting, 11-50 Employees
Used the Software for: 1-5 months
Source: SoftwareAdvice
Do not get Zoho Projects!
Comments: Terrible.
Pros:
There is very little, if anything about this product that is likable. I guess, if pushed, I would say the calendar feature and the forum features are interesting but by no means makes up for the lack of features overall of Zoho Project. We are a small to medium business that recently, and regrettably, transitioned from Harvest to Zoho. There is quite a gap in pricing between the two platforms but you get what you pay for, mainly how many users you have. Zoho Project feels more like a bata test platform, then an actual product that should be live and used by any business. If you are doing very basic project management, like planning a wedding or a home renovation this tool would be good for you. But why would you pay for it when you can get any template on-line for free. The only other "pros" I could manage to list is their support. They have a help representative chat feature which is good and they are responsive. Unfortunately for them and mean most of it was used to inform me that "that feature is currently not available". Overall go with Harvest!
Cons:
Does not integrate with Quickbooks. Can not add basic client contact information. Can't view all invoices that are due or in draft form (they force you to use another one of their clunky platforms). The Zoho Dashboard is terribly unhelpful and uninformative. You can not run basic reports like; time reports for team members across projects, expenses, invoiced projects, etc. You can't even simply alphabetize Client Users, so as you add clients they are sorted by when you entered them, only. You can only export information in one format and the reports provide very little (helpful) information; for example if you want to export your Clients. The report that is generated only provides the internal Client ID#, Name, User Name, Email Address, Role, Invoice. It does not provide State/End Dates, what Projects are associated with Clients, any Budget information, and so on, and so on. Invoice, Expense, and Time information are shown and available only through each individual Project. You can not see all invoices due, total amounts out standing, or time sheets across Projects and Clients. You are forced to click into each individual project to access that information and once again, the reports you are able to generate are very limited. I could go on about all the "cons" associated with Zoho Project but I don't have time.
Jordan H.
Software Engineer in Australia
Verified LinkedIn User
Telecommunications, 10,000+ Employees
Used the Software for: 2+ years
You can quickly delegate tasks, collaborate efficiently with all colleagues and partners
Comments: Zoho Projects, one of the best cloud-based program management and coordination tools, has an issue tracking app that facilitates networking and communication and speeds up project completion. Create a track of your activities using Zoho Projects' iOS mobile apps.
Pros:
A cloud-based initiative is a software creation activity that has more than one million customers worldwide. It enables you to effectively schedule and execute your activities. You can quickly delegate tasks, collaborate efficiently with all colleagues and partners, be mindful of all development reports, generate timely reminders of construction activity, and execute project schedules at a certain time of events. With a huge range of third-party frameworks, projects would be an excellent fit for the workplace.
Cons:
Zoho prototypes are difficult to customize. Its scalability is somewhat constrained for certain features. It is helpful for project creation, but it lacks a forum for individual communication. People do not like to rely on Zoho tasks to switch works to Excel in order to communicate with others.