Who Uses SeoToaster CRM?
SeoSamba's CRM is used by franchise brands, small and medium-sized businesses, as well as private-labeled by established marketing solution providers.
What Is SeoToaster CRM?
SeoToaster CRM is ideal for any website-centric organization or campaign, as it ships with its own mobile friendly landing pages builder, full blown Content Management System, and web store supporting digital downloads.
Track ad campaigns effectiveness, behaviors across sites, downloads, chat conversations, phone calls, open emails & attachments, store amounts transactions, and more. Ships with workflows, drip campaign etc.
SeoToaster CRM Details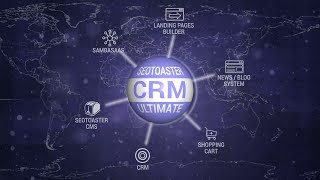 Play
Compare SeoToaster CRM with similar products
Starting price
US$49.00/month
US$25.00
US$20.00/month
US$22.00/month
SeoToaster CRM Features
API
Activity Dashboard
Calendar Management
Campaign Management
Chat/Messaging
Collaboration Tools
Commenting/Notes
Content Library
Content Management
Customisable Branding
Customisable Forms
Customisable Templates
Customization
Design Management
Drag & Drop
Electronic Payments
Email Management
Email Marketing
File Sharing
Forms Management
Group Posting
Image Library
Landing Pages/Web Forms
Moderation
Multi-Channel Communication
Multi-Channel Marketing
Multimedia Support
Order Management
Post Management
Preview Functionality
Real Time Notifications
Real-time Updates
Reporting & Statistics
Reporting/Analytics
SEO Management
SSL Security
Search/Filter
Shipping Management
Shopping Cart
Social Advertising
Social Media Integration
Template Management
Third Party Integrations
Video Management
Visitor Tracking
WYSIWYG Editor
Web Traffic Reporting
Website Analytics
Website Management
eCommerce Management
API
Activity Dashboard
Activity Management
Activity Tracking
Alerts/Notifications
CRM
Calendar Management
Calendar Sync
Calendar/Reminder System
Campaign Management
Contact Database
Contact Management
Customer Database
Customisable Reports
Customisable Templates
Customizable Fields
Data Import/Export
Document Storage
Drag & Drop
Email Management
Email Marketing
Email Templates
Forecasting
Interaction Tracking
Internal Chat Integration
Lead Capture
Lead Generation
Lead Management
Lead Qualification
Marketing Automation
Mobile Access
Opportunity Management
Pipeline Management
Projections
Quotes/Estimates
Referral Tracking
Reminders
Reporting & Statistics
Reporting/Analytics
Sales Forecasting
Sales Pipeline Management
Sales Reports
Sales Trend Analysis
Segmentation
Social Media Integration
Task Management
Territory Management
Third Party Integrations
Workflow Management
API
Access Controls/Permissions
Activity Dashboard
Activity Tracking
Alerts/Notifications
Approval Process Control
Asset Management
Audio File Management
CRM
Calendar Management
Campaign Management
Collaboration Tools
Commenting/Notes
Configurable Workflow
Content Library
Content Management
Content Publishing Options
Customisable Branding
Customisable Forms
Customisable Templates
Document Classification
Document Management
Document Storage
Drag & Drop
Electronic Forms
Email Management
Engagement Tracking
File Management
Filtering
Forms Management
Full Text Search
Image Editing
Metadata Management
Multi-Language
Reporting & Statistics
Role-Based Permissions
SEO Management
Search/Filter
Single Sign On
Social Media Integration
Tagging
Template Management
Text Editing
Third Party Integrations
User Management
Version Control
Video Support
WYSIWYG Editor
Website Management
Workflow Management
API
Activity Dashboard
Activity Tracking
Ad hoc Reporting
Alerts/Notifications
CRM
Calendar Management
Campaign Management
Commission Calculations
Commission Management
Communication Management
Content Management
Credit Card Processing
Customer Database
Customisable Reports
Data Import/Export
Distributor Management
Electronic Payments
Email Distribution
Email Management
Inventory Management
Invoice Management
Lead Capture
Lead Generation
Lead Management
Member Accounts
Multi-Channel Marketing
Multi-Country
Multi-Currency
Multi-Language
Online Payments
Order Management
Payments Disbursement
Prospecting Tools
Real Time Analytics
Real Time Reporting
Referral Tracking
Reporting & Statistics
Rewards Management
Sales Reports
Sales Tax Management
Shipping Management
Social Media Integration
Social Promotion
Template Management
Third Party Integrations
Tiered Commissions
Transaction Monitoring
User Management
eCommerce Management
API
Access Controls/Permissions
Accounting Integration
Activity Dashboard
Activity Tracking
Approval Process Control
Audit Trail
Automated Quoting
Billing & Invoicing
CRM
Calendar Management
Cataloguing/Categorisation
Client Portal
Contact Database
Contact Management
Contract/License Management
Customer History
Customisable Branding
Customisable Reports
Customisable Templates
Customizable Fields
Digital Signature
Discount Management
Document Management
Document Storage
Document Templates
Drag & Drop
Electronic Payments
Electronic Signature
Email Management
Estimating
Inventory Management
Invoice Management
Order Management
Price / Margin Management
Pricing Management
Product Catalogue
Product Configurator
Projections
Proposal Generation
Purchase Order Management
Quotes/Estimates
Real Time Data
Real Time Reporting
Reminders
Reporting & Statistics
Task Management
Template Management
Third Party Integrations
Workflow Management
API
Abandoned Cart Saver
Access Controls/Permissions
Activity Dashboard
CRM
Cataloguing/Categorisation
Credit Card Processing
Customer Accounts
Customer Segmentation
Customisable Branding
Customisable Forms
Customisable Reports
Customisable Templates
Customizable Fields
Data Import/Export
Data Synchronisation
Discount Management
Drag & Drop
Electronic Payments
Email Marketing
Email Templates
Inventory Control
Inventory Management
Inventory Tracking
Invoice Management
Multi-Channel Management
Multi-Currency
Multi-Location
Order Management
Order Tracking
Product Catalogue
Product Configurator
Product Ratings / Reviews
Promotions Management
Real Time Data
Refund Management
Reporting & Statistics
Returns Management
SEO Management
SSL Security
Sales Orders
Sales Trend Analysis
Shipping Management
Shopping Cart
Social Media Integration
Stock Management
Tax Management
Template Management
Third Party Integrations
eCommerce Management
API
Activity Dashboard
Activity Tracking
Alerts/Notifications
Audience Targeting
Brand Tracking
CRM
Calendar Management
Calendar/Reminder System
Collaboration Tools
Communication Management
Configurable Workflow
Contact Database
Contact Management
Content Management
Customer Database
Customer Engagement
Customer Social Profiles
Customer Support
Customisable Reports
Customisable Templates
Customizable Fields
Data Import/Export
Data Visualisation
Drag & Drop
Email Marketing
Email Templates
Email Tracking
Engagement Tracking
Lead Capture
Lead Nurturing
Live Chat
Marketing Automation
Mobile Access
Monitoring
Multi-Channel Social Integration
Reminders
Reporting & Statistics
Reporting/Analytics
Sales Pipeline Management
Search/Filter
Sentiment Analysis
Social Media Integration
Social Media Monitoring
Social Promotion
Tagging
Task Management
Third Party Integrations
Visual Analytics
Workflow Management
API
Access Controls/Permissions
Activity Dashboard
Activity Tracking
Alerts/Notifications
Auto Update
CRM
Chat/Messaging
Content Library
Content Management
Customisable Branding
Customisable Forms
Customisable Templates
Customizable Fields
Data Import/Export
Design Management
Drag & Drop
Electronic Payments
Email Marketing
Forms Management
Inventory Management
Landing Pages/Web Forms
Media Library
Multi-Language
Newsletter Management
Online Booking Tools
Online Store Builder
Order Management
Pre-built Templates
Promotions Management
Real Time Analytics
Real Time Editing
Real-time Updates
Reporting & Statistics
Reporting/Analytics
SEO Management
SSL Security
Shopping Cart
Social Media Integration
Survey Builder
Template Management
Third Party Integrations
Visitor Tracking
WYSIWYG Editor
Web Forms
Website Analytics
Website Integration
Website Management
Widgets
eCommerce Management
API
Activity Dashboard
Alerts/Notifications
CRM
Campaign Management
Cataloguing/Categorisation
Channel Management
Content Management
Credit Card Processing
Customer Accounts
Customisable Branding
Customisable Templates
Data Security
Data Synchronisation
Discount Management
Drag & Drop
Electronic Payments
Email Marketing
Inventory Management
Inventory Tracking
Kitting
Loyalty Program
Mobile Access
Multi-Channel Management
Multi-Channel Marketing
Multi-Currency
Multi-Location
Multi-Store
Order Management
Order Processing
Order Tracking
Product Data Management
Promotions Management
Purchase Order Management
Real Time Data
Reporting & Statistics
Retail Inventory Management
Returns Management
Reviews Management
SEO Management
Sales Orders
Sales Trend Analysis
Shipping Management
Shopping Cart
Social Media Integration
Template Management
Templates
Third Party Integrations
Website Management
eCommerce Management
SeoToaster CRM deployment and support
Support
Email/Help Desk
FAQs/Forum
Phone Support
Chat
Deployment
Cloud, SaaS, Web-based
Windows (Desktop)
Training
In Person
Live Online
Webinars
Documentation