What Is Wix?
Create a stunning, professional website for free with Wix website builder. We offer a few different ways you can build your site: Wix Artificial Design Intelligence, Wix Editor, & Wix Code. Whether you're creating a site for the first time or you're a pro, we've got you covered.
Wix ADI builds you a unique site with professional text, images & more. Wix Editor gives you design freedom with advanced functionality & easy drag & drop. And with Wix Code, you can create state-of-the-art site & apps.
Who Uses Wix?
Wix is available for everyone. No matter what you need a website for - or how techy you are - you can create your own stunning, professional website with Wix.
Wix Details
Wix
Founded in 2006
Wix pricing
Starting Price:
€4.50/month
No free trial
Yes, has free version
Wix has a free version and does not offer a free trial. Wix paid version starts at €4.50/month.
get a free trial
Wix Details
Wix
Founded in 2006
Wix videos and images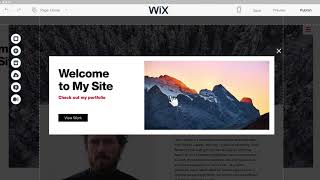 Wix deployment and support
Support
Email/Help Desk
FAQs/Forum
Knowledge Base
Phone Support
Chat
Deployment
Cloud, SaaS, Web-based
Android (Mobile)
iPhone (Mobile)
Kristie K.
Amazing Video Effects and Graphics! in US
Verified LinkedIn User
Entertainment, 2-10 Employees
Used the Software for: 2+ years
Perfect for Service-Related Businesses
Comments: Wix has been my favorite platform to promote my products but in 2021, I decided to switch things up and create a Shopify store with a domain name because Wix was not helping me generate sales at all. It became too pricey, too complicated, and the packages didn't offer discount options during the pandemic, so I had to hire a freelancer from Upwork. The Wix experts never communicated well with me, were slow when providing the service, and did not complete the project.
Pros:
My favorite part of the software is the videomaking tool. Along with the videos I create, I can post them in a template through Wix and send my newsletters to my subscribers and customers. Wix does a great job of keeping a track of my subscribers and having an organized analytics page. I don't think Wix is disorganized at all. It can be pricey for the different type of services to make my website stand out on Google search, but there are discounts from time to time.
Cons:
My least favorite part of Wix is how it is weak in sales. I had to create a Shopify store to promote the sales part of my business because Wix is more efficient for service-related companies. When I do use the videomaking feature, there aren't that many video templates to choose from. Instead, I am limited on the template designs. For music, it is endless, but I don't plan to use every type of audio in my videos. The other issue is price. I hired a freelancer from Wix to help me with my SEO and it was $100 for just linking SEO and I thought it was too pricey. I ended up using Upwork to hire someone else to help me promote my products. The freelancers signed up in Wix (also called Experts) are not good with communication and they are too expensive.
Alternatives Considered: Enterprise Suite and Shopify
Reasons for Switching to Wix: I decided to keep Wix but I don't see myself trying to generate sales on there. I have created a Shopify account to generate sales and income while my Wix will be used as a portfolio website. It is just used to generate traffic, not generate sales. The traffic I receive to Wix will be used to generate sales on Shopify.
Irma J.
CEO, Founder and Owner in US
E-Learning, 2-10 Employees
Used the Software for: 6-12 months
Wix is a Journey
Comments: It has been beneficial having Wix to be a nice platform to advertise my business and market. It is a decent program to you however I just wish that it was better. And if you're going to charge as much to charge at least have features in applications that actually work.
Pros:
I like that the Wix is easy to use after an experienced person walks you through how to use the system. I didn't find it a bit challenging at first with utilizing the features in finding out what I needed in the system to help me make the website best for our businesses needs. It did take about two months for me to really get well accustomed to using wicks his features that I need to use on a regular basis. However there are some features that we're not available immediately that my business does need to use so I ended up having to purchase another program in order to get what I needed out of it which is more costly in the long run. Because they do not have forms that function well for my schools needs, I had to make more of an investment. It also said that the zoom feature would now work well with wicks. I still have to screenshot a new code every week and send it to our clients for our weekly class for a group sessions.
Cons:
Zoom integration sucks. There are a lot of things that businesses need to be able to do to be functional and a lot of those things were not available on WIX. It would be nice for weeks to be a lot easier to use even for a new person learning how to use the system. I think that they charge a bit much for utilizing weeks considering all that Wix does not offer and you have to go out of pocket to purchase and do additional work to get what you need.
Alternatives Considered: WordPress and Weebly
Reasons for Switching to Wix: I wanted to test it out and see how well it would work. I also noticed that a lot of website designer's on five or had a lot more experience on Wix website as opposed to some other websites
Rayan M.
Youtubeur in France
Media Production, Self Employed
Used the Software for: 2+ years
Très bon site et super facile à utilisé pour les e-commerces
Comments: J'adore créé des sites avec wix pour vendre des objets pour mes abonnés YouTube le problèmes c'est que je n'est jamais de clients car ils penses à une arnaque vu que je prenais pas l'option payantes et qu'il y a marquer Wix dans l'url. Certains de mes (anciens) amis en on profité pour m'arnaquer en disant que si je leurs envoient un produits gratuit il pourrait me faire de la visibilités et aux final rien. Ce site à du potentiel on peut faire se qu'on veut dessus mais si on débourse pas d'argent personne ne connaîtra notre site et le verra.
Pros:
J'aimes beaucoup le fait qu'il y est une possibilités gratuites et ceux à durée indéterminé qui nous permet donc de l'utilisé gratuitement si l'on veut. Tout est à disposition on peut mettre pas mal de choses sur notre site et ceux même avec l'option gratuite, on peut avoir un site plutôt complet. On peut aussi mettre un planning à disposition et on peut aussi créé plusieurs pages qui seront liés chacune les unes aux autres ultra facilement. On peut aussi masquer, démasquer et supprimer certaines pages et articles si on veux les publiés, les améliorés ou tout simplement les supprimés. On peut aussi faires des sites super beau et super instructifs ont peut aussi modifier le fond on peut rajoutés des images personnalisés et on peut choisir si la tva est imposables ou pas sur nos produits on peut aussi faire des frais de livraison différent pour diverses pays. On peut aussi vendre des objets virtuelles tels que des livres, pdf... On peut aussi affiché des compteurs de combiens de gens sont venus sur cette pages des compte à rebours si par exemple si on fait des promotions/réductions. On fixent nous mêmes les prix ont peut aussi faire des achats test voir si tout se passent bien. Ont peut aussi mettre en place des emails automatique pour les boîtes mail. Ont peut aussi en créé pour les gens qui ont abandonné leur panier. On peut mettre un tchat rapide à disposition et plein d'autres options.
Cons:
Le problèmes le plus importants à mes yeux c'est que pour avoir un url personnalisé sans qu'il y est marquer wix il faut payé pareille pour si l'on veut attiré des clients pour boosté notre site il faut prendre l'offre Wix. Il n'y a pas de période d'essai et quand on veut ouvrir sa boutique en ligne avec 0€ on peut pas. Pareille si on ne veux pas de publicités sur notre site il faut prendre l'offre payantes. Du coup le gros moins de Wix c'est qu'il faut payer obligatoirement pour que sont sites soit vue par des gens et pour avoir plein d'autre possibilité.
Jonathan M.
Business in US
Health, Wellness & Fitness, Self Employed
Used the Software for: 6-12 months
Simple, Easy, fantastic price
Comments: Wix couldn't be simpler and easier to use. It is so affordable, so simple, and yet incredibly powerful. I had no idea how easy it was going to be when I was getting started, but now I'm a huge fan, and probably will be for life.
Pros:
The ease of use. It was so simple to set up and build a website, I had one online in a matter of 2 hours. On top of that, it was so affordable, that I had paid for 3 years of hosting, that cost me less than it would cost to have someone build a site, let alone host for 3 years. In other words, it's saved me thousands of dollars.
Cons:
Truthfully, I don't have any major complaints yet, because it's doing everything I've needed it to do. Perhaps I could say, it seems so feature rich that I could never fully tap into all of its powerful capabilities. The other downside might be down the road, if ever I needed to export my website to a different host, that might cause a few hiccups, but I'm locked in for another couple of years, so it's not a worry presently.
Alternatives Considered: WebsiteBuilder, Squarespace and GoDaddy Website Builder
Reasons for Choosing Wix: Because I wanted something faster, easier and less expensive.
Switched From: WordPress
Reasons for Switching to Wix: Ease of use, cost and a glowing testimonial from a fellow entrepreneur.
Jaze P.
Systems Administrator in South Africa
Verified LinkedIn User
Architecture & Planning, 2-10 Employees
Used the Software for: 1+ year
Where Would I Be Without Wix
Comments: I love using Wix. I couldn't be happier using Wix. Once I was done making my very first website I was pleased with the end result. I didn't struggle with anything, I got great support when I needed it and I would definitely recommend it to anyone who wants to build their very first website.
Pros:
When starting to make a website for yourself, by yourself, there is no better solution than Wix for a novice user. Create a professional looking website for your business in a couple of hours using the many templates offered by Wix without needing a coding background at all. Make beautiful, customizable websites with ease and at an affordable rate too. You can't go wrong with this platform, the customer support is so on-point, you'll be pleased with the service you get from them.
Cons:
I would like to see Wix improve on their SEO capabilities though, I sometimes don't rank as high in Google as I would like to so I use additional software to boost my web presence.
Alternatives Considered: WordPress
Reasons for Switching to Wix: I was a bit intimidated by the whole WordPress movement, plus I already knew someone using the Wix platform who was far from being tech-savvy yet had an awesome website that she created by herself... I had to give it a shot after that.