What Is Canva?
Design isn't just for designers. It's for anyone with ideas to share. Canva is the online platform that makes designing anything easy, for every individual and team. With thousands of professionally made templates to get you started, you can create, customize, and share your designs in a few clicks. From stickers to professional brochures, stunning videos to workplace presentations, it's never been easier to achieve your design goals.
Who Uses Canva?
Designed for anyone who needs to create. Canva has solutions for individuals, small businesses, enterprise, not-for-profit organizations, teachers and students.
Canva Details
Canva
Founded in 2012
Canva pricing
Starting Price:
US$12.99/month
Yes, has free trial
Yes, has free version
Canva has a free version and offers a free trial. Canva paid version starts at US$12.99/month.
Pricing plans
get a free trial
Canva Details
Canva
Founded in 2012
Canva videos and images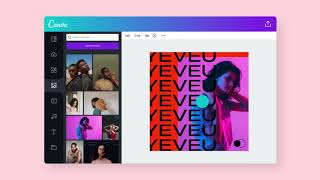 Canva deployment and support
Support
Email/Help Desk
FAQs/Forum
Knowledge Base
Chat
Deployment
Cloud, SaaS, Web-based
Mac (Desktop)
Windows (Desktop)
Android (Mobile)
iPhone (Mobile)
iPad (Mobile)
Daniel K.
Daniel in Ghana
Verified LinkedIn User
Health, Wellness & Fitness, 501-1,000 Employees
Used the Software for: 1+ year
Best graphic design tool for amateurs
Comments: Canva has made my life easier with it's easy to use design features. All you need to do is just choose your desired template and build on it to create your design. It has also helped me to save a lot of cost since am able to design ads for my business on my own with having to pay a professional to do it for me.
Pros:
Canva is so simple and easy to use unlike other graphic design tools. You have readily available templates that you can just tap on to help you create whatever design you desire. You don't need to be a professional in order to use canva as you have built in templates at your finger tips to help you unlike other design platforms where you have to start everything completely from scratch. We use canva at work to design fliers during events to create the awareness and I personally use canva to create ads for my affiliate marketing business as it is the simplest tool to bring to life my creativity.
Cons:
I have very little issues with regards to canva as it is a very amazing tool for designing. However my little reservation is that you need to get the paid version if you want the very professional and advanced features. Other than that I think canva is absolutely superb.
Monique M.
Accounting Officer in Jamaica
Accounting, 2-10 Employees
Used the Software for: 2+ years
Great for Posters
Comments: So far my overall experience have been great and I continue to use it daily.
Pros:
I like that it has a lot of templates available and I don't need to create my design from scratch, when I'm in a hurry.
Cons:
Not able to change a pictures feature like how you would be able to in Photoshop, which gives a cleaner work presentation . Such as erasing backgrounds , removing and adding objects
Josh B.
Managing Member in US
Verified LinkedIn User
E-Learning, 2-10 Employees
Used the Software for: 1+ year
A good start for beginners, but lacks features and originality for growing businesses
Comments: Overall, Canva has ben a great start for someone like me who is just learning the very basics of graphic design at all, but it lacks the features of more advanced softwares like Adobe and others.
Pros:
The best thing about Canva is tailored to beginners of graphic and web design or those without a "knack" for it. It provides a plethora of original, appealing, and professional-looking templates and designs to choose from and make your own, customizing as much or as little as you need. Tools and features are also easy to use.
Cons:
The only con is that sometimes all the templates and designs often star to look the same. They don't look entirely original, and you can tell by other posts on social media and throughout the web that these designs are often way too commonly used and sometimes even outdated in design features.
Samantha H.
Founder in Canada
Consumer Services, Self Employed
Used the Software for: 2+ years
I love Canva to design my pitch deck
Comments: Great use for pitch deck preparation for sure, and way lot more easier than MS Powerpoint.
Pros:
I started to use Canva for FB and IG template. They have a lot of selection of it. Then someone recommended me about the pitch deck template while I was struggling with MS Powerpoint.
Cons:
I wish they would have more options integrating with video or audio tools.
Kalee K.
Freelancer in US
Computer Software, Self Employed
Used the Software for: 6-12 months
Amazingly helpful device for all that identified with fast graphical result for online media
Comments: My general involvement in Canva is excessively great. It is a one stop answer for me. Regardless of whether I want to make content for web-based media stages or my online journals, I generally use Canva. As a result of its effortlessness, I could never contemplate any elective choices of Canva.
Pros:
What I like most with regards to Canva, particularly in the most current form, is the way that the application is natural. In the new form, all elements are isolated by tabs - or then again, in case the client likes, he can tap on a button and they all show up quickly. What I loved most with regards to this form is the likelihood to make recordings/activitys from pictures, other than having the option to make vivified stories for Instagram and even incorporate music! So, Canva remains my most prominent partner at work, because of its flexibility and capacity to incorporate new capacities, making work more deft and effective.
Cons:
It's not really instinctive how work areas and organizers and coordinated effort works for groups. I some of the time get confounded assuming I'm chipping away at a plan that is in my own work area or then again in case it's something others see. The application adaptation is additionally somewhat extreme to work with.