What is Panoply?
Panoply is the world's first Smart Cloud Data Warehouse. Panoply delivers the industry's fastest time to insights by eliminating the development and coding typically associated with transforming, integrating, and managing data. Panoply's proprietary AI technology automatically enriches, transforms and optimizes complex data, making it simple to gain actionable insights. Based in San Francisco & Tel Aviv, it is privately held & funded by investors Intel Capital, 500 Startups and Blumberg Capital.
Who Uses Panoply?
Data analysts, engineers, architects & scientists responsible for availability/usability of disparate data. Business operations, analysts, strategists who generate insights will find Panoply valuable
Where can Panoply be deployed?
Cloud, SaaS, Web-based
About the vendor
Panoply
Located in San Francisco, US
Founded in 2015
Phone Support
Chat
Panoply pricing
Starting Price:
US$639.00/month
Yes, has free trial
No free version
Panoply does not have a free version but does offer a free trial. Panoply paid version starts at US$639.00/month.
Pricing plans
get a free trial
About the vendor
Panoply
Located in San Francisco, US
Founded in 2015
Phone Support
Chat
Panoply videos and images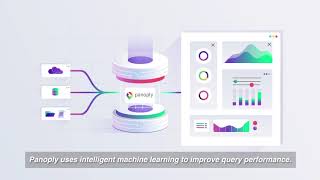 Features of Panoply
API
Customer Database
Data Analysis Tools
Data Blending
Data Capture and Transfer
Data Cleansing
Data Connectors
Data Discovery
Data Integration
Data Migration
Data Quality Control
Data Security
Data Storage Management
ETL - Extract / Transfer / Load
Match & Merge
Metadata Management
Reporting/Analytics
Search/Filter
Nathan patrick T.
Chief Information Officer in US
Verified LinkedIn User
Health, Wellness & Fitness, 5,001-10,000 Employees
Used the Software for: 1-5 months
Panoply gets the job done!
Comments: The support team behind Panoply is very helpful. We've used the on-site chat function to get immediate help. We've also submitted questions through traditional routes like email. All of which were answered quickly.
Pros:
The speed to solution is a big win for us. We were able to get a full data pipeline up in running in less than half a day. That's with various data sources and incremental refresh. The UI is easy to use.
Cons:
There aren't really any cons. The platform is in its infancy and I can tell that the team is listening to user feedback and already making updates.
Alternatives Considered: Azure Synapse Analytics, Looker, Mode and SAP HANA Cloud
Reasons for Choosing Panoply: Snowflake was too costly and still required in-depth coding and platform knowledge to quickly spin up a data pipeline.
Switched From: Snowflake
Reasons for Switching to Panoply: The price was perfect and the features met our needs.
Saurav C.
Research Assistant in US
Verified LinkedIn User
Environmental Services, 5,001-10,000 Employees
Used the Software for: 1+ year
Helped me immensely with analyzing netcdf data files
Comments: I am working with Geographical data that has latitudes, longitudes and a variable I am trying to analyze. This is a great tool to have for such data structure.
Pros:
I was introduced to Panoply by a colleague. I was trying to analyze a bunch of climate variables that were in netcdf format. Before I could write a code in Matlab to analyze the data, I needed to know the data structure. For this I have used a combination of F77 and Matlab in the past. However, I wanted to exclude Fortran and have a more convenient way of knowing the basic data structure. Matlab was more powerful with the actual analysis but not with the pre processing. This is where Panoply came in handy. All I had to do was upload the netcdf data file directly into panoply and boom. It gave me the basic structure that includes the number of data points, latitudes and longitudes of the data points and other essential details I needed.
Cons:
I did not come across any problem in particular for the 2+ years I have used Panoply. Sometimes, It did take a little long to load it if the netcdf file I was working with was a large file but it was not a big deal. Panoply actually was immensely helpful in knowing the data structure of the variable type for which I followed a much more complex procedure in the past before I used Panoply.
Computer Software, 2-10 Employees
Used the Software for: 6-12 months
Customer service is great until you cancel
Comments: Decent product, overpriced for it's function, the support team and customer service team need to get their act together.
Pros:
We used Panoply to ingest DynamoDB data and send it to the analytics platform for intellegence. The software worked and functioned fine, our we had a simple use case, but it never failed us.
Cons:
The pricing was really steep for our simple use case and didn't bring the value that the price tag suggests. Ultimately we found a service that is 40% the cost that suites our needs. When I went to cancel there is no unsubscribe button, I had to hunt for a cancellation email address. After going back and forth with the director of customer service, I finally got it cancelled. However, they threw a 30-day notice clause at us causing us to pay an extra 50 days for a product we are not using. Really bad form in my opinion.
Panoply Response
9 months ago
Hi Matt, Thank you for your review. We value feedback from all of our customers. I am glad that you had a good experience with our platform and that our platform allowed you to get some insights. I am sorry about your experience with the cancellation process. While we are disappointed when one of our customers leaves, we aim to make the process as simple as possible by following the terms of the signed contract. One of the terms is our requirement to provide 30 days' notice before the next renewal date. We state this in our terms and conditions but apologize for any misunderstanding, and we will work to make that part of the agreement clearer. We wish you all the best and hope that we can work together in the future.
Noam P.
Data Analyst in Israel
Information Technology & Services, 11-50 Employees
Used the Software for: 2+ years
Panoply is a great product that helps in WH management as well as optimization.
Pros:
Query optimization is great and all behind the scenes. Views automatic materialization is great and enable me to create very complicated views without considering runtime. support representatives are very responsive and usually very helpful. In general, very flexible company that always to get better and answers it's clients needs
Cons:
Web platform can be built better Materialization processes have some problem sometimes (downtime) and are not visible properly on the platform
Adir R.
Co-Founder & CEO in Israel
Verified LinkedIn User
Used the Software for: 2+ years
A great service to connect all your data sources to and analyze them together
Pros:
It's really easy to start and add various data sources. You can then create connections between data sources and start building custom reports that show you insights and valuable data.
Cons:
The biggest con I can think about is the lack of built-in visualization tools. At the moment if you want to see your data visually you must use an external software. Hoping they would get around to adding it soon!