What is TurboCad?
TurboCAD is an advanced general-purpose CAD product for design, drafting, detailing, and modeling. The TurboCAD line of products appeals to design professionals and others interested in power mechanical engineering and architectural design capabilities, at attractive and affordable prices.
TurboCAD's powerful tools for 2D or 3D design include 2D parametric constraints, 3D solid and surface modeling, photo-realistic rendering and materials, and extensive CAD and graphics file interoperability.
Who Uses TurboCad?
Designed to assist architects, interior designers, and mechanical engineers with 2D and 3D computer-aided designing, using dimensioning, constraints, rendering, surface and solid modeling.
Where can TurboCad be deployed?
Mac (Desktop), Windows (Desktop)
About the vendor
IMSI Design
Founded in 1983
Chat
Countries available
United States
About the vendor
IMSI Design
Founded in 1983
Chat
Countries available
United States
TurboCad videos and images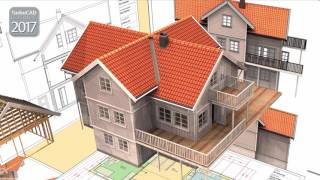 Compare TurboCad pricing with similar products
Features of TurboCad
2D Drawing
3D Imaging
CAD Tools
Data Import/Export
Design Analysis
Manufacturing Design Data
Presentation Tools
Reporting/Analytics
Kendra
Web Designer in Colombia
Verified LinkedIn User
, 11-50 Employees
Used the Software for: 1+ year
the services offered are very good and focus on helping the client in all possible ways
Pros:
I think the way to treat customers and how to help them is great, the services offered by TurboCad Professional are so wide and varied that they cover everything, any customer will be satisfied when working with TurboCAD Professional and I do not doubt it, the services offered are very good and focus on helping the client in all possible ways, it is worth choosing TurboCAD Professional and I do not regret having done it, nothing like working with a company that cares about the concerns and well-being of the client as TurboCAD Professional does ...
Cons:
Honestly leaves you very pleased and I leave without any complaint or criticism. I only have good comments about it since I'm leaving with a great image of this company, I will really go back to work with it, 100% worth it. Do not doubt this and above all do not think about it, it is one of the best in its scope. I leave with a smile on my face, since the services of TurboCAD Professional left me satisfied and even beyond that, it seems to me that it is a company that knows what its customers want and it proves it !! VERY RECOMMENDED!
Duane
Designer in South Africa
Architecture & Planning, 2-10 Employees
Used the Software for: 1+ year
TurboCAD Pro for ultimate comfort of Design
Comments: Generally the 2D and 3D software of TurboCad is quiet an advanced system and would recommend it over the more expensive types since it is a full house and attracts the more novice designer. I use the software to implement architecture and furniture design mostly and since I have started using the software have more than adequate response to the agility of TurboCad Pro for the value that it is priced at, similar if not more aesthetically pleasing than AutoCad for me anyway and all the tools are easy to find and manipulate which I then rate TurboCad Pro 7 out of 10
Pros:
Intuitive and easy to use, much more slim design features than AutoCAD, I use the software with ease but it can take some time mastering all the features, I enjoy working with Turbocad Pro because of its slick ease of use with drawing tools, great for architecture, product design, furniture design, and even engineering, mechanical design . The script in 2D drawings is easy to understand and the 3D features render seemlessly even with 4Gig RAM, love this software
Cons:
The software is a bit sluggish when it comes to 3D. The add -ons can be a thing to master but practice makes perfect with frequently saved drawings you can go back and edit layers easily, but not so easy when you haven't already saved for a while. The help centre is abit on the negative side because it can give vague explanations that more experienced users will comprehend but for the novice it can be challenging to understand.
Micalen
Freelancer in South Africa
Computer Games, Self Employed
Used the Software for: 1+ year
TurboCAD: Powerful 3D manipulation tool.
Comments: Overall I would say that TurboCAD is a very powerful tool that will allow users to create and manipulate 3D objects. It has a pretty good Photorealistic render and a whole lot of features and tools. This is a software you will need to learn to use at first.
Pros:
TurboCAD is a very powerful 3D tool. Its physics engine and the realistic ways materials and especially metals can be manipulated is rather impressive. I use TurboCAD for modelling more technical assets for 3D games as TurboCAD can register all the folds and twists in models. The software has photorealistic rendering which supports many materials. This isn't as realistic as some other software but it gives me a good understanding of how light will warp and react to my models.
Cons:
TurboCAD is a very technical software and as such is can be overwhelming to first time users. But this can change as you learn. The UI isn't the most user-friendly. Renders can take a bit of time to render depending on how complex the geometry is.
Machinery, 2-10 Employees
Used the Software for: 2+ years
TurboCAD is broken
Comments: I bought the latest version of TurbCAD in 2012 as an alternative to the very pricey AutoCAD and Solid Works programs. It took me a few years to learn the program proficiently and I upgraded every year through 2015 until they began a subscription based program which turned me off upgrading until I bought a new work station and I found TC2015 wouldn't run correctly on it. Then after upgrading to the latest version in hopes of fixing the problem I find that the software no longer works. I am very pissed. I make my living designing tooling and I am in the middle of many projects now and it is taking me exponentially longer because the software is literally broken. No body has a solution and there is no support at IMSI.
Pros:
Before I bought a specially design for CAD computer (MSI 32 gig ram SSD) I ran TurboCAD 2015 on a Toshiba Quad laptop and it ran fine other than being very slow. Once installed on a 2019 version MSI designed specifically for CAD I lost all the most important functions I relied upon like Conceptual Selector, editing nodes, fence mode plus it stopped rendering. I upgraded to TC2019 and I am still missing all those tools plus a lot more. They broke the software and they don't have a clue or the inclination to fix it.
Cons:
Very, very, extremely slow especially to render. Earlier versions such as Pro 20 did not have these problems
James R
Project Manager in UK
Renewables & Environment, 2-10 Employees
Used the Software for: 2+ years
Full featured affordable 2D/3D CAD software
Comments: Been using this software in various versions for 10+ years for architectural drawings. First CAD software I ever used when transferred from a drawing board and pens. Very happy with TurboCAD and have never considered changing to anything else.
Pros:
Extremely affordable 2D/3D CAD software when compared to alternatives. One time payment for licence. Full featured software to suit pros but also easy learning curve for beginners. Supports a wide range of import/export file formats so very flexible. Well supported by knowledge-base and video tutorials as well as active user forums.
Cons:
User interface appearance is probably a bit dated but apart from that not a lot.