What is McCormick Electrical Estimating?
For over 40 years, McCormick Systems understands time is money and our company goal is to make contractors profitable and productive. Our Electrical Estimating software with Design Estimating Pro delivers solutions needed to estimate and design build right at your fingertips. McCormick's software is a valuable tool for contractors of all sizes and trades. Designed by contractors, this simple to learn program gives you power to estimate easily and quickly with consistently accurate results.
Who Uses McCormick Electrical Estimating?
McCormick Systems provides estimating, project management and time & material billing software for the Electrical, T&D and Low Voltage trades.
Where can McCormick Electrical Estimating be deployed?
Cloud, SaaS, Web-based, Mac (Desktop), Windows (Desktop), Windows (On-Premise), Linux (On-Premise)
About the vendor
Foundation Software
Located in Strongsville, US
Founded in 1985
Countries available
United States
About the vendor
Foundation Software
Located in Strongsville, US
Founded in 1985
Countries available
United States
McCormick Electrical Estimating videos and images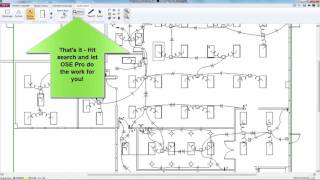 Compare McCormick Electrical Estimating pricing with similar products
Features of McCormick Electrical Estimating
2D Drawing
Annotations
Assembly Takeoff
Audit Trail
Bid Management
Billing & Invoicing
Bills of Materials
Change Order Management
Cost Database
Customisable Templates
Data Import/Export
Document Management
Electrical Estimating
Electronic Plans
For AEC Industry
For Commercial and/or Industrial Electrical Contractors
Historical Database
Issue Management
Job Costing
Project Management
Proposal Generation
Quotes/Estimates
Takeoff
What-if Analysis
Work Order Management
Alternatives to McCormick Electrical Estimating
Reviews of McCormick Electrical Estimating
Bill A.
Plumbing Estimator in
Construction, 11-50 Employees
Used the Software for: 1-5 months
Source: SoftwareAdvice
McCormick Estimating
Comments: I have been using an estimating program to help with my Plumbing Estimation since 1990. I had previously used (2) other types of programs before I decided to try the McCormick 4000 Platinum system. I began working for this Plumbing Company in March of this year, and this Company was not using any type of estimating program. Our first order of business was to begin a search for what appears to us to be the best system on the market. We bought the McCormick System in April and I have been using it since the day we received it. Since I have been using estimating take-off systems for around 25 years, the transition to this system was extremely easy and I have not missed a beat. In the 6 + months that I have been using this system I have learned some of the tricks to navigating the system which is very easy.
Pros:
Ease of learning how to use this product. They have a very good video tutorials that explain the steps and procedures for how to use this system. Granted, I personally am very familiar with estimating programs, so this transition from the program that I had most recently been using was very easy. I do believe that even if I had not been familiar with estimating programs that the video tutorial, which is very easy to follow, would walk me through how to get set up. McCormick also has a very reliable support system if you have any troubles.
Cons:
I have used (3) different systems over the last 25-years and the only issue I have is that there are types of materials that we may may be using occasionally that are not in the system. These are mainly related to some of the systems we get into for the pipefitting side. This applies to all of the systems I have used. I also wish that these systems had more of the site utility materials in their programming. In comparing McCormick to the other systems that I have used, their library of materials is definitely the most complete and the have a fantastic assembly library.
Jas N.
Project Manager in
Electrical/Electronic Manufacturing, 51-200 Employees
Used the Software for: 1-5 months
Source: SoftwareAdvice
McCormick Vs. Accubid
Comments: After recently aquiring this software for our Company, I couldn't feel more confident with our decision. As with most people, our choice came down to either Accubid or McCormick. Both are great programs but we decided to go with McCormick because it is cheaper and does essentially everything Accubid does. Further we were told that McCormick support is exceptional and so far that has held true. They are extremely fast at helping us, (almost instant) and we have had zero issues that they haven't been able to solve for us in minutes. Since the setup and learning curve of McCormick and Accubid are initially pretty large, we believe that the help and support we are getting from McCormick at no extra cost is exceptional. They truly care about our needs and help us achieve a smooth transition. PS. We are located in Canada and we have no issues with the McCormick system and their database.
Pros:
-Exceptional Customer Service -Only need one program to run everything. Whereas you need 3 separate licences and programs with Accubid to get the complete experience. -Cheaper by quite a bit than Accubid if you consider the additional programs you must purchase. (McCormick has built in change order management) -Easy 5 step Bid process with easy to use On screen take off built in. -Free upgrades for the first year and significant discounts thereafter.
Cons:
-Operates on a 32-bit system which is outdated so may have difficulty installing on 64 bit system if you are not tech savvy. Easily solved with McCormick support though. -Database is not as extensive as Accubid, but we have to modify assemblies anyway to suit our needs so this wasn't a big concern. -Lack of refine feature in Auto-count which Accubid has. (This allows for refined search to weed out unwanted fixtures faster.) Therefore Accubid autocount is better than McCormick but if you play around with match % and set it closer to 80% we get no issues.
Electrical/Electronic Manufacturing, 11-50 Employees
Used the Software for: 2+ years
Source: SoftwareAdvice
Very large and versitile
Comments: If we didn't have so much already invested, I'd try a different system. My estimators don't want to go through the learning process to change.
Pros:
Large program, not difficult to learn. Having our business in Phoenix and them being in the Phoenix area cuts the cost of training down.
Cons:
Setting up initially takes a bit of time. Every time they come out with an updated version it has had lots of bugs and problems. The advised us that we would save a lot of time on estimating going with "On Screen Take-off" and it was the opposite. It cost us a lot of time and was a TOTAL WASTE OF OUR TIME AND MONEY! They didn't care when I called and talked to them about it.
Electrical/Electronic Manufacturing, Self Employed
Used the Software for: 2+ years
Source: SoftwareAdvice
Owner/User for 38 years
Comments: I purchased the DOS Program in 83 License No [SENSITIVE CONTENT] had just bought back the program from En-Data. I re-wrote the database 84-86, expanded the database in the Windows program, I continue to expand and re-fine the program while continuing to use all the DOS commands that the program contains, the DOS program was all keyboard commands and input, no mouse so takeoff is very fast, that background plus windows makes this program 2nd to none. As a freelance estimator my estimate needs to tell a story with little interaction with the client and it delivers every time. I have used the program for jobs as small as a bathroom renovation to a 42 mil data farm with equal ease. I recommend it to anyone who is looking for a program that is fast, accurate, and powerful .
Pros:
Flexibility, able to create and takeoff assemblies on the fly, ability to count fixtures, devices, etc from the keyboard, create extension reports as needed, multiple bid summaries, unlimited workspace buttons, transfer takeoff directly to MS Project for scheduling, easy pricing updates, ability to extend to MS Excel
Cons:
None that I can find maybe tech support might be a little expensive
Electrical/Electronic Manufacturing
Used the Software for: 1-5 months
Source: SoftwareAdvice
So far, so great!
Pros:
While I am still learning my way around the software, my best impression lies with the service of this company. Before I even purchased the product, I was given an unexpected amount of time and attention to have all my questions answered. Currently, if I am having trouble navigating the system, I have found the tech support to be extremely and appropriately responsive. Even the representative who closed the sale on my system remains in contact and available if needed. That is unheard of in my customer service experience and greatly appreciated.
Cons:
I have had to perform frequent updates with the system either as technology has changed on my end or theirs. While this is mildly inconvenient, I do feel like I have a product that is always up to date. These updates or issues have always been dealt with promptly and with little effort on my part so it is really not a complaint but an observation.