What Is Smartlook?
Smartlook is a qualitative analytics solution for web and mobile helping over 200,000 businesses of all sizes and industries answer the whys behind users' actions. Why do users churn, or why aren't they using that feature? Eliminate the guesswork: always-on visitor recordings and heatmaps show real user behavior, while automatic event tracking and conversion funnels reveal trends in behavior. Not just numbers and graphs, Smartlook tells you why users behave the way they do.
Who Uses Smartlook?
SMBs, E-Commerce sites, B2B vendors, Web design agencies, UX, Marketers, CRO specialists
Smartlook Details
Smartlook
Founded in 2016
Smartlook pricing
Starting Price:
US$31.00/month
Yes, has free trial
Yes, has free version
Smartlook has a free version and offers a free trial. Smartlook paid version starts at US$31.00/month.
Smartlook Details
Smartlook
Founded in 2016
Smartlook videos and images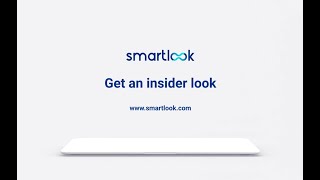 Smartlook deployment and support
Support
Email/Help Desk
FAQs/Forum
Knowledge Base
Phone Support
Chat
Deployment
Cloud, SaaS, Web-based
Android (Mobile)
iPhone (Mobile)
iPad (Mobile)
Cynthia R.
Customer Service Representative in US
Verified LinkedIn User
Information Services, 10,000+ Employees
Used the Software for: 1+ year
Smartlooked for awhile now
Comments: Smartlook has given time management a new definition. It allows us to save tremendous time and work more efficiently.
Pros:
So we've been using Smartlook for some time now and I always thought it was a decent program. Having just gone through an entire tax season with almost every call utilizing this tool, it deserves a second view so to speak. Smartlook allows tech support or agents (in my company) to share screens with their customers. We can see their mouse movements, help them to navigate through the various options and features and troubleshoot errors by literally putting our eyes on it. It works by having the customer provide a code given on the website and this code allows access to their screen through Smartlook. Agents and customers alike have come to rely heavily on Smartlook to help get the support they need and get it in a timely manner. It makes a world of difference when you can see the screen, identify the issue and solve it all at once rather than take precious minutes and hours trying to describe what is going on and another hour trying to describe how to fix it.
Cons:
The only thing I can say I least like about this software is that you can only screenshare within the website. Unlike another competition, you cannot screen the customers complete computer screen. If a customer wants to minimize a screen so you can see a document on their computer, for instance, you can't. In my line of work its not a deal breaker at all because the majority of the workflow is within the website.
Smartlook Response
3 years ago
Thanks for your review! This review is not related to Smartlook but more to Turbotax. Please change this, Lukas
Chryso S.
Founder & CEO in Cyprus
Marketing & Advertising, 2-10 Employees
Used the Software for: 1-5 months
Great for UX optimisation
Comments: We are generally loving so far the functionalities it offers to our team to be able to understand the digital behaviour of our users with our beta tool
Pros:
The functionalities it offers, especially when starting as a freemium user. The UX is simple, automatically tracking important events that can be used to set up a funnel, the fast forward option and the highlighted elements you can review, etc.
Cons:
We are not using the Heatmap functionality, and we believe there can be an improvement on that feature. We are using a separate provider for that.
Alternatives Considered: Hotjar
Reasons for Switching to Smartlook: It had better options as a freemium user and also better UX for the video tracking element
Smartlook Response
last year
Thank you for your feedback and nice words! I will share it with our development team. - Tomas
Aliya W.
General Accounting Head - GCC. & Regional Expert IMEA in US
Verified LinkedIn User
Consumer Goods, 10,000+ Employees
Used the Software for: 1+ year
Great way of deriving customer insights
Comments: Overall I am having an amazing experience of using this tool. This software has provided ways to the users like never before in terms of user behavior. This is a software that just feeds and records all of the users surfing over websites and in mobile apps which is a great thing because this innovative feature allows users to inculcate and derive information by filtering out millions of recordings in absolutely no time.
Pros:
Moving on to the pros of this platform, this software is a great solution due to so many things. First of all, the heatmaps within the software are so useful. Moreover, this software is always showing important information like IP addresses and even country data on the user interface so that it gets easier for the users. Also, this platform provides an easy way of recording all of the user sessions which I find very useful and insightful which can help me in the later stages when it would come to explore consumer insight.
Cons:
The mobile applications need more improvement in the sense that new updates are required which work well with phones as this can facilitate the overall experience a lot and can take the user experience a few notches higher. Moreover, the dashboard needs to be improved as well so that the user interface feels more convenient and easy too.
Information Technology & Services, 2-10 Employees
Used the Software for: Free Trial
DX Heroes review
Comments: Smartlook has a clean UI and it's easy to set up. I wouldn't say I like the blocking page after the trial ended because I wanted to show SmartLook to my colleague first before we decide if it has enough value for our business.
Pros:
It's better than HotJar and I want to support Czech startups instead of foreign startups. :) The UI is much better than in HotJar.
Cons:
I am still not sure if the first plan has suitable value for the money. I really appreciate the extended trial period.
Alternatives Considered: Hotjar, Intercom, Google Analytics and HubSpot Marketing Hub
Reasons for Choosing Smartlook: Support Czech startup; better UI
Switched From: Hotjar, Intercom, Google Analytics and HubSpot Marketing Hub
Reasons for Switching to Smartlook: Czech company, friendly UI/UX and good value for the product (but not yet for us).
Firoz M.
Head of Product in United Arab Emirates
Leisure, Travel & Tourism, 2-10 Employees
Used the Software for: 6-12 months
Best Tool to Understand Customer Journey!
Pros:
Smartlook is very easy to integrate in multiple ways and Easy to use.
Cons:
I wish Smartlook bring Micro Survey as a new feature which can be a good mix in order to understand customer pain points.