What is Zendesk?
Zendesk is the only complete customer service solution, that is both easy to use and scales with your business. On average, companies using Zendesk increase customer satisfaction by 25% and agent productivity by 30% - at any scale. All your customer interactions live in a single, dynamic interface with features like web widgets, pre-defined ticket responses, and a full customer history. Get up and running quickly, and expect to see results even faster.
Who Uses Zendesk?
Over 160,000 companies rely on Zendesk's customer service solution to build the best customer experience. Our software is powerful and flexible, and scales to meet the needs of any business.
Where can Zendesk be deployed?
Cloud, SaaS, Web-based, Android (Mobile), iPhone (Mobile), iPad (Mobile)
About the vendor
Zendesk
Located in San Francisco, US
Founded in 2007
Phone Support
24/7 (Live rep)
Chat
Zendesk pricing
Starting Price:
US$19.00/month
Yes, has free trial
No free version
Zendesk does not have a free version but does offer a free trial. Zendesk paid version starts at US$19.00/month.
Pricing plans
get a free trial
About the vendor
Zendesk
Located in San Francisco, US
Founded in 2007
Phone Support
24/7 (Live rep)
Chat
Zendesk videos and images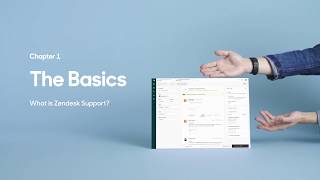 Features of Zendesk
Account Alerts
Account Management
Activity Dashboard
Activity Tracking
Alerts / Escalation
Alerts/Notifications
Appointment Management
Archiving & Retention
Asset Tracking
Assignment Management
Auto-Responders
Automated Routing
CMDB
CRM
Call Centre Management
Call Logging
Call Monitoring
Call Recording
Call Routing
Call Scripting
Campaign Management
Cataloguing/Categorisation
Change Management
Chat/Messaging
Collaboration Tools
Commenting/Notes
Communication Management
Complaint Monitoring
Computer Telephony Integration
Configuration Management
Contact Management
Content Management
Contract/License Management
Customer Complaint Tracking
Customer Database
Customer Engagement
Customer Experience Management
Customer History
Customer Segmentation
Customer Support
Customisable Branding
Customisable Forms
Customisable Reports
Customisable Templates
Dashboard
Discussions / Forums
Document Storage
Drag & Drop
Email Management
Event Triggered Actions
Feedback Management
For Insurance Industry
For iPad Devices
Full Text Search
Geotargeting
Group Management
Health Score
Help Desk Management
IVR / Voice Recognition
Incident Management
Interaction Tracking
Issue Auditing
Issue Tracking
Knowledge Base Management
Knowledge Management
Lead Management
Live Chat
Macros/Templated Responses
Mobile Access
Multi-Channel Communication
Multi-Channel Data Collection
Multi-Language
Multiple Scripts
Negative Feedback Management
Offline Form
On-Demand Recording
Onboarding
Performance Metrics
Personalisation
Phone Key Input
Prioritisation
Proactive Chat
Problem Management
Queue Management
Real Time Monitoring
Real Time Notifications
Real-time Consumer-facing Chat
Release Management
Reporting & Statistics
Reporting/Analytics
Revenue Management
Routing
SMS Messaging
Sales Pipeline Management
Self Service Portal
Service Catalogue
Service Level Agreement (SLA) Management
Social Media Integration
Social Media Monitoring
Support Ticket Management
Survey/Poll Management
Surveys & Feedback
Task Management
Template Management
Text Analysis
Text Editing
Text to Speech
Third Party Integrations
Ticket Management
Transcripts/Chat History
Transfers/Routing
Trend Analysis
Usage Tracking/Analytics
VoIP Connection
Voice Customisation
Voice Mail
Web-based Deployment
Website Visitor Tracking
Widgets
Workflow Configuration
Muhammad Daud
IT Manager in UK
Verified LinkedIn User
Financial Services, 11-50 Employees
Used the Software for: 2+ years
Great platform for support and ticketing
Comments: Overall Zendesk is easy to use, interface and options are quite straight forward, response is quicker and easy to manage the logs/requests/tickets and users
Pros:
I have had a good experience of working with Zendesk on daily basis considering the support platform for our internal users. I have liked the way so far how Zendesk generates alerts and how the ticket has managed the platform with ease of completing the task, attaching information, and keeping the log of the users and tickets.
Cons:
Zendesk requires individual licenses for adding new agents though there should be some option to add a team within the same license but rather be limited to 3-5 agents per team under 1 license.
Alternatives Considered: Freshdesk
Reasons for Switching to Zendesk: Zendesk cost overall was better than freshdesk and it was more user friendly.
Brandon R
Software Engineer in US
Verified LinkedIn User
Wireless, 501-1,000 Employees
Used the Software for: 1+ year
Query history management and aggregation by tags (content) can be done easily
Comments: Customer queries used to be managed in Excel. Still, it was time-consuming to track history and the status of responses could not be managed, resulting in cases where there were omissions in responses. However, with the introduction of Zendesk, it is possible to aggregate by tags and monitor trends easily. Since it is possible to manage match/no match status, there are no match omissions.
Pros:
Excellent for query management. When managed as a ticket, there are no omissions and it is difficult to deal with duplicates. difficult to deal with duplicates. If you create a view correctly, you can easily understand the scope of correspondence for each department, and the reporting function is also important, so it is easy to look back.
Cons:
There is a high degree of freedom in customization and several settings, but it is difficult to understand visually and takes time to learn. There is also a query response function, but where is the content of the response saved, where is the draft, etc. are difficult to understand.
Alternatives Considered: Pure Chat
Reasons for Choosing Zendesk: I felt there was a limit to managing queries and tracking query content in Excel, but by introducing Zendesk, I could reduce the man-hours for history management. It also helps with tracking by managing query content through tab settings.
Switched From: Microsoft Excel
Reasons for Switching to Zendesk: Tags and triggers tend to be complicated and, if used across multiple departments, affect each other, requiring a supervising administrator. The Zendesk installation was well organized. Queries that were handled by a small number of people have increased in the number of people, departments, products, frequent omissions, and duplicate responses have greatly decreased.
Verified Reviewer
Business development department in Vietnam
Verified LinkedIn User
Computer Software, 51-200 Employees
Used the Software for: 1+ year
Experience after 2 years of useing Zendesk
Comments: The worst Customer Support!
Their product appears to provide so much, but it's so convoluted that it's nearly impossible for new customers to set up without assistance from the firm. However, whenever we met with someone who managed our account, we expressed our worries about not knowing how to perform certain things. What would be the reactions? "I'll email you Zendesk support articles." Okay, I've been Googling it and plainly it hasn't helped, which is why I'm requesting assistance from a Zendesk representative. We were advised that if we stated that we needed additional assistance, we would have to pay a large sum of money to have a specialized person assist us. We're already paying so much to utilize your platform, which has so many technical issues; at the very least, provide some sort of help.
Needless to say, we left after 2 years of struggling to use their platform. Thanks for never helping.
Pros:
Zendesk is a platform for enhancing customer experience, constantly improving customer satisfaction to the next level and leading in Omni-channel solutions in the world.
Cons:
As a client of multiple firms who is frequently compelled to interact with Zendesk, I can only say that my heart sinks when I realize I'm talking with a Zendesk representative rather than an actual staff member. They are really sluggish, they are dealing with numerous people at once and expect you to wait while Zendesk makes money, they don't answer your questions, they don't know their thing, and they are frequently unpleasant. I now buy elsewhere if I see a company using Zendesk and that's what I have to deal with in terms of customer support. If Zendesk is involved, it's simply too unpleasant and time-consuming.
Alternatives Considered: Odoo, Trello and Bitrix24
Reasons for Switching to Zendesk: Being a customer of several companies is often forced to deal with Zendesk. The only thing we used it for 2 years was that the customers preferred them over other apps. As soon as we finished the projects with those partners, we switched to using them immediately.
Shayla
Human Resources Specialist in US
Verified LinkedIn User
Internet, 1,001-5,000 Employees
Used the Software for: 2+ years
We've reduced customer service handling time with Zendesk
Comments: Using Zendesk, our customer care representatives are able to obtain the information they need on their own. When I handle the articles, I hear nothing but good things about how this program makes my job easier and more productive. They may use slack to look for answers, and the results will be linked to relevant articles in Zendesk. Zendesk may be easily integrated with other services, such as slack.
Pros:
I loved Zendesk because of its features and thorough reports. However, I found it tough to use and far more difficult to produce reports than other CRMs and Helpdesks. Compared to other Helpdesks, the social analytics are similarly low. The Suite's triggers are among my favorites. One of the most important advantages for us is the sheer number of plugins and integrations available.
Cons:
The difficulty of creating dashboards and the amount of time it takes to do so annoy me. Because of this, the dashboard might be a bit confusing at times, with data that are out of sync.
Sans prenom
Ceo in Cameroon
Internet, 2-10 Employees
Used the Software for: 6-12 months
Zendesk is the best
Comments: Zendesk allowed me to follow the evolution of my business, and to learn how to quickly manage my requests, tickets...
Pros:
Zendesk has allowed me to better track customers and analyze performance through insights that allow me to understand what needs to be improved.
Cons:
What I liked least is sometimes not possible to reach them all the time thanks to their telephone assistance. Sometimes impossible to request an email code.
Alternatives Considered: HubSpot Marketing Hub, Zoho Desk, JIRA Service Management and Intercom
Reasons for Switching to Zendesk: Because zendesk is currently the best software in terms of efficiency.