15 years helping British businesses
choose better software
What is Zendesk Suite?
Zendesk Suite is the customer service solution that is easy to use and scales with your business. On average, companies using Zendesk increase customer satisfaction by 25% and agent productivity by 30% - at any scale. Your customer interactions live in a single interface with features like web widgets, pre-defined ticket responses, and more. Get set up and run quickly. Zendesk Suite includes Ticketing System, Help Center, Community Forum, Messaging, Talk, Explore, and Sunshine Conversations.
Who Uses Zendesk Suite?
Over 110,000 companies rely on Zendesk's customer service solution to build the best customer experience. Our software is powerful and flexible, and scales to meet the needs of any business.
Where can Zendesk Suite be deployed?
Cloud-based
On-premise
---
About the vendor
Zendesk
Located in San Francisco, US
Founded in 2007
Zendesk Suite support
Phone Support
24/7 (Live rep)
Chat
Zendesk Suite pricing
Starting Price:
£45.00/month
Yes, has free trial
No free version
Zendesk Suite does not have a free version but does offer a free trial. Zendesk Suite paid version starts at £45.00/month.
About the vendor
Zendesk
Located in San Francisco, US
Founded in 2007
Zendesk Suite support
Phone Support
24/7 (Live rep)
Chat
Zendesk Suite videos and images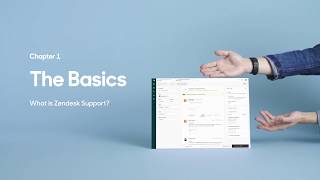 Features of Zendesk Suite
Account Alerts
Account Management
Activity Dashboard
Activity Tracking
Alerts/Escalation
Alerts/Notifications
Archiving & Retention
Asset Tracking
Assignment Management
Auto-Responders
Automated Routing
Automatic Call Distribution
CMDB
CRM
Call Centre Management
Call Logging
Call Monitoring
Call Recording
Call Reporting
Call Routing
Call Scripting
Campaign Management
Cataloguing/Categorisation
Change Management
Chat/Messaging
Client Management
Collaboration Tools
Commenting/Notes
Communication Management
Complaint Monitoring
Computer Telephony Integration
Configuration Management
Contact Management
Content Management
Contract/License Management
Customer Complaint Tracking
Customer Database
Customer Engagement
Customer Experience Management
Customer History
Customer Segmentation
Customer Social Profiles
Customer Support
Customisable Branding
Customisable Forms
Customisable Reports
Customisable Templates
Dashboard
Data Import/Export
Discussions/Forums
Document Storage
Drag & Drop
Email Management
Event Triggered Actions
Feedback Management
For Insurance Industry
For Startups
For iPad Devices
Full Text Search
Geotargeting
Group Management
Health Score
Help Desk Management
IVR/Voice Recognition
Incident Management
Interaction Tracking
Issue Auditing
Issue Tracking
Knowledge Base Management
Knowledge Management
Lead Management
Live Chat
Macros/Templated Responses
Mobile Access
Multi-Channel Communication
Multi-Channel Data Collection
Multi-Language
Multiple Scripts
Negative Feedback Management
Offline Form
On-Demand Recording
Onboarding
Performance Metrics
Personalisation
Phone Key Input
Prioritisation
Proactive Chat
Problem Management
Queue Management
Real Time Monitoring
Real Time Notifications
Real-time Consumer-facing Chat
Release Management
Reporting & Statistics
Reporting/Analytics
Revenue Management
Routing
SMS Messaging
Sales Pipeline Management
Self Service Portal
Service Catalogue
Service Level Agreement (SLA) Management
Social Media Integration
Social Media Monitoring
Support Ticket Management
Survey/Poll Management
Surveys & Feedback
Task Management
Template Management
Text Analysis
Text Editing
Text to Speech
Third Party Integrations
Ticket Management
Transcripts/Chat History
Transfers/Routing
Trend Analysis
Usage Tracking/Analytics
VoIP Connection
Voice Customisation
Voice Mail
Web-based Deployment
Widgets
Workflow Configuration
Workflow Management
Alternatives to Zendesk Suite
Juan
Software Engineer in Mexico
Verified LinkedIn User
Marketing & Advertising, 51–200 Employees
Used the Software for: 1+ year
Reviewer Source
The best solution for customer service
Comments: This platform is the best complete and versatile solution that allows any company to efficiently manage its customer service in the simplest and most comfortable way possible. Although it has some disadvantages and can be expensive for some businesses, the benefits it offers, such as centralizing customer communication and automating tasks, make it a valuable tool for improving the customer experience. Using this tool with adequate training and a solid strategy offers exceptional customer service, which makes a difference in the satisfaction and loyalty of each customer.
Pros:
I like this platform for being the solution for exceptional customer service as it can help you improve your customers' experience and how it can benefit your company in customer service management. It allows centralized management of all communication channels with customers. It facilitates the automation of repetitive tasks and the assignment of tickets to the most appropriate agents. It also provides analysis and metrics to evaluate customer service performance.
Cons:
There is nothing I can say that I don't like or agree with. I think it is an excellent platform for everything it offers. In addition, it offers an intuitive and customizable interface, adapted to the needs of any business. It also offers the possibility of integrating with other tools and systems used by your company.
Andrew
Chief Executive Officer in US
Verified LinkedIn User
Computer Software, 11–50 Employees
Used the Software for: 2+ years
Reviewer Source
Great System for Support Ticket Management
Comments: Overall, our experience with Zendesk as a support ticketing system has been good. While a bit expensive for the amount of features we use, the integrations and automations available work well with our current client workflow and processes.
Pros:
Zendesk offers a lot of great automations and integrations that are essential to running a successful support desk. Custom automated responses based on ticket criteria help reduce admin time spent updating tickets, and give clients instant recognition that they request has been received. The Zendesk integration with Jira is extremely helpful for managing new support tickets within an existing or ongoing project. New Zendesk tickets can be easily imported into existing Jira projects for seamless workflow.
Cons:
Depending on your need and desired use of the platform, Zendesk Suite comes at a fair expensive price. If you're looking for basic support ticket management and need a lot of individual users to manage workflow, then Zendesk will not be a very affordable option, as you will be charges for each individual user. The admin panel is also a bit cumbersome to manage, as there are separate systems for managing tickets and managing automations/workflows. A combined or condense admin panel would provide a much better user interface for admin and service agents.
Rebekah
CDD Manager in Gibraltar
Gambling & Casinos, 501–1,000 Employees
Used the Software for: 2+ years
Reviewer Source
KYC World
Comments: Pretty good, most platforms like this usually have little tweaks that need to be made but this is managed centrally which is a benefit.
Pros:
Zendesk is very straight forward, for my team I would prefer to be on workspace functionality but we are able to deal with customers swiftly with overall great functionality and range.
Cons:
Personally, I find the reporting a little clunky and sometimes difficult to navigate, but I tend to play about with the reporting until I find what I am looking for.
Joy
Associate Director of Student Life in UK
Education Management, 11–50 Employees
Used the Software for: 2+ years
Reviewer Source
Zendesk has a lot of great tools - if you just know how to use them
Comments: Zendesk is so robust, but it is not at all intuitive. Learning how to generate a report was a full time job and I never quite figured it out to really get comfortable with tracking the mass amount of data we had generated through all of our tickets. However, I really wanted to learn it and their customer success team worked with us to help develop trainings so we could utilize it better.
Pros:
I really liked being able to track tickets and keep up to date on where they were in the customer support lifecycle. Creating macros was not difficult, and it really helped our agents to respond very quickly when they knew which macro to use.
Cons:
Zendesk can be very complicated if it isn't set up correctly from the beginning. We ended up having to untangle a lot of decisions that were made in the beginning and it was really hard to back out once the systems were in place.
Alternatives Considered: Intercom
Reasons for Switching to Zendesk Suite: Ultimately there were more options with zendesk - integrated knowledge base, chat, ticketing system - and while it was more expensive, you got more bang for your buck.
Nayra Giselle
Ingeniera en sistemas in Venezuela
Verified LinkedIn User
Telecommunications, 10,000+ Employees
Used the Software for: 6-12 months
Reviewer Source
The Complete Solution for Customer Service.
Comments: Supervisors in our organization value Zendesk's reporting and analytics capabilities, which allow them to evaluate team performance and the quality of customer service. They can also use call recordings and analytics to improve agent training.IT administrators appreciate Zendesk's scalability and integration capabilities, allowing them to customize the platform to their business needs. They also value the security and access management of the platform. Customers and end users can experience an improvement in the quality of customer service when interacting with companies that use Zendesk. They can receive faster and more accurate answers to their questions.
Pros:
I like Zendesk because it made it possible to centralize all customer interactions, whether through email, live chat, phone, social media, or other channels. In addition, we manage to access relevant customer information and their interaction histories in one place, which simplifies the management and resolution of queries and problems.Agents can respond more efficiently to customer inquiries by having all the information at their fingertips.
Cons:
The quality of Zendesk customer support may vary by region and platform edition. Some users have reported that support does not always meet their expectations. While Zendesk is known for its integration capabilities, some more complex integrations may require additional technical knowledge and IT staff.