What Is GoToConnect?
GoToConnect combines the power and reliability of Jive's cloud VoIP phone systems with GoToMeeting's web, audio and video conferencing into one simple, reliable and flexible solution. Users can meet, talk, chat, text and collaborate seamlessly via web browser, desktop application, or desk phone. For as low as $19.95 a month, GoToConnect eliminates the hassle and expense of managing multiple collaboration solution providers.
Who Uses GoToConnect?
For businesses of all sizes with communication and collaboration needs.
GoToConnect Details
LogMeIn
Founded in 2003
GoToConnect pricing
Starting Price:
US$19.95/month
Yes, has free trial
No free version
GoToConnect does not have a free version but does offer a free trial. GoToConnect paid version starts at US$19.95/month.
Pricing plans
GoToConnect Details
LogMeIn
Founded in 2003
GoToConnect videos and images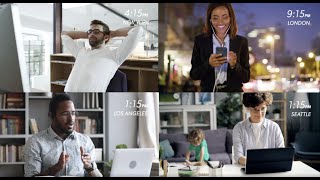 GoToConnect deployment and support
Support
Email/Help Desk
FAQs/Forum
Knowledge Base
Phone Support
24/7 (Live rep)
Chat
Deployment
Cloud, SaaS, Web-based
Mac (Desktop)
Windows (Desktop)
Android (Mobile)
iPhone (Mobile)
iPad (Mobile)
Training
Live Online
Webinars
Documentation
Videos
Ezra S.
Co Owner in US
Verified LinkedIn User
Health, Wellness & Fitness, 2-10 Employees
Used the Software for: 1-5 months
Jive is a great price with all features needed
Comments: Overall, we've now been able to do tonnes of calls, outgoing and incoming since we went with jive. It helps grow our business. Access is available on the phone, computer or any other device.
Pros:
I like that jive is really cost effective yet gives access to all their features. It allows me to do everything i need to do, with alot of minutes within the plan.
Cons:
Jive seems to be great so far, cant complain
Alternatives Considered: RingCentral MVP
Reasons for Choosing GoToConnect: Jive was cheaper in bulk and has more features
Switched From: RingCentral MVP
Reasons for Switching to GoToConnect: Cost price of jive was leading factor.
Michael W.
President in US
Publishing, 11-50 Employees
Used the Software for: 2+ years
Excellent VOIP Service!
Comments: I did a lot of comparison shopping when selecting a VOIP provider for my business. There are a number of reputable companies out there and they all offer similar features. Jive edged out the competition in pricing, and since the feature set they offered was equally as robust as the competitors, I went with them and have not been disappointed. Our needs are basic, but it's really nice to know that as our needs expand, the infrastructure at Jive will easily accommodate our most detailed needs.
Pros:
When our company moved away from a larger parent company, we had to find our own phone solution. We have offices spread across the country, so rather than use a cable-TV bundle or something similar, I knew a feature-filled VOIP service was a must. While others offer similar features, I needed a company that I could count on to hold my hand through the technical end of the setup because we are too small for our own IT department. Jive excelled in this area. Their excellent USA-based tech support helped get me up and running in no time flat. The transition from our old parent company's service to the new one we set up ourselves through Jive was seamless. If I had to choose one thing I liked most about my experience with Jive Voice, it is their technical support! Their service in both areas (support and actual uptime) has never let us down.
Cons:
I suppose you could say I'm tech "savvy", but I'm not an engineer. For someone like myself who had never set up a VOIP system before, it was a bit intimidating to sift through the online guides to figure out what gear we needed, how it should be configured, and that sort of thing. While much of this documentation did exist on their web site, a beginner's tutorial that was more comprehensive would have been appreciated. Nevertheless, as mentioned elsewhere in this review, their call-in technical support was extremely helpful in answering my newbie questions at all hours of the night. If I had any criticism at all, it might be that I would have liked a bit more thorough online documentation for a beginner. Something like a "setup wizard" might have been helpful, but calling their support line (even at 11pm in the evening) got me exactly what I needed, so I really have no serious complaints.
Alternatives Considered: Ooma Office, Vonage Business Communications and Grasshopper
Reasons for Choosing GoToConnect: Our company split-off from a larger corporate entity, so we had to get our own telecom plan.
Reasons for Switching to GoToConnect: Pricing plus features edged out Jive over the competition. And once I contacted their sales support, I was sold thanks to their excellent US-based technical support - even in the late hours of the evening.
Rahul P.
Software Software in US
Verified LinkedIn User
Computer Software, 11-50 Employees
Used the Software for: 6-12 months
Perfect Product for All-in-out
Comments: It's one of the least buggy software out there when it comes to video and audio conferencing.
Pros:
It's the perfect approach in combing everything starting from video calling, to audio conference and remote desktop control.
Cons:
The thing I dislike about the software is the lack of support. There is very limited documentation on how much you can push the product to get the most out of it. More there is a limit on how much you can
Alternatives Considered: Microsoft Teams
Reasons for Choosing GoToConnect: There were a lot of constraints with the business account
Switched From: TeamSupport
Reasons for Switching to GoToConnect: It was a cheaper option
Verified Reviewer
Controller in US
Verified LinkedIn User
Real Estate, 51-200 Employees
Used the Software for: 6-12 months
It works, but not well, and it has such great potential.
Comments: Jive allows us to have multiple company phone numbers and extensions without the need for landlines or phones. It allows employees to receive work calls on their personal cell phone, so they don't have to carry two phones to have a company number. Employees can make outgoing calls through the app without revealing their personal number to the recipient. The admin portal is pretty straightforward and easy to use, but also has tons of features. Overall, this product would be amazing if the app were faster and didn't crash all the time, and if calls made through the app were more reliable.
Pros:
It's cheap. This provided a cost saving solution to our communications needs. It also allows us to assign phone numbers to employees' personal cell phones without using their personal data or phone usage. It can be used with or without landlines. Phone numbers and ring plans are easy to set up, and multiple phones can be rung at the same number.
Cons:
The app is slow and takes a long time to switch screens and load data. It crashes often, and nearly always experiences some type of error that requires me to wait for the app to respond or close the app. The crashes don't affect phone calls, but seem to only affect my ability to access data such as recent calls, contacts, etc. Even when it crashes, I still receive calls. Sometimes calls made or received through the app cut out like there is bad cell service, even when I'm connected to reliable, high speed wi-fi (50mbps). Because of this, I've chosen to switch my ring plan to have calls forwarded to my cell phone number, rather than receiving them on my cell phone through the Jive app. I have unlimited minutes, so it's not an issue. I only have to open the app to make an outgoing call, and only when I need the company number to appear on the recipient's caller ID rather than my personal number.
Jay H.
Project Manager in US
Mechanical or Industrial Engineering, 2-10 Employees
Used the Software for: 1-5 months
Superior Customer Service and a Service to Match
Comments: GoToConnect has replaced our previous service provider with superior customer service, an incredible amount of features (particularly for a small business), and excellent phone service for a very reasonable price.
Pros:
Disclaimer: we have only just started using GoToConnect. I will set a reminder for six months from now to reevaluate this review, but unless something drastic happens, I have nothing but praise. Starting out with the most impressive first, GoToConnect offers a dedicated onboarding team to assist with everything from receiving your hardware order, configuring the system to suit your business' needs, discovering features that you didn't even know you needed, all the way through porting your number from your previous provider and verifying that everything works as expected. I placed my order for service and hardware on Tuesday 8/10 and received the hardware on 8/11. I had the system mostly configured by Friday 8/13 and completely configured by the following Tuesday using a temporary number with the help of the onboarding team. The only problem was that there was a minimum 14 day wait period to port the number over that we needed to wait for in order to have the full service active! The service itself has been dependable and top quality with very clear audio and excellent usability.
Cons:
The only downside that we have experienced so far is the intra-company messaging. It is only available on the desktop app and is not very dependable, requiring the use of a secondary messaging software such as Skype for messaging.