Local product
What is YouCanBook.me?
Do what you do best. Leave the scheduling to us.
YouCanBook.me saves time & boosts productivity by taking the hassle out of setting meetings.
- End back & forth emails to find a good time
- No more no-shows
- Friction-free online bookings
- Easily integrate the tools you use
- Customized booking pages & emails
Who Uses YouCanBook.me?
Technology, Start ups & Education. Customer facing teams - such as Customer Success, Sales, Recruitment and UX
Where can YouCanBook.me be deployed?
Cloud, SaaS, Web-based, Mac (Desktop), Windows (Desktop), Linux (Desktop)
About the vendor
YouCanBook.Me
Founded in 2010
Chat
About the vendor
YouCanBook.Me
Founded in 2010
Chat
YouCanBook.me videos and images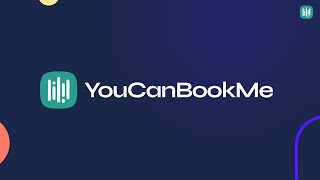 Compare YouCanBook.me pricing with similar products
Features of YouCanBook.me
Alerts/Notifications
Automated Scheduling
Availability Management
Booking Management
Calendar Management
Calendar Sync
Confirmation/Reminders
Mobile Access
Online Booking
Online Payments
Reminders
Reporting & Statistics
Third Party Integrations
Alternatives to YouCanBook.me
Virginia G.
Preparadora Exámenes de Inglés in Spain
Verified LinkedIn User
E-Learning, 2-10 Employees
Used the Software for: 6-12 months
very useful
Comments: I've been using it for almost a year now and I have no doubt that I will renew one more year. It has helped me a lot automating bookings and emails related to these bookings.
Pros:
I like most that it was so easy and nice to work with it. It provides your own website for your customers to make their bookings with you. You can even customize it a little bit, just enough to fit your brand colours but still look clear and easy to use. You can customize the emails that are automatically sent to people who book appointments. A Zoom link is automatically created in case you are organizing a videocall and is also automatically sent to your clients. I love that this app automates so many tedious processes.
Cons:
something I do not appreciate is that I cannot sell a number of appointments with a discount, for instance I would like to offer 1 class at X euros and 5 classes offering a discount in price. YouCanBookMe does not offer this option; instead, clients must book (and pay) 5 independent classes with me. That would be a lovely addition to its features.
Nonprofit Organization Management, 2-10 Employees
Used the Software for: 6-12 months
Alternatives Considered:
YouCanBook.me is Excellent
Comments: Our previous scheduler was a terrible experience - we use a lot of options on our booking form and the client experience and our administrative experience was a huge challenge. This has made things so much easier. Our booking sheets that we print and use for service are clean, easy to read, this system sends out reminders to everyone. It's great.
Pros:
We are a full service food pantry and use YouCanBook.me daily as our clients book their service appointments through the system. It has been so easy to use, especially being able to manage our calendar, bookings and create customizable booking forms for each service we provide. It's been a huge help to our operation.
Cons:
It would be great if there was an app for mobile and also if there was a way to aggregate client booking data into csv files.
Roy P.
owner in New Zealand
Health, Wellness & Fitness, Self Employed
Used the Software for: 2+ years
Loved it - but now it does not support Apple.
Comments: diary use
Pros:
almost everything. except apple integration. product was easy to use and flexible. great customisation
Cons:
We're writing to alert all users connecting their iCalendars with YouCanBook.me about an urgent issue with the integration. You are currently using iCalendar with YouCanBook.me, and you may need to take action to continue taking bookings. iCalendar's ability to communicate with 3rd-party tools like YouCanBook.me just changed and iCalendar can no longer reliably communicate with tools like YouCanBook.me. iCalendar's issue will likely cause problems for you, and we want to make sure you're aware and able to take the appropriate action as soon as possible so you can continue taking bookings. At this time, we cannot recommend continuing to use iCalendar. Our alternative suggestion is to switch to Google Calendar.
Felix O.
Head of Admissions in UK
Education Management, 10,000+ Employees
Used the Software for: 1+ year
Alternatives Considered:
Extremely Positive Experience with YouCanBook.me
Comments: - YouCanBook.me allows us to manage customer bookings much more efficiently, saving us time and money;
- The user interface is intuitive and easy to use and the back office dashboard allows you to seamlessly report on bookings and pick up trends in consumer behaviour;
- As an advanced user with multiple bookings pages, bookable staff and customer types, we have often required the assistance of the YouCanBook.me support team. Without fail, they have been exceptionally helpful and been able to promptly solve our issues. They will usually get back to you within 12 hours and be willing to do a Zoom sync within the next 24-36 hours, calendar permitting.
Pros:
- The ability to link multiple calendars and appointment types to a single URL; - The ability to customise each booking page with pictures and text in line with the look and feel of our brand; - The customer support has been truly excellent when we've needed it; - Extensive customisation around the end-to-end customer journey - including the post-booking page text, calendar invite, follow up emails and reminders; - Password protection of the booking URL for enhanced security during closed off events or appointments; - Third party integrations into Zoom which reduces the need to manually send out meeting links.
Cons:
- There are not too many cons that I would want to draw out. Further 3rd party integrations would be useful including MS Teams and Adobe Connect; - It would also be helpful to be able to customise meeting duration for each bookable staff on a single booking page. But again that is a niche use case.
E-Learning, 51-200 Employees
Used the Software for: 2+ years
Excellent Tool for Building Schedule!
Comments: This program is my go-to for creating booking slots, setting up meetings, and building my schedule each week. Without this program, setting up my monthly meetings (I often have at least 60-70 in a month) would be a disaster. It is worth paying for premium access, and you will find your day-to-day scheduling needs are met!
Pros:
This program offers so many beneficial features, like sending reminders to clients/colleagues/students before and after a booking, setting up separate booking calendars for different needs, and requiring bookees to enter an email or phone number if you desire. I love how it connects directly to my Google Calendar, so when a booking is confirmed, the meeting shows right up on my calendar. I also appreciate how I get an email when a booking has been made, so I have notification ahead of time.
Cons:
The only drawback to this program I found is that for full accessibility, the user would need to pay on a monthly basis. I tried using the free version only for awhile and found that the limitations to this version left me needing more control over my bookings and how I set up my calendar. Because I do find this program so helpful for professional scheduling and absolutely worth the money, I chose to pay for the monthly version.