What is Wiremo?
Wiremo collects and showcases customer reviews on your website with gorgeous photos and integrated design to increase social proof and sales. Leveraging the SEO-boosting power of user-generated content, Wiremo uses AI to automatically analyze reviewer feedback and place positive reviews in a rotating carousel.
Easy to set up on Shopify, WordPress and Squarespace, Wiremo boosts engagement by asking for reviews, auto-replying and starting support conversations with users in over 15 languages.
Who Uses Wiremo?
Wiremo collects and elegantly displays customer reviews with photos on eCommerce websites. Build social proof, increase sales and boost SEO when your eCommerce site is powered by Wiremo.
Where can Wiremo be deployed?
Cloud, SaaS, Web-based
About the vendor
Wiremo
Located in Wilmington, US
Founded in 2012
24/7 (Live rep)
Chat
Countries available
United States
About the vendor
Wiremo
Located in Wilmington, US
Founded in 2012
24/7 (Live rep)
Chat
Countries available
United States
Wiremo videos and images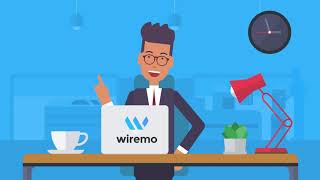 Compare Wiremo pricing with similar products
Features of Wiremo
Campaign Management
Communication Management
Customer Experience Management
Customisable Templates
Dashboard
Email Management
Engagement Tracking
Feedback Management
Keyword Tracking
Multi-Channel Campaigns
Negative Feedback Management
Performance Metrics
Real Time Notifications
Reporting/Analytics
Response Management
Review Generation
Review Monitoring
Review Notification
Review Request
Sentiment Analysis
Social Media Integration
Social Sharing
Trend Analysis
Visual Analytics
Computer Software, Self Employed
Used the Software for: 2+ years
Love at first sight
Comments: One of the best things is that Wiremo crew listens to customers and their ideas about the peoduct and what it could do in future.
Pros:
Wiremo is very simple to setup. Sync your store products with one click and you are up to the races.
Cons:
I don't have anything to add in this area. Everything is just perfect as is.
Wiremo Response
12 months ago
Thank you for taking the time to leave your Wiremo review Jani. I'm so glad to hear that it's been easy for you to set up and sync with your store products! We're also pleased to hear that our team listens and responds well - this is something we take very seriously. Your feedback will be passed along internally, but if there are any particular features or improvements you would like us to consider in future updates, please let me know!
Grant P.
Web Developer in US
Information Technology & Services, Self Employed
Used the Software for: 1-5 months
Best Reviews for Squarespace
Pros:
It has all the features that you want in a review plugin. It easily adds star ratings to each product page, and to each product on a listing page. You can configure review requests after an order. This was a game changer after I had tried another product first.
Cons:
No problems with it, I was blown away by the ease of installation and how well it worked out of the box.
Wiremo Response
12 months ago
Thank you for your review, Wiremo is a great plugin and we're so happy to hear that it's been working well for you! We're always looking for ways to make our plugins more useful and I'm glad that this one has been helpful. If there's anything else we can do, please let us know!
Verified Reviewer
Co-Founder & Head of Digital in Sweden
Verified LinkedIn User
Food Production, 2-10 Employees
Used the Software for: Free Trial
Wow such a bad service
Comments: I will change to something else.
Pros:
Resonable pricing and all the basic features.
Cons:
The customer support, the limitations of the service
Wiremo Response
12 months ago
Hi, Thank you for your feedback and I'm sorry to hear about the challenges of using Wiremo. We want every customer to have a positive experience with our product and we're always looking at ways to improve the service. It's great that you're reaching out about this so that we can take action on it. Please reach out directly through email or chat if there is anything else we can do for you in the future!
Trevor W.
Guitar Instructor in US
Music, Self Employed
Used the Software for: 6-12 months
Great platform...if you need email integration for reviews
Comments: I am no longer using Wiremo because I found a cheaper alternative but Wiremo did achieve most of what I needed it to while I was using it (roughly 8 months or more). The customer service was responsive but they weren't able to resolve the font issue I mentioned above. Due to this I chose to look elsewhere for a similar product. I ended up switching over to the Elfsight review widget app (also the maps and pricing widgets) and have been very happy with the price, functionality, and customization offered. Elfsight allows you to choose much more specific widgets at lower prices (they discount them more after every one you buy) rather than getting locked into paying for features you don't use. This model worked better for my needs.
Pros:
Wiremo is easy to use and allows users to manually enter reviews from customers that were left on 3rd party sites like google/yelp etc or you can retrieve reviews through email and display them directly to the "widget". If you need to collect reviews from a large number of customers on a regular and recurring basis, I think Wiremo offers a great solution. They make it easy to automate the the whole process of email outreach. You can even reward loyal customers automatically with promos and coupons.
Cons:
If all you need is the widget portion to help cleanly display reviews on your website, then there are better alternatives for the money. At $20/month for the lowest tier membership, you are already paying for the email feature built into Wiremo. So if that's not something you need, then I would look elsewhere. In my case, I get reviews every now and then for my services and did not need a collection functionality but rather just a display function. This is why I ended up switching to a cheaper alternative. The other unfortunate aspect of their web widget is that you can't edit the color of certain "gray" fonts. On my website this became an issue because the fonts were not easy to read. It was odd because some fonts you can edit, while others you can't.
Wiremo Response
2 years ago
Thank you for your honest review. We'll take into consideration your feedback to improve our service. You are welcome back anytime!
Nicolae P.
UPQODE Manager in US
Accounting, 11-50 Employees
Used the Software for: 6-12 months
Excellent app for product reviews
Comments: Wiremo is the perfect solution for all your product reviews needs. It will help you collect reviews automatically. My experience with Wiremo has been a breeze. They have great communication skills and quick responses to support requests
Pros:
Wiremo is packed with a lot of automatic features that allow you to stop worrying about your marketing. Wiremo is an easy way to keep your website up-to-date with content that matters to potential customers in their area while you're focused on what's important: running your business.
Cons:
I once had an email template that I changed so much that my company's logo was off-center by two millimeters all because there were limited design choices available for me! Email formats should be easy enough for anyone with any level of experience or expertise to input their own ideas into them as well without having to make sacrifices like this one.
Wiremo Response
12 months ago
Thank you so much for your review, Nicolae! We're really happy to hear that Wiremo is helpful and easy to use. It's always great when a customer can stop worrying about their marketing and focus on what they do best--running their business!