What is Mentimeter?
Mentimeter is the ultimate way to make your presentations more engaging, no matter if it is a hybrid, live or remote session. Run live polls, quizzes, and ask your audience any question you have.
For educators and business people alike, this is a great multi-use tool as colorful and dynamic responses appear in real-time. All audience members need is a smartphone to vote Zoom and Microsoft Team integrations make for seamless remote presentations.
Who Uses Mentimeter?
SMB's, Mid-size, Large enterprises
Where can Mentimeter be deployed?
Cloud, SaaS, Web-based, Android (Mobile), iPhone (Mobile), iPad (Mobile)
About the vendor
Mentimeter
Located in Stockholm, Sweden
Founded in 2014
Phone Support
Chat
About the vendor
Mentimeter
Located in Stockholm, Sweden
Founded in 2014
Phone Support
Chat
Mentimeter videos and images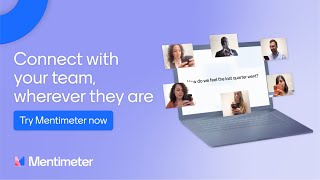 Compare Mentimeter pricing with similar products
Features of Mentimeter
Animation
Audio File Management
Collaboration Tools
Content Library
Customisable Branding
Customisable Questions
Customisable Templates
Data Analysis Tools
Data Visualisation
Feedback Management
Live Results Sharing
Media Library
Offline Presenting
Polls/Voting
Presentation Tools
Q&A Management
Real Time Data
Reporting/Analytics
Screen Sharing
Survey/Poll Management
Surveys & Feedback
Text Editing
Video Support
Alternatives to Mentimeter
Hannah
Psygologist in Netherlands
Verified LinkedIn User
Mental Health Care, Self Employed
Used the Software for: 2+ years
Incredible transformation of presentations
Comments: This app is great for my projects that I use for my clients!
Pros:
The fact that it can tranform a boring, long and tiring presentation, into one that is interactive, fun and cheerful makes it a great app.
Cons:
I did not like the fact that, at times the app takes a lot of time to show the poll results to viewers.
Paul
Human Resource Development in Japan
Verified LinkedIn User
Information Technology & Services, 10,000+ Employees
Used the Software for: 6-12 months
Alternatives Considered:
A smart tool that looks slick but has some frustrating limitations
Comments: We like Mentimeter a lot. You can be up and running with it in minutes, and it takes literally seconds to create a typical wordcloud or other slide. It looks amazing to those answering the questions. There are downsides though and I hope future updates will add functionality and improve the experience for paying users.
Pros:
Mentimeter allows you to easily (very easily) create and launch live, interactive polls, surveys and quizzes and create cool things like wordclouds in real time. It has a really smooth mobile integration through the use of QR codes which is a killer feature in the modern age. We have frequently had "wow moments" in meetings, workshops and training sessions using Mentimeter as people see animated quiz standing come in in real time and the like. Zero learning curve from the users point of view and almost frictionless.
Cons:
It has a few limitations that make it less slick from the point of view of the person using it compared to the people answering the questions. It does not integrate well with Powerpoint. There is an outdated and never updated plug in which crashes all the time and thus unusable. The other option is to import your slides into Mentimeter and do the whole thing from there. This is not always advisable because animations are not preserved and the general look of the slides suffers. Without PPT integration, if you are running a remote session using Zoom or similar you are forcing people to navigate away from your window to use Mentimeter and then relying on them coming back to see the results come in in real time. It damages the experience tremendously. You get around this by showing QR codes and having them do it on their phones, but still, not ideal. Another issue is that moving or otherwise adjusting slide shows inside Mentimeter is a huge pain. Drag and drop to change the order of slides is basically broken, so me and my team always make sure everything is in order before importing (if we even use importing, see above). Even a no-integrated session with more than a few Mentimeter slides is a huge pain to adjust. Finally, although they claim that switching between say PPT and Mentimeter on the fly is easy, it inhibits you from easily and smoothly moving to the next question. Not ideal.
Samantha Louise
Student in Philippines
E-Learning, 10,000+ Employees
Used the Software for: 2+ years
Mentimeter: The Best Poll Application for Classes
Comments: I really like using Mentimeter during online classes. It made my Q&A sessions much easier and heightened my students' engagement.
Pros:
What I really like about Mentimeter is being able to receive real-time answers and insights from the students.
Cons:
What I least like about the software is not being able to save students' comments during live sessions.
Chad
Developer in Jamaica
Used the Software for: 6-12 months
An efficient way to get instant feedback
Pros:
It is fast and easy to use. Allows the users to remain anonymous so they can feel more comfortable indicating their opinions. Excellent charts to present the poling of the results which is quite handy to verify how your audience feel about a presentation.
Cons:
There are quite a few bugs: Sometimes the app doesn't remember the event code. There are times when a question cannot be skipped. It is sometimes problematic to access the results from my PC.
Jaime Valeriano
Student in Philippines
Education Management, 10,000+ Employees
Used the Software for: 2+ years
A Review about Mentimeter of a College Student (Practice Teacher) in a University
Comments: Overall, I really enjoy using mentimeter in my demo teaching. However, there are only limited questions and quizzes because I am only using the free version. But, because my resourcefulness is being tested, I know that this helps me to improve my creativity.
Pros:
What I like about mentimeter is that it really gives an opportunity to the teacher to make the session fun. Since we are in a pandemic here in the Philippines, our main means of teaching is through online classes. That's why in these times, there are applications that will make the class active, engaging, and not boring, one of them is mentimeter. Together with out creativity, we can have games or any activities that are relevant to the pupils using polls, surveys, quizzes, etc. that their answer can be seen real time. Which means that it can be a form of formative assessment since it is an opportunity for us to give an immediate feedback to some mistakes the students are able to do.
Cons:
What I like the least about this software is the limited questions and quizzes per presentation. However, I think that this gives us the opportunity to be resourceful. If I will be given an opportunity to have something to recommend in their company, I'll them that there must be a way where they will be giving a discount for students. It will be very helpful especially to education majors.