What Is Seidat?
Seidat is a cloud-based presentation platform that works on any device. It enables smooth sales flow for your whole team through interactive and easy-to-use sales materials and collaboration features.
You can create, edit, present (f2f/online), share, manage, analyze and e-sign your sales materials in Seidat. Integrate it as part of your software ecosystem easily through our API.
Who Uses Seidat?
Companies who want to take their sales to the next level by utilising up-to-date presentations that are easy to manage, share and present.
Where can Seidat be deployed?
Cloud, SaaS, Web-based
About the vendor
by Seidat
Founded in 2012
Chat
About the vendor
by Seidat
Founded in 2012
Chat
Seidat videos and images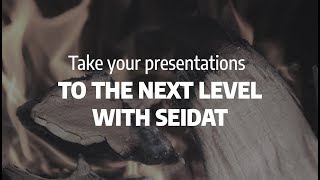 Compare Seidat pricing with similar products
Starting price
€49.00/month
N/A
N/A
N/A
Features of Seidat
3D Objects
API
Access Controls/Permissions
Activity Dashboard
Animation
Audio File Management
Charting
Chat/Messaging
Collaboration Tools
Commenting/Notes
Communication Management
Conferencing
Content Library
Content Management
Customisable Branding
Customisable Templates
Data Import/Export
Data Visualisation
Document Management
Document Storage
Drag & Drop
Engagement Tracking
File Transfer
Image Editing
Image Library
Interactive Content
Media Library
Meeting Management
Offline Access
Offline Editing
Offline Presenting
Presentation Streaming
Real-time Updates
Reporting & Statistics
Reporting/Analytics
Screen Sharing
Search/Filter
Social Media Integration
Template Management
Text Editing
Third Party Integrations
Training Management
Two-Way Audio & Video
Version Control
Video Conferencing
Video Editing
Video Management
Video Streaming
Video Support
Whiteboard
Jonas B.
CMO in Sweden
Verified LinkedIn User
Information Technology & Services, 11-50 Employees
Used the Software for: 1+ year
A different way to do presentations
Comments: Outstanding support and onboarding help speed up the transition from power points, however, some old users can be difficult to persuade.
Pros:
Easy to update all presentations with smart slides, easy to vary presentations by taking vertical slides and focusing on the most important things for that particular customer
Cons:
Since everyone is used to power points, it can take a while to get started and learn a new way of working.
Aki H.
Sales Lead in Finland
Marketing & Advertising, 11-50 Employees
Used the Software for: 2+ years
Happy daily user for 3+ years
Comments: Effortless, quick to use and customize for customers. Really can't see myself doing online sales and couching sales without it.
Pros:
There is nothing that I don't need. I love the minimalist yet very much good enough user experience since all the visuals are already in my company's brand in Seidat. Also cloud based presentation is important, I have acces to seidat when ever I need to, and can create quickly new custom ones during the sales meeting.
Cons:
Sometimes If I need more "advanced" custom pictures or graphs, I would like to draw them in the same platform.
Seidat Response
2 months ago
Hi Aki! Thanks for your review! It is hugely important for us. Custom pictures and advanced drawing options... Yes, they are in the pipeline. Waiting for them! It's great that you have found ways to create new modified presentations so easily. Have you thought that you could make them even faster and still with personalized content? It's possible with CRM-Seidat integrations and using automation options.
Vesa K.
Senior Consultant in Finland
Philanthropy, Self Employed
Used the Software for: 1-5 months
Flexibility
Comments: It is very well built but does not function in training slides.
Pros:
It gave a structure for a training slides
Cons:
It does not give a possibility to make any changes when you running the presentation.
Seidat Response
2 months ago
Hi Vesa! I'm sad that you couldn't find Seidat a solution for you. Seidat is made to be used in sales, but several people in the training business have also rated Seidat very high. Have you discussed this with our support? They can find the best solutions for you and then you could check with them if Seidat could be still a solution for you. Br, Paulus, CEO
Pasi T.
Kaupallinen johtaja in Finland
Automotive, 201-500 Employees
Used the Software for: 2+ years
Opinion
Pros:
Ease of use, easy to collaborate with others,
Cons:
Some kind of libary, folders or similar solution for presentations would be nice. No it is rather difficult to search presentation when they all are in one "forlder". Pin option is good, but does not solve this issue. Another issue is related to very limited editing features. Would be nice to have broader shape libary so that you don't need to copy/paste everything.
Verified Reviewer
CRO in Finland
Verified LinkedIn User
Information Technology & Services, 11-50 Employees
Used the Software for: 2+ years
New way for slides
Comments: Great new way to share your story in all needs (remote, from your screen, via mobile UI) and always up-to-date global slide-set.
Pros:
An excellent way to tell a story, in the 2-dimensional matrix, and easy sharing for any needs.
Cons:
More quick changes directly in the slides.