15 years helping British businesses
choose better software
What is 3CX?
3CX is an open standards IP PBX that offers complete Unified Communications, out of the box. Suitable for any business size or industry. With 3CX employees can work efficiently from anywhere. Video conferencing, live chat, mobile apps and advanced contact center features are all included at a fraction of the cost.
Choose to deploy on premise, in your private cloud account or opt for 3CX to host your PBX for you. Whatever your preference, you are guaranteed a hassle-free solution.
Who Uses 3CX?
3CX is an open standards IP PBX that offers complete Unified Communications, out of the box. Suitable for any business size or industry that wants to cut on telco costs.
Where can 3CX be deployed?
Cloud-based
On-premise
---
About the vendor
3CX
Located in Nicosia, Cyprus
Founded in 2008
3CX pricing
Starting Price:
£0.00/month
Yes, has free trial
Yes, has free version
3CX has a free version and offers a free trial. 3CX paid version starts at £0.00/month.
About the vendor
3CX
Located in Nicosia, Cyprus
Founded in 2008
3CX videos and images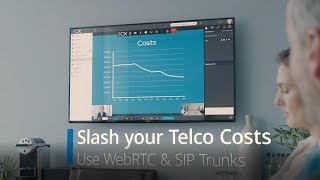 Features of 3CX
API
Access Controls/Permissions
Activity Dashboard
Activity Tracking
Alerts/Notifications
Archiving & Retention
Audio Calls
Audio/Video Conferencing
Auto-Dialer
Auto-Responders
Automated Attendant
Automated Routing
Automatic Call Distribution
Call Centre Management
Call Conferencing
Call Disposition
Call Logging
Call Monitoring
Call Recording
Call Reporting
Call Routing
Call Scripting
Call Tracking
Call Transfer
Caller ID
Caller Profiles
Chat/Messaging
Collaboration Tools
Communication Management
Computer Telephony Integration
Conferencing
Contact Management
Customisable Branding
Customisable Reports
Data Import/Export
File Sharing
File Transfer
For Cloud Phone Systems
IVR/Voice Recognition
Interaction Tracking
Live Chat
Meeting Management
Mobile Access
Multi-Channel Communication
Multi-Language
Multi-User Collaboration
Offline Form
On-Demand Recording
Online Voice Transmission
PBX
Proactive Chat
Queue Management
Real Time Analytics
Real Time Monitoring
Real Time Notifications
Real-Time Chat
Real-time Consumer-facing Chat
Recording
Reporting & Statistics
Reporting/Analytics
Ring Groups
SIP Trunking
SMS Marketing
SMS Messaging
SSL Security
Screen Sharing
Search/Filter
Single Sign On
Third Party Integrations
Transcripts/Chat History
Transfers/Routing
Two-Way Audio & Video
Unified Communications
Video Conferencing
Virtual Extensions
VoIP
VoIP Connection
Voice Mail
Robert
Head of IT in Australia
Verified LinkedIn User
Chemicals, 51–200 Employees
Used the Software for: 1+ year
Reviewer Source
Full featured Hosted SIP VOIP solution
Comments: Our on premise system had a number of issues. As it was not hosted it would only work in the office. Sometimes when we had an outage random users would lose their voicemail greetings. There was missing call queue and forwarding functionality that we required.
Pros:
Easy to implement. We converted over from our on premise Avaya system in less than an hour with little more than a couple of forms and spreadsheets to fill in. We have the option of the computer soft phone or the iOS app which means that people can decide how they receive/make "landline" calls. For thos in shared/high noise locations there are a number of voip deskphones that will also work. It gave us much better queue/forwarding functionality than we had before. Before this system any call forwarded to a mobile/another extension had the number of the extension doing the forward rather than the initial caller. Simple admin interface. Easy to use.
Cons:
There is no way to seperate the softphone volume from the generic computer volume so it can be quite a shock if you are doing something and the phone rings. There can also be annoying instances of the app trying to call on any number that you click on as it cannot identify phone neumbers. Minor things but room for improvement.
Alternatives Considered: RingCentral MVP
Reasons for Choosing 3CX: Mainly i wanted to switch to a hosted solution with an app. We had dozens of users with $500+ deskphones literally gathering dust. So i wanted the numbers but not the hardware. I also wanted it for people who are travelling or did not have a company mobile phone so that they could send and receive calls without using their own plan.
Switched From: Avaya Cloud Office
Reasons for Switching to 3CX: It was a contractual obligation. When moving from my old system i still had a contract with my SIP phone so 3cx was the most cost effective option.
3CX Response
last year
Hi Robert and thank you so much for taking the time to leave us a very good review. We hope you continue to have a good experience with 3CX. In regards to the cons you mention, if you have multiple speaker devices (computer, headset, monitor) you can select an individual device and set the ringer to be that and adjust the volume accordingly. If you wish, you can also exempt certain websites from having the numbers detected as telephone numbers, from the settings of the 3CX click-to-call extension.
Sam
Partner in US
Verified LinkedIn User
Logistics & Supply Chain, 11–50 Employees
Used the Software for: 1+ year
Reviewer Source
3CX is fine, but it is all about who handles the hosting
Comments: 3CX feels like it is a step up from a normal landline, but I don't see any wow factors that I feel like I could get from some of the other VoIP names. If you're looking for something less expensive than Ring Central, Phone.com, and OnSip, then you should be able to find a small VoIP provider willing to offer you a hosted package with 3CX for a lower price.
Pros:
3CX is straightforward. It seems to have all the necessary features for a small business. Still, as a business owner who cannot work on the admin side, I can only comment on the usability and stability. Compared to other softphone apps, I've never had significant issues. I use 3CX as a softphone on an iPhone, through a Yealink desk phone, via Chrome plugin, and on an iPad. Surprisingly, the limitations I see are not due to the daily functions. There are some features I would like, but there is nothing about this app that hinders my company's ability to operate without delay. We have users in China, Thailand, the Philippines, Jamacia, Venezuela, and the US. All locations work well, and the apps work even with limited internet access. There are times when the connection is not great, but this is usually due to the internet and not the apps.
Cons:
There is no way for my ringer on my softphone or desk phone to be customized to ring differently when someone calls my extension vs. ring group. I wish there were connectivity with Zapier so that I could push contacts from other services into our address book. It would be nice if the SMS chat feature worked more similarly to a shared inbox, where everyone could see it. You can only transfer the chat to another extension, which makes SMS hard to use as a group. Overall, the cons are not about the ability to use 3CX but the features I wish it had that could provide a better overall experience.
3CX Response
2 years ago
Hi Sam and thank you for your review! We are glad to hear that you are enjoying using our software and that it has helped you stay in touch with your employees throughout the world! Regarding the points you raised, desk phones can be configured to have distinctive ringtones for Queue Calls, so you should certainly consider switching to using Queues instead of Ring Groups. Apart from this, you would also get better reporting capabilities and a lot more polling strategies to choose from. For syncing you phonebook contacts, we do currently offer integration with Microsoft 365, but in the coming updates we will have a REST API that may also allow you to interact with the 3CX Phonebook, giving you the maximum flexibility in syncing your contacts between various platforms. Incoming SMS messages can be sent either to an Individual Extension or to a Queue, in which case all logged in members of that Queue will see incoming messages.
Hospitality, 11–50 Employees
Used the Software for: 2+ years
Reviewer Source
great phone system for remote team
Pros:
works great to ensure we can stay away from call center features and have remote agents log in and control call flows. Covers most of our needs in digital phone service management for our clients
Cons:
some agents would see occasional status change, need to address connectivity issues sometimes, but overall works great. Would love to have an option to add to the same call more than 2 numbers.
Melissa
BDC Operations Manager in US
Verified LinkedIn User
Automotive, 501–1,000 Employees
Used the Software for: 2+ years
Reviewer Source
3CX - Don't Waste Your Time or Money
Comments: I've used 3CX for more than four years, and in that time, it hasn't grown on me one bit.
Pros:
We can use it to answer and transfer phone calls that come into the call center.
Cons:
Where to start. It's clunky and not user-friendly. Terminology is confusing and not for lay-people. It's web-based, so any blip in our internet causes 3CX to freeze and/or die for our agents; it also causes a delay during calls, so that people end up talking over one another.
Verified Reviewer
Verified LinkedIn User
Internet, 201–500 Employees
Used the Software for: 1+ year
Reviewer Source
A Perfect Phone System
Comments: The Overall experience with 3CX has been very Good. Before 3CX we used Asterisk. Though Asterisk does good work, what it lacked was a proper telephone system useful for Businesses.
Pros:
3CX is a perfect Phone system for Businesses. It is one of the best product in the market when it comes to SIP and VOIP Telephone Systems
Cons:
3CX has worked perfectly for me so far so it is difficult for me to list down what I like least about it.
3CX Response
3 months ago
Hello! Thank you very much for your comprehensive and positive feedback! We are glad to hear that 3CX has effectively addressed your communication challenges, positively impacting your business. We completely agree with your assessment that 3CX is fully scalable, making it the ideal solution for connecting teams, customers, and remote workers as your business continues to grow.