15 years helping British businesses
choose better software
What is Jotform?
Trusted by over 18 million users, Jotform's form builder is the easy way to create and publish online forms from any device. The company offers 10,000+ ready-made form templates, 100+ integrations to 3rd party apps, and advanced design features making it the leading online form builder for organizations all over the world. It's popularly used to create payment forms, lead generation forms, registration forms, contact forms, application forms, and more.
Who Uses Jotform?
Whether you run a business, nonprofit, or work in education or healthcare, Jotform makes it easy to collect and manage information. Receive payments, registrations, appointments, uploads, and more.
Where can Jotform be deployed?
Cloud-based
On-premise
Jotform pricing
Starting Price:
US$29.00/month
Yes, has free trial
Yes, has free version
Jotform has a free version and offers a free trial. Jotform paid version starts at US$29.00/month.
Jotform videos and images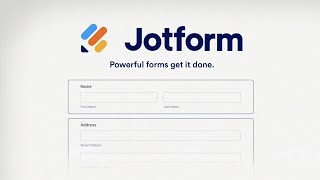 Features of Jotform
API
Access Controls/Permissions
Action Management
Activity Dashboard
Activity Tracking
Admissions Management
Alerts/Notifications
Annotations
Anonymous Feedback
Appointment Management
Approval Process Control
Archiving & Retention
Assessment Management
Attendance Management
Attendance Tracking
Audit Management
Audit Trail
Authentication
Autofill
Bereavement Management
Billing & Invoicing
CRM
Calendar Management
Campaign Management
Care Plan Management
Charting
Chat/Messaging
Claims Management
Class Scheduling
Classroom Management
Client Management
Client Portal
Collaboration Tools
Commenting/Notes
Communication Management
Completion Tracking
Compliance Management
Compliance Tracking
Conditional Logic
Contact Database
Contact Management
Content Publishing Options
Contract Drafting
Contract Lifecycle Management
Contract/License Management
Convert to PDF
Curriculum Management
Customer Experience Management
Customer Segmentation
Customisable Branding
Customisable Forms
Customisable Questions
Customisable Reports
Customisable Templates
Customizable Fields
Dashboard
Data Analysis Tools
Data Capture and Transfer
Data Import/Export
Data Retrieval
Data Security
Data Storage Management
Data Verification
Data Visualisation
Digital Signature
Document Automation
Document Capture
Document Classification
Document Imaging
Document Management
Document Review
Document Storage
Donor Management
Drag & Drop
Electronic Forms
Electronic Payments
Electronic Signature
Email Management
Email Marketing
Employee Database
Employee Management
Employee Profiles
Employee Recognition
Encryption
Engagement Tracking
File Management
File Sharing
File Storage
Financial Aid Management
For Healthcare
For Legal Professionals
For Nonprofits
Forms Creation & Design
Forms Management
Full Text Search
Fundraising Management
Goal Management
Goal Setting/Tracking
Higher Education
Housing Management
Incident Management
Inventory Management
Learning Management
Live Results Sharing
Media Library
Member Database
Membership Management
Merge/Append Files
Mobile Access
Mobile Signature Capture
Mobile Survey
Multi-Channel Communication
Multi-Channel Distribution
Multi-Party Signing
Multiple Question Types
NPS Survey Structure
Negative Feedback Management
Offline Access
Offline Response Collection
Online Polling
Patient Intake
Patient Records Management
Payment Collection in the Field
Payment Processing
Performance Management
Performance Metrics
Phone Polling
Pre-built Templates
Presentation Tools
Process/Workflow Automation
Progress Tracking
Project Planning/Scheduling
Pulse Surveys
Question Branching
Quizzes
Quotes/Estimates
Randomisation
Real Time Analytics
Real Time Data
Records Management
Registration Management
Reminders
Reporting & Statistics
Reporting/Analytics
Reporting/Project Tracking
Rewards Management
Role-Based Permissions
Scheduling
Search/Filter
Segmentation
Self Service Portal
Service History
Skip Logic
Staff Scheduling
Status Tracking
Student Information/Records
Survey Builder
Survey/Poll Management
Surveys & Feedback
Task Management
Template Management
Text Editing
Third Party Integrations
Trend Analysis
URL Customisation
Version Control
Visual Analytics
Volunteer Management
Web Forms
Work Order Management
Ruth
Metal Sheet Fabricator in Kenya
Verified LinkedIn User
Machinery, 2–10 Employees
Used the Software for: 2+ years
Reviewer Source
Jotform is superb for building forms.
Comments: The experience with Jotform is one worth every single second and penny we spend using it. It has really made our form building job very easy and simple. We no longer need to hire professionals to create forms for us now that we have Jotform.
Pros:
What makes Jotform unique in form building is it gives to our disposal every form styling tool that is needed to build very professionally branded and stylish forms. Another helpful feature in Jotform is the e-signatures which makes it easy to sign documents online. We also use it to create and deploy survey forms and it allows us to analyze the feedback we collect, create insightful reports to demonstrate how customers are saying regarding our services.
Cons:
Jotform has been giving us all that we need from it and it is doing remarkable job. No cons at all for Jotform.
Jotform Response
4 weeks ago
Hi Ruth, Thanks for highlighting the unique features you value in our platform! We're thrilled to be a part of your professional form-building and survey processes. Let us know if you have questions through our Contact Us page at https://www.jotform.com/contact/. We'll be happy to help.
Verified Reviewer
Verified LinkedIn User
Food Production, 201–500 Employees
Used the Software for: 2+ years
Reviewer Source
Easy way to collect data from our field personnel
Comments: I'm very happy with Jotform for managing our department's forms. Thanks to it, we can now not only collect data from our field personnel when they don't have access to a desktop, but above that, the data is validated, archived securely, and charted automatically with our Power BI integration. It helped us solve a big issue on our data side and brought an extra level of insight into our efforts.
Pros:
I think the best thing about it is probably all the templates they have available. There are hundreds of templates for most common form types. Thanks to that, we've never had to design a form from scratch. We just pick a template, add a couple custom questions or fields, and voila.
Cons:
Nothing sticks out that much. It would be good to have live support though.
Alternatives Considered: Formsite and Typeform
Reasons for Switching to Jotform: Jotform seemed a lot more advanced with better form fields. The mobile interface is also far better than the others
Jotform Response
last month
Hi, Thank you for taking the time to leave an excellent review. We are so glad to hear that you love our templates. We do have chat support, which is available when you open the main Jotform page; if it is not there, then it means there is high traffic and the live chat is closed. If you have any questions, let us know through our Support Contact Form at https://www.jotform.com/contact/. We'll be happy to help.
Marketing & Advertising, 11–50 Employees
Used the Software for: 2+ years
Reviewer Source
Source: SoftwareAdvice
NOT for research surveys
Comments: This review is specific to using JotForms as a substitute for other platforms that may be used for creating surveys. We use JF at my agency for other purposes and its fine but I'm really shocked at how poorly it is set up for creating surveys and for data visualization. For example, if you want to convert a survey that uses Likert sliders into a PDF, JF just deletes those questions instead of converting them to a standard Likert format. The form building is not intuitive. There is incorrect (or outdated) information on use in their self-help library and customer support is very hard to get.
Pros:
For the purpose of research, even Google forms (which I hate) is better.
Cons:
It's like they built this capability and never spoke with anyone who does actual real research. The form building options are not good. Data visualization is terrible. Customer support is terrible. I kind of wonder why they even offer a survey capability if it's going to be the worst on the market.
Jotform Response
2 months ago
Hi Mike, Thanks for your input, which will help us improve our platform. Could you please add some information about how you would like to view the created data in order to improve your experience? Your feedback will be critical in assisting us in better serving your needs. It is possible to create visual reports out of your submission data. For more information, you can check out this guide: https://www.jotform.com/help/187-how-to-create-a-visual-report-with-your-form-submissions/. You can contact us through our 24/7 Support Contact Form at https://www.jotform.com/contact/. We will be happy to assist.
Thomas
Systems Manager in Türkiye
Hospitality, 11–50 Employees
Used the Software for: 1+ year
Reviewer Source
Very decent solution for forms & e-sign docs
Comments: Jotform is a wonderful tool to have at hand when working remotely. With it, you can just whip up a few forms and documents without spending too much time on it, and for something so simple, the amount of data it uncovers is fantastic. We've definitely seen concrete results of it across our operations.
Pros:
I love how there are hundreds and thousands of ready-made form and document templates for pretty much whatever you can think of. It saves you tons of time from having to make something from scratch, and it also gives you good form field ideas that you probably wouldn't have added if you did it from scratch.
Cons:
We see performance issues every now and then. Mostly form submissions coming through multiple times and sign fields not working properly, especially for multi party agreements.
Alternatives Considered: Formstack Forms, Formsite and Typeform
Reasons for Choosing Jotform: Google forms doesn't have many of the advanced form features that other form builders have. And we wanted to combine our e-sign and form needs under one tool, so we decided to move away from it altogether.
Switched From: Google Forms
Jotform Response
3 months ago
Hi Thomas, Thanks for sharing your feedback! It's great to hear that Jotform's ready-made form templates have been helpful to you. We appreciate your support in making Jotform a valuable platform. We're sorry to hear about the occasional performance issues, we'll do our best to resolve them. We kindly request that you submit the details to our Support System via our Contact Us page at https://www.jotform.com/contact/ so we can address them properly. Reach out to us through our Contact Us page at https://www.jotform.com/contact/ if you have any questions. We'll be more than happy to help.
Consumer Services, 11–50 Employees
Used the Software for: 1+ year
Reviewer Source
Jotform for our business
Comments: So far, Jotform has been a great platform to easily get a lot of problems solved when it comes to feedbacks and polls.
Pros:
JotForm offers a wide range of features, not limited to file uploads, and signature alone, and also offers a wide range of customizable templates that can be used to create forms for any purpose easily and fast
Cons:
There is a very wide range between the free plan and premium plan of jotform, and I feel at least it would be helpful to be able to generate reports on form submissions by date range or by specific field on the free version.
Alternatives Considered: Google Docs and Microsoft Forms
Reasons for Choosing Jotform: Jotform tends to be more cheaper and have more features on their free plan as against our experience with Wufoo, although Wufoo is not a bad platform too.
Switched From: Wufoo
Reasons for Switching to Jotform: There's a great navigation experience with jotform, and we can easily make decisions based on responses we received.
Jotform Response
2 weeks ago
Hi Michelle, Thanks for highlighting the versatility of our platform! We're thrilled you appreciate the range of features and customizable templates. If you need help with generating reports, let us know through our Contact Us page at https://www.jotform.com/contact/. We'll be happy to help.