What is ProjectTeam.com?
ProjectTeam.com is construction project management software customized to your needs. In addition to standard forms such as RFIs, Submittals, Contracts, and Change Orders, you can easily add your own custom forms, workflows, reports, print templates, and more. With ProjectTeam.com, you aren't limited to what the system provides by default. You can extend ProjectTeam.com to track all of your unique project and organizational needs. You can also integrate with your other business-critical apps.
Who Uses ProjectTeam.com?
ProjectTeam.com is the top pick for Owners, GCs, & CMs looking for customizable project software. With easy-to-use tools like forms, workflows, and reports - it's no wonder it's a 5-star favorite.
Where can ProjectTeam.com be deployed?
Cloud, SaaS, Web-based, Mac (Desktop)
About the vendor
ProjectTeam
Located in Chantilly, US
Founded in 2011
Phone Support
24/7 (Live rep)
Chat
Countries available
Canada, United States
About the vendor
ProjectTeam
Located in Chantilly, US
Founded in 2011
Phone Support
24/7 (Live rep)
Chat
Countries available
Canada, United States
ProjectTeam.com videos and images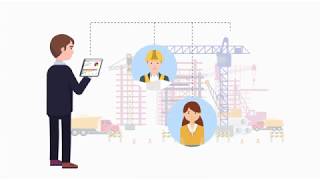 Compare ProjectTeam.com pricing with similar products
Features of ProjectTeam.com
Access Controls/Permissions
Accounting Integration
Action Management
Alerts/Notifications
Annotations
Assignment Management
Autofill
Budget Tracking/Job Costing
CRM
Calendar Management
Change Order Management
Checklists & Inspection
Commenting/Notes
Completion Tracking
Compliance Tracking
Contact Management
Contract Drafting
Contract Lifecycle Management
Contract/License Management
Contractor Management
Document Management
Drag & Drop
Electronic Signature
Equipment Tracking
File Storage
For AEC Industry
Forms Creation & Design
Full Text Search
Inspection Management
Inventory Management
Issue Tracking
Mobile Access
Permit Management
Pre-built Templates
Process/Workflow Automation
Project Management
Project Tracking
Punchlist/QA Walk Management
Purchase Order Management
RFI & Submittals
Real-time Updates
Reporting & Statistics
Scheduling
Status Tracking
Task Management
Task Scheduling
Third Party Integrations
Timesheet Management
Version Control
Workflow Management
Alternatives to ProjectTeam.com
Reviews of ProjectTeam.com
Shannon L.
President and Senior Consultant in US
Verified LinkedIn User
Defense & Space, 2-10 Employees
Used the Software for: 6-12 months
What other collaboration platforms try to be
Comments: Like with any elegant solution/tool, I keep finding ways to use it across my business processes. Other platforms seemed like they expected me to build my processes around the tool.
Pros:
The ease of use in adding people to forms and providing access to documents. Seriously intuitive and user-friendly. Doing the same thing in something like, SharePoint, takes many more steps and also Administrator access. Also, the user interface is seamless. I don't even have to think about "how" to do something. The buttons and clicks all make sense.
Cons:
It took me a minute to understand how "forms" were used...like, literally, a minute. Once I got that, my learning curve was flat.
Construction, 2-10 Employees
Used the Software for: 1-5 months
Alternatives Considered:
Very simple, yet detailed software.
Comments: My personal experience was great. [SENSITIVE CONTENT HIDDEN] was assigned to our startup process and to say she was very helpful, is a major understatement. She taught me first to understand how it works and then how to go about it. She also showed me some shortcuts and tips that speeds certain things up with you not having to do things twice.
[SENSITIVE CONTENT HIDDEN] is a rockstar!
Pros:
The biggest sell on this software is the ability to tailor it around your own business and not have to tailor your business around the software. The "out of the box" forms is very helpful, but it's even more convenient that you can custom build your own to suit your needs and wants based on your reports you would like to see.
Cons:
I was somewhat disappointed that it does not have the ability to allow you to enter formulas to automatically calculate invoice line items such as QTY x Rates. Supposedly that is a feature that will be added pretty soon.
ProjectTeam Response
last year
Hey Mike! Thanks for the review :) I wanted to let you know that we added the options to include unit/amount-based line items in your contracts, change orders, and payment application forms. The new fields and table columns will automatically calculate your invoice line items.
John P.
Senior Cost Manager in US
Construction, 10,000+ Employees
Used the Software for: 1-5 months
An Early Review
Comments: As a construction program management company, we generated and store a tremendous amount of information and data that is shared by a multitude. Project Team disseminates that body of information quite easily.
Pros:
Although I have only been exposed to Project Team for a couple of months, I am finding it to be quite straight forward and easy to use and to get up to speed with. The on problem I had was resolved and taken care of immediately through the Help desk.
Cons:
Some of the Detail data entry level are not very intuitive.
Architecture & Planning, 11-50 Employees
Used the Software for: 2+ years
Excellent
Comments: Professional, quick and responsive
Pros:
Easy and simple, I dont have to convert all the subs and workers into a new software it is compatible with all they use.
Cons:
The set up was lengthy but once it was done it used for all the templates
Joseph K.
Director, Project Controls in US
Renewables & Environment, 1,001-5,000 Employees
Used the Software for: 6-12 months
Alternatives Considered:
ProjectTeam Application Review
Comments: The staff at ProjectTeam had immense industry knowledge that helped to collaborate with our internal SME's throughout the implementation process. They were always responsive and willing to work within our needs.
Pros:
The software was customizable to incorporate the many different types of projects we have and the individual processes within them. The software was very ease to use and the site layout had a simple flow to it.
Cons:
The mobile use is via a web browser, I'd love to see an mobile app of the software for easier use in the field.