What is Spendesk?
Spendesk is the complete spend management platform that gives 100% visibility into company spend. With Spendesk, you get a 7-in-1 solution with corporate cards, invoice payments, expense reimbursements, budgets, approval, reporting, compliance, and pre-accounting in one simple, scalable solution. Trusted by thousands of businesses from start-ups to established brands, Spendesk is designed to save time and money across the entire spending process.
Who Uses Spendesk?
Spendesk offers smart spend management software for companies that need efficient, scalable processes. A perfect fit for businesses from 30 to 1000 employees.
Where can Spendesk be deployed?
Cloud, SaaS, Web-based, Android (Mobile), iPhone (Mobile), iPad (Mobile)
About the vendor
Spendesk
Located in Paris, France
Founded in 2016
Phone Support
Chat
Languages
English, French, German, Spanish
Spendesk pricing
Starting Price:
Not provided by vendor
Yes, has free trial
No free version
Spendesk does not have a free version but does offer a free trial.
Pricing plans
get a free trial
About the vendor
Spendesk
Located in Paris, France
Founded in 2016
Phone Support
Chat
Languages
English, French, German, Spanish
Spendesk videos and images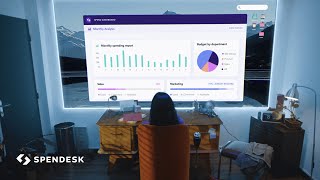 Features of Spendesk
Approval Process Control
Approval Workflow
Billing & Invoicing
Budgeting/Forecasting
Cash Management
Corporate Card
Data Security
Debit/Credit Card Processing
Duplicate Payment Alert
Electronic Funds Transfer
Expense Tracking
In-Person Payments
Invoice Processing
Mobile Receipt Upload
Multi-Currency
Online Payments
Payment Processing
Policy Management
Procurement Management
Receipt Management
Reimbursement Management
Reporting/Analytics
Spend Analysis
Spend Control
Supplier Management
Time & Expense Tracking
Vendor Management
Mark L.
Director Business Planning in Germany
Verified LinkedIn User
Computer Hardware, 51-200 Employees
Used the Software for: 6-12 months
Great efficiency tool for small companies
Pros:
It greatly improves the purchasing workflow, all the way through to payments and accounting. It decentralises purchasing, while keeping control of the whole process with the decision makers. It's very intuitive to use - I never have to train new employees on Spendesk. The customer support level is the best I've ever seen, and they are constantly adding new features and improving the existing ones.
Cons:
It costs money. But compared to the employee time saved by using it, as well as the added value compared to manual processes, it's money very well spent.
Spendesk Response
3 years ago
Thank you Mark for your kind review. We are really happy to free you and your team from the hassle of paying at work!
Martin B.
Co-founder - COO in France
Retail, 51-200 Employees
Used the Software for: 2+ years
Makes daily expenses tasks super easy
Pros:
Spendesk is very easy to use and at an affordable price point. Since it is cloud-based, I can access it from any computer, at home or the office. It is sleek and easy to find what I'm looking.
Cons:
Since it is a cloud-based software, it is dependent on a reliable internet connection
Christopher P.
Head of Finance in Germany
Construction, 11-50 Employees
Used the Software for: 1+ year
Sucess Story
Pros:
100% control over all teams and their spendings Easy to use via app or directly on the platform Streamlining of Cash-out Customization of fields for export incl. cost center logic
Cons:
Missing export file with images for German accounting software Datev
Alternatives Considered: Pleo and Expensify
Reasons for Switching to Spendesk: Great customer support known from previous companies
Spendesk Response
3 years ago
Thank you Christopher for your great review!
Information Technology & Services, 11-50 Employees
Used the Software for: 1-5 months
Great accounting automation for distributed teams
Comments: We're a small team scattered around Europa and Asia & thanks to Spendesk, much of our accounting, requesting payments & doing personal expenses has been automated - giving us more time to focus on developing our business rather than filing manual reports & chasing receipts across departments.
Pros:
- Spendesk allows to automate payments & approvals for business expenses and provides great overview over who owns which transactions, establishing great accountability - The accounting integration (in Germany) was easy and straightforward - Great approval flows - It's possible to set up multiple teams & entities, modeling complex organizational structures
Cons:
- Due to a change in Spendesk's internal processes in preparation for Brexit the onboarding process took 3-4 weeks, which wasn't well communicated in advance - Each credit card's limit must be backed by money pre-loaded onto the bank account - and each card's limit needs to be 100% backed, effectively tying up an entire month of "worst case scenario" working capital - Currency conversion charges are quite high
Spendesk Response
3 years ago
Hello Lukas, and thank you very much for your very detailed review. We are sorry that you faced some issues while using Spendesk. Don't hesitate to contact our support team anytime you need, we are available for you. Have a nice day!
Matthew W.
Chief Technology Officer in UK
Computer Software, 51-200 Employees
Used the Software for: 6-12 months
Very nearly perfection, but I have a use case not handled well
Pros:
This is cliche, but the software just works. I really appreciate how fast it is to do all the tasks I need to do, and it really helps get my colleagues on board when it doesn't take up much of their time to upload receipts.
Cons:
It is not very obvious how to have a card that can be charged multiple times, but only as a single overall process. An example is any service which takes a deposit, then final charge once manufacture is complete. This would be one purchase request and therefore one spendesk card, but needs to allow multiple individual charges to occur. The "solution" is a subscription, but then you have to remember to cancel it or the money is reserved on the card forever.
Spendesk Response
3 years ago
Thank you Matthew for your interesting review. If you need any help with Spendesk, don't hesitate to contact our support or customer success teams!