What Is Toky?
Toky is a full-featured Business Phone System that allows your customers and team to communicate seamlessly using the internet. With virtual phone numbers from around the world, make yourself available no matter where your company is based. Integrations with major CRM and other business tools not only will allow you to get in touch with your contacts with a single click, but also log details of every call you make. With features including Call recordings, Voicemails, SMS, Speech to Text and more
Who Uses Toky?
Startups and business of all sizes that need a full featured phone system that allow them to start a call center easily with phone numbers, live calls, CRM integrations and more.
Toky Details
Toky
Founded in 2014
Toky Details
Toky
Founded in 2014
Toky videos and images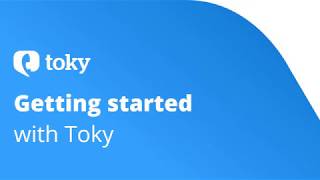 Compare Toky pricing with similar products
Starting price
US$20.00/year
US$25.00/month
US$25.00/month
US$5.00/month
Toky deployment and support
Support
Email/Help Desk
FAQs/Forum
Knowledge Base
Phone Support
24/7 (Live rep)
Chat
Deployment
Cloud, SaaS, Web-based
Mac (Desktop)
Windows (Desktop)
Linux (Desktop)
Android (Mobile)
iPhone (Mobile)
iPad (Mobile)
Training
Live Online
Documentation
Videos
Steve M.
Town Clerk & RFO in UK
Verified LinkedIn User
Civic & Social Organization, 2-10 Employees
Used the Software for: 1-5 months
Outstanding Product
Comments: We needed to urgently set up a COVID-19 Volunteer helpline for the vulunerable and elderly in Wilton. Within 2 days we had implemented Toky, recuited and trained 24 call centre volunteers and gone live. The expereince with Toky was totally fantastic. I made a host of support calls during set up (I am not an IT geek) - they were very patient and responded clearly and successfully to every question. They were flexible on billing too. Everything worked perfectly. The Volunteer call centre is now up and running and working like a dream. 24 agents working from the safety and security of their own homes - with calls coming in on a single emergency line. All set up by Toky in minutes. I cannot, I mean CANNOT, recommend these guys highly enough.
Pros:
Very simple to implement, great functionality, metrics excellent with clear reports, cost excellent.
Cons:
Nothing not to like about this super product..
Giorgos T.
Customer Support Manager in Greece
Telecommunications, 11-50 Employees
Used the Software for: 6-12 months
Toky is the best choice out there!
Comments: As soon as started in my current company, they had been using Intercom for some time - so I had the difficult task of finding a phone channel provider that would integrate with that. After months of trials with almost all available products, I came across Toky, and boy was I lucky! The integration was smooth and had all the functionality I was looking for, the Support Team and especially [SENSITIVE CONTENT HIDDEN] really helped me set it up quickly and they have the best prices out there, both for the product and outbound calls. I would recommend it 100%.
Pros:
The integration with Intercom is smooth The platform is easy to use Has many options for IVR and general settings
Cons:
There isn't something about the software that I don't like - the only negative thing is that for my area they don't have Weekend Support yet - they told me they will fix that soon, but for now, I am worried that if something during the weekend I might have to wait some time until its fixed. Luckily, I haven't had any big issues with it anyways, so this is mostly anxiety rather than an actual problem.
Denym B.
Founder in New Zealand
Verified LinkedIn User
Entertainment, 2-10 Employees
Used the Software for: 6-12 months
Source: GetApp
The VOIP system makes you feel like you've got terminal cancer
Comments: Overall my experience in using Toky's terrible VOIP system has been akin to having terminal cancer. Waking each day to constant pain and suffering, every call I receive I painfully hear the frustration in the voice of the caller as they fail to understand anything I am saying. I wouldn't wish this experience on my worst enemy.
Pros:
Toky is a terribly overpriced and incompetently built VOIP product. The only Pro I can think of for Toky, is coming to the realisation that even in today's business environment, that western Silicon Valley startup companies can and do lie about what their products will do. This is hugely disapointing and if I was working at Toky, I would be ashamed to be apart of such a dishonest company, because Toky does not work in any respect for the word.
Cons:
Virtual phone systems should work at the same, or better level than non-virtual ones. Toky does not work at all. Constant call drop outs, talk lag, voice muffling, and just not redirecting calls at all. These are all issues that plagued experience using Toky. Not only that but the customer support team is hugely entitled, will take 48 hours to reply to you and will pawn you off to the next available support person so they don't have to deal with your issues.
German Response
3 years ago
Hello Denym, We regret that you consider your experience with our service so bad. Our team worked on the solution of the presented inconveniences, but we found that the problem with your account was due to factors external to our platform. We tried to find a solution with you, taking into account the compliance of our terms of service, where we state that we can not give refunds, but it was not possible. We are sorry for the difficulties presented that led you to write this review, but I assure you that we did our best to provide a solution from our side, but sadly, the answer was outside our platform and our reach
Vladislavs V.
CEO in Latvia
Maritime, 11-50 Employees
Used the Software for: 1-5 months
Alternatives Considered:
Best option on the market for sales department
Comments: We needed a solution for our sales department who are doing a LOT of calls daily, our criteria was something that is cheap, able to track history and has a good calling quality. So far Toky was the company that satisfied our needs fully.
Pros:
It is very easy to navigate and start using. You can easily track calling statistics of your sales department. Click-to-call extension for browser is a great addition. And of course, pricing is highly competitive.
Cons:
Currently it's not possible to set a separate Administrator account without it being a User (paid)
Rik D.
Growth Product Manager in Netherlands
Accounting, 11-50 Employees
Used the Software for: 1-5 months
Nice and easy to use! Good support
Comments: I can easily call with members and also with the feature "Power dialer" we can call quicker.
Pros:
We use Toky to call with our whole team (included developers), so we can speak all to our new users. It's nice that I can manage easily the hole team and create in just a few clicks a new user.
Cons:
Some times the "Mute" doesn't work. (6 of 10 it don't work) so we need to look at how that comes