What Is FieldPulse?
FieldPulse is the leading field service software for small service businesses that want to grow while saving time and money each day. Powerful, easy-to-use features and integrations give plumbers, HVAC specialists, and more the tools to make customers happier, schedule jobs quicker, and get paid faster. Start a FREE 7-day trial of the app to see how your business can grow and thrive with FieldPulse.
Who Uses FieldPulse?
Field and trade service business owner operators, independent contractors and subcontractors that manage customers, create estimate/invoice documents, and schedule or dispatch technicians.
FieldPulse Details
FieldPulse
Founded in 2015
FieldPulse Details
FieldPulse
Founded in 2015
FieldPulse videos and images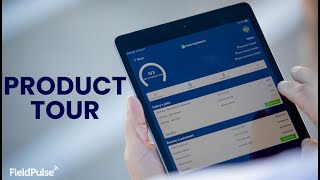 Compare FieldPulse pricing with similar products
Starting price
US$65.00/month
US$35.00/month
N/A
US$49.00/month
FieldPulse deployment and support
Support
Email/Help Desk
FAQs/Forum
Knowledge Base
Phone Support
Chat
Deployment
Cloud, SaaS, Web-based
Mac (Desktop)
Windows (Desktop)
Android (Mobile)
iPhone (Mobile)
iPad (Mobile)
Training
In Person
Live Online
Webinars
Documentation
Videos
Lou D.
Owner in US
Verified LinkedIn User
Consumer Services, 2-10 Employees
Used the Software for: 1-5 months
Alternatives Considered:
I finally found what I was searching for!
Comments: So far so good!
Pros:
The features are great and they actually work! After trying every software on capterra and more, FieldPulse allowed me to stop looking and get back to business. As an owner/operator I'm able to access the features I need in the field as well as the desktop. All the features are there in addition to many customization options. And the support is second to none. I've been able to get a human at all hours of the day and they are dedicated to customer satisfaction. Getting set up was a breeze and the support team guided me every step of the way (when needed). A slick gui AND good functionality? I'll take it.
Cons:
It could be more customizable, but isn't too limited. There are certain features that I'd like to see that aren't currently present, but then again no one does it all. And any software that had these features certainly lacked in most others. The team is also very responsive and interested in user feature requests. Sure, it's got it's bugs here and there. But when I mention one, the team usually knows about it and are on it already. That, or it was user malfunction.
FieldPulse Response
2 years ago
Lou, thanks for taking the time to leave that review! We're inspired by business owners like you. So it means a lot to us when you note that our product is feature rich and still getting better. Cheers to your success! --Dennis Behrman | Head of Marketing
Construction, 2-10 Employees
Used the Software for: 1-5 months
Alternatives Considered:
Great features at a great price
Comments: My intended purpose for Field Pulse is to be able to manage 90% of my business from the field. I take calls, create clients, create estimates, complete work, invoice, and take payment all from my phone or tablet from the field. I want to minimize how much time spent on data entry on my computer in the office. With Field Pulse, I will primarily only need to work on complex estimates, back-up of data, and accounting audits from my computer at home. That will cut my workload down significantly. With the new Pricebook feature I may not even need to use my workstation pc to work on complex estimates. Time will tell on that one.
Pros:
I love the amount of features you get for the price. I am coming from Jobber which I use as the gold standard for small to medium sized field service business software. Compared to Jobber I feel that Field Pulse offers a very comparable set of features at half the price of Jobber. While improvement and new features are always welcome, I feel that Field Pulse is on par or better that their competition.
Cons:
The work flow is quite a bit different from what I would like. The best example is only having the ability to set one visit for each job. While the obvious workaround is to update the date each time a new date is needed or create multiple jobs under the project tabs, but, honestly, the easier solution is to have the ability to attach multiple visits to a single Job. That I believe is a more natural workflow for most users in my industry. In fact, Field Pulse, is the only field service management software that doesn't allow for this. All the big names like Jobber, Housecall Pro, Workiz, all use this workflow model with great success. I would also like the ability to view my client database alphabetically by last name. The current model is the alphabetize it by first name which is very backwards from any other CRM type solution on the market. I am not on a first name basis with many of my clients and when searching for them in my master list, I have to hunt for the last name.
FieldPulse Response
last week
Hi Adam! Thank you so much for taking the time out of your day to leave us such incredible feedback! We are currently building out the ability to track multiple visits for a single job! I've also added the ability to filter customers by first name to our development wish list. We will follow up with you as soon as both of those become available! Thanks again!
Construction, Self Employed
Used the Software for: 6-12 months
Alternatives Considered:
Good Enough For Price
Comments: Overall it is ok for field invoices and payments, but for an overall solution to help your business run better it lacks in some areas. Probably worth paying more for others, after using a different software for my other business for the last 5 years I expect more out of this software, however Field pulse is considerably less expensive than the other software we use. They will probably continue to improve this though so with the cost effectiveness may be worth it in the long run.
Pros:
It made it easy to invoice and take payment in the field to avoid chasing money after the service call. Does ok for the cost.
Cons:
There are several features that are missing and or do not work well for our company. The reporting could be better, but there is no customer statement function and if you have related customers(which is for a customer with multiple service locations) they are not tracked together and there is no way to send an easy to read statement of all invoices for a particular customer with multiple locations. The Quick Books syncing is terrible and is mostly related to QB online but they keep claiming they will make it compatible with QB desktop but have yet to, to my knowledge. The app has issues as well I have to post date my invoices so the correct date shows up when sent to the customer. Deleting and changing invoices is a pain and when the QB sync screws up with payment it sometimes still says invoiced when it has been paid and there is no way to manually change the status.
Events Services, 2-10 Employees
Used the Software for: 1-5 months
Alternatives Considered:
Great program!
Comments: The customer service, especially [SENSITIVE CONTENT], has been SUPER helpful answering all my questions with promptness and accuracy. Very much appreciated, especially when you're a "newb"!
Pros:
I really enjoy the over abundance of features and options available, and how almost every piece of the software is customizable to my business needs.
Cons:
I haven't had it very long to have a list of cons, one thing I can think of though is it could get pretty pricey the more team mates you add on. Which could be a deciding factor for soem.
FieldPulse Response
2 months ago
Hi Kaleb! Thank you for the wonderful review and taking the time to share your feedback with FieldPulse!
Jason S.
Owner/Contractor in US
Construction, 2-10 Employees
Used the Software for: 1-5 months
Alternatives Considered:
FieldPulse - The all around software solution for contractors and service providers!!!
Comments: Overall, I think FieldPulse is one of the biggest contenders out there. Even up against Co-Construct and BuilderTrend which are priced way out of the hands of single person or small businesses to be able to incorporate and try and they don't even trial their software. FieldPulse has pretty much the features to be able to run a successful contracting or field service company.
Pros:
What I liked most about FieldPulse are the features that it has for the price of using the software. It is very reasonably priced for big companies all the way down to the single person business.
Cons:
Wish they had estimating options as well as item/service database features, but after talking to a rep, it looks that they are continually working on it and puts my expectancy on these features at ease knowing that they are improving all the time.
FieldPulse Response
2 years ago
Jason, thanks so much for the review. It's hard working entrepreneurs like you that keep us motivated to build a great contractor platform. We are always improving the platform, and your comment about item/service database is clutch. We will have some tremendous new features to announce in the coming months, so stay tuned. Please always let us know if we can help in anyway. Our customer success team all sits right next to me here in Dallas, Texas and we love hearing from you guys! --Gabriel Pinchev, CEO