What is VoxVote?
Free mobile voting platform with unlimited audience.
Add interaction to your event. Let your audience use their smartphone and add answers to live polls, quiz or create a wordcloud based on their responses.
Why pay for limited audience sizes? We have unlimited audience. We run worldwide on our cloud scalable platform.
We are the Kahoot! for business.
Who Uses VoxVote?
For event organizers, speakers on stage, quiz hosts, teachers, presenters, or everybody who presents on stage and want live interaction with their audience. Works along with your video sessions.
Where can VoxVote be deployed?
Cloud, SaaS, Web-based, Android (Mobile), iPhone (Mobile), iPad (Mobile)
About the vendor
VoxVote
Founded in 2014
Phone Support
24/7 (Live rep)
Chat
About the vendor
VoxVote
Founded in 2014
Phone Support
24/7 (Live rep)
Chat
VoxVote videos and images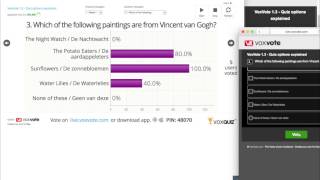 Compare VoxVote pricing with similar products
Features of VoxVote
Customisable Branding
Data Analysis Tools
Feedback Management
Live Results Sharing
Nominations
Online Polling
Online Voting
Polls/Voting
Q&A Management
Ranked Choice Voting
Real Time Data Collection
Amy
Director of Education in US
Verified LinkedIn User
Real Estate, 501-1,000 Employees
Used the Software for: Not provided
I wanted to add an audience participation tool to a live event and Voxvote was easy to implement.
Pros:
It allows an unlimited number of respondents and many features which can be customized. It was easy to implement and the tutorial was helpful. They let you try it for free 5 times so you can test drive it.
Cons:
Ask me again in a few months after I've used it a few times. I am still playing around with it and don't know what I like or don't like yet. i would love to be able to integrate the questions right into my powerpoint, but at this point it looks like I will be toggling back and forth. Let me know it this is not correct.
VoxVote Response
5 years ago
Yes, at the moment there is no Powerpoint or Keynote plugin. Main reason: it might work on your local installation laptop, but on venue location, there might be other laptops on media beamers, preventing to install plugins. Also, the variety of Microsoft Office - version 2010, 2013, 2016 both on 32 and 64 bits makes it really hard to make hassle free plugins. Nevertheless, we are developing a simple slide page within VoxVote in 2018. So you can create simple slides between your questions. You can think of headers, subheaders, paragraphs, images, bulleted lists etc.
Sally
Administrator in UK
Nonprofit Organization Management, 51-200 Employees
Used the Software for: Free Trial
Alternatives Considered:
First time online voting user
Pros:
Ease of set up and the ability to tailor the type of question. Being able to set a max/exact response and the reminder for voters if not adhered to.
Cons:
Liked the option preview and live modes but would have liked bit more upfront information about their use.
VoxVote Response
3 weeks ago
Thanks!
Airlines/Aviation, 501-1,000 Employees
Used the Software for: 1-5 months
Got my Vote
Comments: Collecting feedback and assessing knowledge "real time" in meetings.
Pros:
Ease of setting up the questions, editing the questions, and reordering the questions was a pleasant surprise.
Cons:
Capturing and displaying the results was difficult. Also, I would like an option to embed the functionality in a Power Point or display in a "full screen" mode on Teams.
VoxVote Response
2 years ago
Thanks for your review. We have a slide module, so you can combine slides and questions live within VoxVote, we will contact you soon about this option. Full screen in Teams, yes thats possible.
Anna
Executive Assitant - Partner Specialist in US
Professional Training & Coaching, 11-50 Employees
Used the Software for: 1+ year
Simple and efficient!
Comments: Voxvote brings a level of professionalism and class to our in person and online programs which benefits both our team and our clients as well.
Pros:
After using only a few times, it is very user friendly and easy to set up new events and questions for our presenters to use.
Cons:
It would be great if there were a text to chat feature where I could communicate with a Voxvote team member with questions. Look into Podium another great tech company that can do this for voxvotes members!
VoxVote Response
3 months ago
Thanks,
LUCIO
Tesoriere Generale in Italy
Religious Institutions, 11-50 Employees
Used the Software for: Free Trial
Alternatives Considered:
VOTE OF A STATUTE
Pros:
IT IS BUILT BY THE EXPERIENCED HAND OF INEXPERIENCED USERS
Cons:
DOES NOT KEEP THE ORDER OF THE QUESTIONS AND DOES NOT SHOW THE COLORS IN THE QUESTION TO THE PARTICIPANTS
VoxVote Response
last year
Thanks! About the colors to the client. That might influence quiz / correct / yes no answers. Colors are for the chart/graphs only.