What Is Drift?
Drift is an all-in-one platform that combines Conversational Marketing and Conversational Sales to help companies grow revenue and increase customer lifetime value, faster.
More than 50,000 businesses use Drift to align sales and marketing on a single platform to deliver a unified customer experience where people are free to have a conversation with a business at any time, on their terms.
Who Uses Drift?
Drift helps companies grow revenue and increase customer lifetime value, faster.
Where can Drift be deployed?
Cloud, SaaS, Web-based, Android (Mobile), iPhone (Mobile)
About the vendor
by Drift
Located in Boston, US
Founded in 2015
24/7 (Live rep)
Chat
About the vendor
by Drift
Located in Boston, US
Founded in 2015
24/7 (Live rep)
Chat
Drift videos and images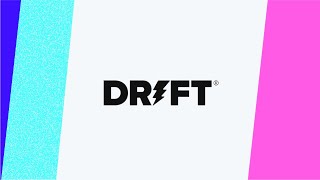 Compare Drift pricing with similar products
Starting price
N/A
US$38.00/month
US$10.00/month
US$16.00/month
Rob C.
Content & SEO Specialist in US
Verified LinkedIn User
Computer Software, 201-500 Employees
Used the Software for: 1-5 months
Alternatives Considered:
Expensive but awesome
Comments: With two substantially different audiences being targeted by our business, and a general need to do a better job of quickly connecting with promising leads, we've been quite pleased so far with Drift. We've already had several great opportunities arise thanks to the tool, and still have a large number of new bots to roll out, plus refinements to make based on our learnings from using the tool. As a supplement to our other inbound marketing efforts, I foresee chat through Drift being a substantial asset for a long while to come.
Pros:
With Drift, you can create customized chat experiences for users based on all sorts of criteria - the page they're on, the number of times they've visited, the channel they used to get to your site - and to target specific businesses with targeted messaging. Building the chat flows (Drift calls them "Playbooks") is generally quite easy, allowing you to quickly build out new bots once you get a hang of the platform. Drift also includes support chat built right into the product, meaning every time I get stuck, I'm able to reach out and get a hand from one of their product experts right away.
Cons:
We haven't been using Drift for that long, and there have already been a number of instances where I or one of the other users in the company have attempted to do something that seems obvious, only to find out the tool doesn't allow us to do so. We're always told that a feature request has been submitted, but there's no way to know how long it will take before we get whatever little tweak we're looking for in order to provide a smoother, more pleasant chat experience on our site.
Drift Response
2 years ago
Hi Rob, Thanks for taking the time to share all of this detail. It's really helpful. Our feature request process is something we're improving this quarter, I agree this has not been the best experience to date. Thanks again for sharing, and if we can be helpful to you with you 2020 plans, please let us know how we can support you! All the best - Julie Hogan, VP - Customer Experience
Verified Reviewer
Assistant Manager Marketing in India
Verified LinkedIn User
Information Services, 10,000+ Employees
Used the Software for: 1+ year
Drift-The new way of conversational marketing!
Comments: Overall I can say we are satisfied with their services. It ultimately filters genuine leads from the universal traffic on the website and that too with high buying intent. Chat bot, Playbooks, Analytics and Integrations are just icing on the cake.
Pros:
-Playbooks- Setting up of chat bot and customizing it based on the page and target market becomes very easy with drift's playbook feature. You can very easily set up chat bot and start receiving genuine leads. -Analytics and Integrations- The deep analysis of the tool always keeps you on your toes and helps in pointing out various scope for improvement. You can also measure the efficiency of your chat agents as well. Also, it provides integration with your marketing CRM as well for lead handling purpose. -Customer Service- You are facing any issue with drift? Do not worry. Customer service is just a chat ping away. They are always attentive and help you proactively
Cons:
-Price- This was the main concern while evaluating various chat tools. Drift is follows a premium pricing which might not make it suitable for Small businesses. -No Forms- Drift takes pride on omitting the forms from the chat and enabling their conversational way of marketing. I think, they should make that optional. They should forms as well. -They should also have a feature in which chat transcripts can be emailed as well.
Drift Response
6 months ago
Hi there, Thanks for taking the time to write such a thoughtful review for Drift! It sounds like you're having a great experience on the product and we're thrilled to hear it. We'll absolutely take your feedback into account and hope you continue to provide us feature suggestions in the future. - Sarah Haberman, Senior Customer Advocacy Manager
Jamie G.
Business Development Manager in UK
Verified LinkedIn User
Business Supplies & Equipment, 11-50 Employees
Used the Software for: 1+ year
Smart live chat
Pros:
Drift was easy to set up and is a nice and simple way to monitor live chat conversations.
Cons:
There have been some issues with push notifications, chats occasionally being missed.
Drift Response
3 weeks ago
Hi Jamie, thanks for sharing your feedback. We're glad to have you as a customer! - Sarah Haberman, Senior Customer Advocacy Manager
Verified Reviewer
CEO in Israel
Verified LinkedIn User
Computer Software, 2-10 Employees
Used the Software for: 1+ year
Alternatives Considered:
Drift could be Intercom, but it isn't...
Comments: We decided to use Drift as means to provide support, but once we grow bigger than a single user, we'll have to move to a better platform.
Pros:
We use Drift as an in-app messaging platform and it's decent at that. We considered using it for marketing automation, customer engagement and on-boarding, but it doesn't cut it.
Cons:
Even as an in-app messaging platform for support, there's room for improvement. A few months ago, they removed the option to "close a conversation" (which is essentially used to close a "support ticket"). For whatever reason, they think that it should be more like Whatsapp with an endless list of conversations that you can "archive". Only conversations sometimes come back (not because of new messages), they are sorted wrong so you may miss conversations with new messages, and you don't always get real time notifications in the mobile app.
Drift Response
last year
Hi there, Thank you so much for taking the time to share this. I'm sorry we haven't delivered on what you expected from us. I'm more than happy to chat live and learn more about how we can make your experience better. Feel free to reach out at [email protected] All the best, Julie Hogan, VP - Customer Experience
Marketing & Advertising, 2-10 Employees
Used the Software for: 1+ year
Alternatives Considered:
Drift is the best 'customer chat' system on the market
Comments: Once again Drift have helped to define what companies should be using chat software for. Yes, it is for 'live chat', that much is obvious. But DRIFT define their tool as helping to deliver 'conversation marketing', and that for me really helps to define how companies should be using Chat software - to start and nurture a conversation that could lead to an ongoing relationship.
Pros:
Love Drift. It is very easy to use but more importantly, it is very easy to love using. This is important in software adoption and Drift is one of the best examples I have seen of this in recent years. They've built an awesome product, which does everything you need it to - but the fact that it is fun to use DRIFT makes it an even more compelling product.
Cons:
Hard to say. Probably the fact that although the core product is free (and you get lots of awesome features), you have to upgrade to the 'fullest licence' in order to get the 'uber cool' tools such as allowing the 'chat users' to book an appointment directly into the Calendar of the chosen agent.
Drift Response
12 months ago
Hi John, Wow! We're flattered! THANK YOU! Pls let us know how we can continue to support you, and tnx for being a customer! All the best, Julie Hogan, VP - Customer Experience