What Is Pitchbox?
Pitchbox is a link building & influencer outreach platform for SEO agencies, in-house teams, and brands. Streamline your outreach campaigns: Find bloggers, influencers, and link building opportunities in record time. Send out personalized emails and follow-ups and maximize response rates. Make data-driven decisions using outreach analytics and advanced SEO integrations. Pitchbox allows you to scale your outreach, saving you time and resources while leveling up your business.
Who Uses Pitchbox?
Pitchbox serves digital marketing and SEO agencies, large brands with in-house marketing teams, and marketing and SEO consultants.
Pitchbox Details
Pitchbox
Founded in 2012
Pitchbox Details
Pitchbox
Founded in 2012
Pitchbox videos and images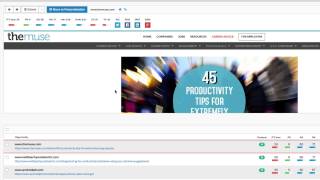 Compare Pitchbox pricing with similar products
Starting price
N/A
US$99.00/month
US$119.00/month
US$29.00/month
Pitchbox deployment and support
Support
Email/Help Desk
Phone Support
Chat
Training
Live Online
Webinars
Documentation
Neha V.
Digital Marketing Executive in India
Verified LinkedIn User
Marketing & Advertising, 11-50 Employees
Used the Software for: 2+ years
Automates the Most Difficult Part of Marketing
Comments: It is a great software to make your outreach process easy and manageable.
Pros:
1. I love how one can manage and create different types of campaign. 2. One can tag each opportunity based on niche 3. Assign a task to any member from the team. 4. Milestones feature has made my life so much easier. It becomes easy when you have to keep a track of a particular opportunity. 5. Last but not the least, the best part/ feature which picthbox has is "red flag" mark beside the opportunity, on which you can click and check the status of same opportunity in other projects.
Cons:
There is nothing that I hate about the software. The only area software can be improved is keyword search functionality (Blogger outreach campaign). The results are not very relevant to the keywords entered. Pitchbox outreach process stops even when the messages are undeliverable, it reads it as you got a response.
Chloe R.
Content and SEO Specialist in UK
Marketing & Advertising, 51-200 Employees
Used the Software for: 6-12 months
Alternatives Considered:
Makes outreach process much more structured and streamlined
Comments: It has allowed us to set up and manage multiple outreach campaigns across the team, clearly seeing the success rates of particular emails. It also means that all of our outreach is organised and easily accessible in one place.
Pros:
I like how it allows you to set up follow up emails and templates, so you have a clear schedule of emails and follow ups going out to contacts. This saves a great deal of time. The way it sources sites and email addresses as well is very useful.
Cons:
Sometimes it can pull out irrelevant sites based on the keyword search terms entered, this just means it takes longer to go through the list and filter out what is useful and what isn't.
Shawn T.
Senior Marketing Analyst in US
Marketing & Advertising, 51-200 Employees
Used the Software for: 1-5 months
PitchBox Review
Pros:
The ease of sending automated emails and communications.
Cons:
Unmatched email difficulties, 5.2MB attachment limit for outbound messaging
Verified Reviewer
Project Manager in India
Verified LinkedIn User
Internet, 11-50 Employees
Used the Software for: 2+ years
Alternatives Considered:
Pitchbox is worth a shot for an agency where outreach is being done on a large-scale basis!
Comments: Their customer service support is great and is always ready to help. They have always helped us with the product demo, suggesting ways in how to use it. They keep improvising and adding new features.
Pros:
The best part about this software is that: - Once the template is set, it sends auto-follow up emails to the opportunities outreached - It removes the duplicate opportunities which avoid sending a repetitive pitch to the same opportunity. - Automatically finds contacts and provides suggestions for an opportunity - API integration with tools like Majestic, Moz, Semrush so that we get the data in the tool itself and we don't have to check the same again manually. - Opportunity tagging - Functions like advanced operator search, product reviews help you find the opportunities too. - Customized reporting
Cons:
- A bit pricy for a small company small on a budget.
Arjunsinh C.
SEO Specialist in India
Verified LinkedIn User
Marketing & Advertising, 11-50 Employees
Used the Software for: 2+ years
Alpha for Outreach Guys
Comments: Simply amazing, made my life easy and I use this tool as a all in one solution when it comes to anykind of outreach campaing. Just take a sip of coffee and rest will be done by Pitchbox :)
Pros:
All in one package, It reduces your work by more than 70% when it comes to outreach of anykind, let it be porduct review, special campaigns, link clean up, eye on comeptitor backlinks analysis, tracking your hard work or getting in the press, Pitchbox is the solution for it.
Cons:
Though there are none, but from my end I would say, bit pricy for people who wants to scale the outreach process, but doesn't have the budget, especially for freelancers.