What is Mention?
Mention changes the way businesses manage their online presence. Our social listening platform instantly monitors important conversations from millions of sources across the web and social media platforms such as Facebook, Twitter, Instagram, Pinterest, and TikTok to deliver insights that truly make an impact.
Who Uses Mention?
Mention is great for Entrepreneurs, Marketing teams, PR managers, Social Media Managers, Professionals, Agencies
Where can Mention be deployed?
Cloud, SaaS, Web-based, Mac (Desktop), Windows (Desktop), Linux (Desktop), Android (Mobile), iPhone (Mobile), iPad (Mobile)
About the vendor
Mention
Located in Paris, France
Founded in 2012
Phone Support
24/7 (Live rep)
Countries available
France
Languages
English, French, German, Spanish
Mention pricing
Starting Price:
US$29.00/month
Yes, has free trial
Yes, has free version
Mention has a free version and offers a free trial. Mention paid version starts at US$29.00/month.
About the vendor
Mention
Located in Paris, France
Founded in 2012
Phone Support
24/7 (Live rep)
Countries available
France
Languages
English, French, German, Spanish
Mention videos and images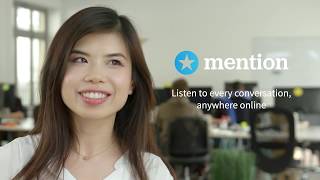 Compare Mention pricing with similar products
Features of Mention
Automated Publishing
Brand Tracking
Campaign Management
Collaboration Tools
Content Management
Customer Engagement
Customer Segmentation
Data Visualisation
Engagement Tracking
For Small Businesses
Keyword Filtering
Keyword Tracking
Multi-Account Management
Performance Metrics
Post Scheduling
ROI Tracking
Reporting/Analytics
Sentiment Analysis
Social Listening
Social Media Integration
Social Media Monitoring
Trend Analysis
Abigail N.
Founder in Kenya
Verified LinkedIn User
Used the Software for: 1-5 months
Great for social media monitoring and measuring social sentiment
Comments: It helped monitor competitor mentions, my brand's mentions and most importantly it helped gauge how people felt about my brand, whether positive, negative or neutral.
Pros:
I originally signed up for mention to measure the social sentiment of one of the brands I managed. My first choice was Hootsuite but the form wasn't loading so I decided to try Mention. Best decision I ever made! After signing up and setting up keywords to measure, alerts and dashboards, I forgot about Mention because it wasn't giving me info on past activity, I got an email from Account Executive at Mention and we scheduled a 15 minutes call to walk me through mention and answer my questions. The call helped me understand how to use mention, It also explained why the social sentiment dashboard wasn't showing much info. Mention doesn't show past data only data from when the account is set up. I liked the email alerts on competitors social media mentions, I wanted to know who was mentioning my competitors and why, and if they were journalists, I could use Hunter and Clearbit to get their emails so I could send them a pitch. I think the pros of Mention are: Good support from the Mention team, simple interface that is easy to use and resources such as webinars to make the most of the software, email alerts on competitors mention on social media, blogs, forums etc. And of course the simple social sentiment dashboard.
Cons:
The brand I used Mention on was a small brand with little activity, and most social media interactions were in the past after we ran a campaign. Which didn't help much because Mention only showed data collected after setting up. I wish I could get sentiment from past activity so I can measure how my brand was viewed then and now.
Kristi A.
Marketing & PR Manager in US
Hospital & Health Care, 201-500 Employees
Used the Software for: 1+ year
Alternatives Considered:
Mention gets all the mentions
Comments: Back in the day, we'd monitor news with Google Alerts which was obviously a terrible idea. Mention picks up stuff lightning fast and it's incredibly affordable if you're on a budget and looking to get in to more serious media monitoring. I can't recommend Mention enough as a user-friendly, cost-effective, thorough solution. It also offers more advanced options for when your budget or need increases.
Pros:
It's a cost-effective, in-depth monitoring solution.
Cons:
I wish more features were available to base plans, even on an a la carte basis.
Enes Y.
Information Technology in Turkey
Information Technology & Services, 2-10 Employees
Used the Software for: 6-12 months
Mention Review
Pros:
I am pleased that content management is comprehensive and convenient. This is my favorite feature.
Cons:
It could have been more comprehensive and the interface more professional.
Andy A.
CEO and Founder in US
Verified LinkedIn User
11-50 Employees
Used the Software for: 2+ years
Metion monitors social media so you don't have to.
Comments: Not much that I can't get from others . Over time Mention has lost its luster and is easily replaced by other tools.
Pros:
Mention is easy to set up, and provides reporting on what's going on in social media based on what you want it to track.
Cons:
Mention is constantly asking me to log in again and validate my accounts with services like LinkedIn. This is troubling as it impacts timely deliver, and is more of an interruption than a benefit. It's like LinkedIn or Facebook don't trust them.
Mohammed S.
Field Manager in Ghana
Nonprofit Organization Management, 11-50 Employees
Used the Software for: 1-5 months
Alternatives Considered:
the perfect tool to allow you stay informed on your performance, and stay ahead of looming troubles
Comments: Mention has been a really great and effective tool that provided us with the much needed insights we required to help us expand into other complementary sectors and services. By gauging the perception of the general public to related activities and competing products, we have been able to better time our ad campaigns and network engagements to achieve the maximum results possible.
Pros:
I guess the best thing about Mention is that it provides the full circle of complementary services needed to completely manage the image and interests of our businesses and projects. By far, one of my most interesting features about setting up alerts is that I can use tags to create alerts within broader alerts. This allows for an effective filtering system that makes our work ten times easier.
Cons:
Some elements within the user interface could be decoupled and further simplified to make navigation and learning for new first-time users a little easier.