What is Justworks?
Justworks is a modern support system for work and life. Small business owners and their employees get access to big-company benefits, automated payroll, compliance support, and HR tools all in one place. Justworks combines the power of a Professional Employer Organization (PEO) with 24/7 customer service and a simple platform to allow employers to focus on what matters most: growing their business, taking care of their team, and working fearlessly.
Who Uses Justworks?
Justworks serves small and mid-sized businesses located in the United States, primarily within the financial services, tech, professional services, and nonprofit industries.
Where can Justworks be deployed?
Cloud, SaaS, Web-based
About the vendor
Justworks
Located in New York, US
Founded in 2012
Phone Support
24/7 (Live rep)
Chat
Countries available
United States
About the vendor
Justworks
Located in New York, US
Founded in 2012
Phone Support
24/7 (Live rep)
Chat
Countries available
United States
Justworks videos and images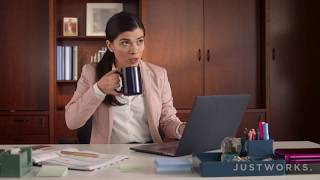 Compare Justworks pricing with similar products
Features of Justworks
401(k) Tracking
Activity Dashboard
Alerts/Notifications
Benefits Dashboard
Benefits Management
COBRA Administration
Compensation Management
Compliance Management
Contractor Management
Deduction Management
Direct Deposit
Disability Insurance Administration
Document Management
E-Verify/I-9 Forms
Electronic Forms
Employee Benefits Administration
Employee Database
Employee Handbook
Employee Portal
Employee Profiles
Employee Scheduling
Health Insurance Administration
Life Insurance Administration
Multi-State
Onboarding
Online Benefits Enrollment
Payroll Management
Payroll Reporting
Policy Management
Provider Management
Reporting/Analytics
Retirement Plan Management
Self Service Portal
Tax Compliance
Third Party Integrations
Time & Attendance
Time Off Management
Vacation/Leave Tracking
W-2 Preparation
Wage Garnishment
Alternatives to Justworks
Christopher
COO in US
Verified LinkedIn User
Marketing & Advertising, 2-10 Employees
Used the Software for: 6-12 months
Good Software, GREAT Benefits for SMB's
Comments: Overall, Justworks has been one of the BEST decisions I have made in my capacity as COO of this company. My [SENSITIVE CONTENT HIDDEN] loves it, my employees love it, it saves me tons of time, and most gratifying of all, we've finally been able to offer affordable, quality health benefits to our team. Justworks is more expensive than some of their competitors, but we all know the old saying: "You get what you pay for."
Pros:
Justworks has all the features you'd expect from a digital HR platform / PEO. They make managing employee compensation, benefits, and time off far easier. As the person who oversees the HR functions of our business, the platform has saved me (personally) dozens of hours in just the first six months. For our team, they've only had positive things to say about their experience using the platform. It's easy for them to access the information they need, enroll in benefits, log time, and request PTO. What impresses me even more is that the platform regularly sends out key information, resources, and HR guidance that is tailored to both employees and administrators. They serve as a resource, which is especially important at the time of writing this review (2020 COVID-19 Pandemic).
Cons:
My complaints are minimal. Top of my list is I'd like them to have stronger reporting features for financials. While they do maintain great integrations with 3rd party accounting software (Xero, Quickbooks) and I can generate most of the reports I need in those platforms, I would like native support for running a myriad of different types of payroll reports. At the time of this review, it appears to be mostly limited to CSV data exports.
Liam
People Operations Manager in US
Verified LinkedIn User
Computer Software, 11-50 Employees
Used the Software for: 6-12 months
Alternatives Considered:
The New Age of HR Administration (or lack thereof)
Comments: From the educational experience during the sales discovery process to the assistance and round-the-clock availability of our account manager, during onboarding and implementation, I was insanely impressed by the account management capabilities of such a young team. Every JustWorks email is like a small monthly birthday gift where more often than not, they're rolling out a new feature or enhancement, potentially even one you recommended to the Product Team! It's the exact type of engagement you would hope for out of a company focused on propelling the employee experience with a highly adoptable product that will continue to grow into a large presence in this space.
Pros:
The ease of implementation and administration and as the title assumes, the lack of need of direct oversight of the process. New hires are able to very quickly and simply understand the navigation of the tool and streamline themselves through 90% of the pre-employment paperwork without need from the admin. Just a simple user interface that allows you to intuitively find anything you need in regard to your daily life as an employee and really person within your organization.
Cons:
Just some slight growth areas needed in terms of integrations and partners for them. As a young company, they have a bit to go before they can really offer the capabilities of a company such as ADP but what they offer in replacement of those makes it all worth it.
Verified Reviewer
CEO in US
Verified LinkedIn User
Hospital & Health Care, 51-200 Employees
Used the Software for: 1+ year
Alternatives Considered:
Worst PEO ever
Comments: They just suck and I suggest you to not to be misled by their sales pitch
Pros:
Somewhat easier to use they put too much burden on the company.
Cons:
Be aware of them, they don't pay the withheld taxes to IRS; Check their status of PEO on the IRS website Very unfriendly customer service - they act like a bunch of entitled officers
Amanda
Operations Coordinator in US
Nonprofit Organization Management, 51-200 Employees
Used the Software for: 1+ year
Justworks for Nonprofits
Comments: Overall, Justworks provides a user-friendly interface and excellent customer support. Configuring settings and compliance on the back-end has proven to be a bit difficult for administrators and HR managers; however, it does provide a positive experience for front-end users.
Pros:
Justworks is extremely user friendly on the front-facing end. It is easy to navigate, enter information, update user accounts, and access important records.
Cons:
There are several features on the back-end that could be improved, specifically with payroll tracking for contractors and employees. Due to how Justworks calculates annual payroll on the back-end, it is very difficult to get an accurate report of the actual amounts paid out to contractors and employees. Improved reporting on the back-end financials would be very helpful for financial procedures, especially as a nonprofit subject to an annual audit.
Verified Reviewer
Head of People Ops in US
Verified LinkedIn User
Internet, 11-50 Employees
Used the Software for: 6-12 months
Alternatives Considered:
AMAZING HR/Payroll/Ben Admin (PEO) system for startups!
Comments: Great software, great service, great value!
Pros:
I love how easy to use the platform is for both admins & employees! The employee onboarding process takes 5 minutes. AMAZING.
Cons:
I wish there was a dashboard view for reports that measured things like headcount, turnover, diversity etc