What is Unitrends Backup?
If managing backups is just one of your countless responsibilities in IT, then consider Unitrends for all-in-one ease-of-use. Unitrends Backup Software is a prepackaged virtual appliance with fully integrated backup, replication, deduplication, archive, and instant recovery. Run it on vSphere, Hyper-V, XenServer, or deploy it as a VM within the Azure or AWS cloud. Integrate with our cloud which is purpose-built for effortless, cost-efficient backup, offsite storage, long-term retention and DRaaS
Who Uses Unitrends Backup?
Multi-functional IT, hybrid IT teams or individuals working for mid-sized to large enterprises. (MSPs, see msp.unitrends.com)
Where can Unitrends Backup be deployed?
Cloud, SaaS, Web-based, Mac (Desktop), Windows (Desktop), Linux (Desktop)
About the vendor
Kaseya
Located in Miami, US
Founded in 2004
Phone Support
24/7 (Live rep)
Chat
Languages
English, French
Unitrends Backup pricing
Starting Price:
US$349.00/one-time
Yes, has free trial
Yes, has free version
Unitrends Backup has a free version and offers a free trial. Unitrends Backup paid version starts at US$349.00/one-time.
Pricing plans
About the vendor
Kaseya
Located in Miami, US
Founded in 2004
Phone Support
24/7 (Live rep)
Chat
Languages
English, French
Unitrends Backup videos and images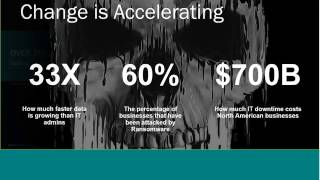 Features of Unitrends Backup
Access Controls/Permissions
Activity Dashboard
Alerts/Notifications
Backup Log
Backup Scheduling
Backup and Recovery
Bare-Metal Restore
Business Impact Analysis
Cloud Backup
Compliance Management
Compression
Continuous Backup
Data Replication
Deduplication
Disaster Recovery
Encryption
Incident Management
Incremental Backup
Policy Management
Reporting/Analytics
Risk Management
Secure Data Storage
VM Backup
Version Control
Whitelisting/Blacklisting
Alternatives to Unitrends Backup
Reviews of Unitrends Backup
Yuri M.
IT Infrastructure Specialist in Honduras
Verified LinkedIn User
Telecommunications, 1,001-5,000 Employees
Used the Software for: 6-12 months
Unitrends its a enterprise feature backup solution with ease of use and quick implementation
Comments: We love the product because it give us less time to restore in case of the emergency and also the learning curve is quick. The reports are also very informative so we can know exactly what is happening with the backups and make sure we can restore in case we needed.
Pros:
I like the fact that it integrates very easy with a vmware virtual enviroment. Before Unitrends we had other backup solution but it did not give us the flexibility that we needed. With Unitrends we can stablish different policies base on the criticallity of the application or important to the business. We have different enviroments and we don't have to use other products. The restore is fast and if you have a secondary site, you can have disaster recovery scenarios were within minutes you will have the service up and running.
Cons:
Well, I think that there is not a but thing about the Unitrends software. Maybe when you are scaling the solution, you will have to keep growing with more appliance and I think it is not that good for a small company size
Lee F.
Network Systems Analyst in US
Law Enforcement, 1,001-5,000 Employees
Used the Software for: 2+ years
A Good Solution
Comments: It is a solid offering at a much better price than some rather well-known alternatives. Service is superb.
Pros:
I like the tie to my storage, and how easy it backs up and restores medium to small size vm's. Support has been great.
Cons:
Oracle appears to be the red headed stepchild. No Oracle RAC support. It can struggle with large(7+TB) data sets, but then what doesn't?
Alternatives Considered: CrashPlan and Rubrik
Reasons for Choosing Unitrends Backup: Cost was huge, but Commvault support had also fallen off of the map.
Reasons for Switching to Unitrends Backup: Cost was our largest concern followed by features/capabilities.
Real Estate, 2-10 Employees
Used the Software for: 2+ years
Very slow and very poor compression
Comments: As we only have a relatively small setup I used the free edition available through Spiceworks (now withdrawn). I had a problem initially getting it configured to use a NAS as the backup destination but despite it being a free edition their support resolved the issue and I was then able to use it reasonably reliably for several years. Occasionally it would simply stop backing up for no apparent reason but never emailed to say the backup failed; it just stopped working altogether so sometimes it took several days before we realised the daily backup emails had stopped and we could then go in and reset the Unitrends VM which brought it back to life. The upgrades were generally easy to do, just click an upgrade link and wait until it finished, however the last time I did this it completely corrupted the VM making it unbootable. We then installed the latest version from scratch but again hit the prblem of it not backing up to the NAS. Unfortunately this time their support were very unhelpful refusing to give any support or advice unless I paid for a ridiculously expensive annual support contract. That caused us to look at competing products and we settled on Nakivo which is MUCH faster to do the full and incremental backups as well as having vastly superior compression so we can keep more backup history. I've not found anything that I used on Unitrends that's not easier and quicker to do with Nakivo and I paid less than the annual support cost for Unitrends! No brainer :-)
Pros:
I used Unitrends for several years and found it reasonably reliable after an initial problem with configuration that was solved by their helpdesk. It was quite easy to restore whole VMs or individual files using the virtual mount option.
Cons:
An overly complicated interface that was not at all intuitive. It does not like backing up to NAS systems. Very poor support.
Greg L.
Sr Systems Administrator in Canada
Health, Wellness & Fitness, 501-1,000 Employees
Used the Software for: 1+ year
Reliable, functional and easy
Comments: Needed to replace two old backup solutions, one that handled virtual, the other handled physical servers. Unitrends allowed us to consolidate our backups to one solution that has been supremely reliable
Pros:
The reliability of the backups and how easy any issues have been to resolve. I also appreciate that the appliances are self-contained. No extra servers or overhead to worry about
Cons:
Some issues do require contacting Unitrends support. Good part is that their support is the best I've experienced. Prompt responses and quick and easy resolutions
Verified Reviewer
Sr Director in US
Verified LinkedIn User
Biotechnology, 10,000+ Employees
Used the Software for: 2+ years
simple to configure and get started
Comments: Very good experience as the vendor staff go overboard to ensure that we are comfortable operating the product and are just a phone call away. They call you almost once every day to follow up with you if there are any issues.
Pros:
The simplicity involved in configuring the product and getting started is the best part. Backing up and restoring can't be simpler than this and has been really easy for us with this product. If one is looking for a simple back up solution at a very affordable price, this product is the one to go for.
Cons:
Although, the solution is simple per-se, it takes a little bit of time to get used to the desktop interfaces in the product - there is a little bit of learning as with other similar products in terms of getting used to the steps. Also, at times, machines with bigger CPU's took much longer to back up than normal.