What is Brand24?
Brand24 is a reliable media monitoring solution that collects all publicly available mentions from various sources, including social media, podcasts, blogs, forums, etc.
This tool gives you the insights to make data-driven decisions about your business.
Brand24 empowers its users to protect their online reputation, improve customer satisfaction, measure marketing or PR efforts, and conduct a competitor analysis.
Who Uses Brand24?
Brand24's audience is companies of all sizes who use this platform to analyze online conversations. The tool provides real-time data, helping organizations make better business decisions.
Where can Brand24 be deployed?
Cloud, SaaS, Web-based, Mac (Desktop), Windows (Desktop), Linux (Desktop), Chromebook (Desktop), Android (Mobile), iPhone (Mobile), iPad (Mobile)
About the vendor
Brand24
Located in Wroc¿aw, Poland
Founded in 2011
Phone Support
Chat
Brand24 pricing
Starting Price:
US$49.00/month
Yes, has free trial
No free version
Brand24 does not have a free version but does offer a free trial. Brand24 paid version starts at US$49.00/month.
Pricing plans
get a free trial
About the vendor
Brand24
Located in Wroc¿aw, Poland
Founded in 2011
Phone Support
Chat
Brand24 videos and images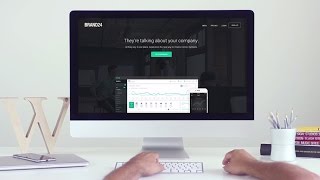 Features of Brand24
Brand Tracking
Campaign Analytics
Campaign Management
Collaboration Tools
Competitor Monitoring
Contact Management
Customer Engagement
Customer Experience Management
Customisable Reports
Dashboard
Data Import/Export
Engagement Tracking
Influencer Discovery
Influencer Tracking
Keyword Tracking
Monitoring
Multi-Channel Data Collection
Press Monitoring
Project Management
Real Time Data
Real Time Notifications
Reporting & Statistics
Reporting/Analytics
Response Management
Review Monitoring
Search/Filter
Sentiment Analysis
Social Listening
Social Media Integration
Social Media Monitoring
Jakub N.
Web Analyst in Poland
Verified LinkedIn User
Marketing & Advertising, 201-500 Employees
Used the Software for: 1+ year
(not only) For monitoring global brand mentions
Pros:
Among many pros, I love most its analytics features and customer support. You can literally ask for anything about web monitoring, and they do that for you. And you can ask about anything else, and they still will try to help you! It's powerful, reliable, comprehensive tool. It has been used in all companies I have worked for; once I recommended it, once I decided to choose B24 and managed it, once it had already been there.
Cons:
Their pricing tiers, I guess. Not all features are available in all plans, and you are limited by keywords. It's not a problem in English, but in languages with many word variants (e.g. because of inflection for person), it's a real issue.
Alternatives Considered: SentiOne
Reasons for Switching to Brand24: SentiOne wasn't able to track mentions in all available languages. If you have a local brand, that's not a problem, but I was working for a global brand.
Valerie H.
Project Manager in US
Design, 11-50 Employees
Used the Software for: 1-5 months
Great Social Media Analysis Tool
Comments: Overall the experience was great. The product is easy to setup and easy to use. We never needed any support from Brand24 because everything was straightforward.
Pros:
Brand24 provides a detailed dashboard for monitoring projects. The monitoring itself is huge in terms of taking workload off of internal resources but then add in the data being displayed in easily digestable charts and graphs.
Cons:
We used the software for 1 project and it worked well. We'll definitely be back in the future. We didn't find any gaps in our time of use.
Alternatives Considered: Meltwater
Reasons for Switching to Brand24: Price and Ease of registration / setup. I needed a product really quick. Other companies wanted to have phone calls to talk through their services and pricing. Brand24 allowed me to sign up immediately and begin using the product.
Brand24 Response
2 weeks ago
Thank you for your feedback! It means a lot.
Verified Reviewer
Consultant in Philippines
Verified LinkedIn User
Market Research, 2-10 Employees
Used the Software for: 2+ years
Brand24 is the backbone of my online reputation business
Comments: Brand24 provides us with the mentions and reports we analyze for our online reputation clients
Pros:
The customer support is very fast and highly trained an very proactive. They hand hold you to customize your monitoring campaigns and projects.
Cons:
A lot of spam results or mentions that are completely irrelevant. Their filters must be fixed and once in a while there are bugs (ex: word cloud goes offline frequently). A bit expensive
Ksenia B.
HR manager in US
Verified LinkedIn User
Used the Software for: 6-12 months
Brand24 is the 1st Email I Look at daily
Comments: Many times I'm notified of a new link to our website before the writer who may have done a guest post on someone else's website. When I reach out to thank them, this not only starts a great conversation, but they're happy we notified them and they're more likely to mention Social Quant again in a future blog post.
Pros:
Simply put, the Dashboard is good. It's ability to quickly provide a once-over look that provides a quick snapshot of everything that's going with the social media profiles I and my team are managing. Also, importantly is the competition tracking on social it also allows. This is very good!
Cons:
There are a few things that can be made better. Insight generation and sentiment analysis can be much better. It would also be good for the team to consider providing support with developing negative incidence sentiment audit & analysis reports as well as social media strategic measurement & reporting framework for same client.
Anna O.
Head of Growth in Poland
Verified LinkedIn User
Internet, 2-10 Employees
Used the Software for: Free Trial
The best tool to monitor your presence online
Pros:
- with Brand24 you can be up to date with all mentions of your company (or any other word or phrase) on the web; - It is crucial to react as soon as possible to everything that is written about your company on the Internet. This allows you to quickly solve your customers' problems, calm down troublesome discussions, or even find great solutions for your business. All this is possible with Brand24; - apart from a great tool, Brand24 provides a lot of interesting use cases, which can be useful for developing your business; - UI and UX of their tool make using it pleasant and easy; - they often introduce updates, test various solutions to make the product as useful as possible for their users; - aside from that, they have a team of awesome people who are always at your service and are willing to support and help in any case.
Cons:
Literally, I didn't find anything I couldn't like