What Is Workato?
Workato is the recognized Enterprise Automation Platform Leader. Workato empowers business and IT teams to integrate their apps and automate business workflows without compromising on security and governance. Built on a cloud-native architecture that is designed for scale and speed to significantly reduce operational footprint and overall costs. Our low-code/no-code platform enables teams to build integrations 5X faster than traditional platforms. Contact us for a free trial now!
Who Uses Workato?
Businesses of all sizes requiring end-to-end workflow automation capabilities to scale growth, from Finance, HR, and IT to Marketing, Sales, and Support
Workato Details
Workato
Founded in 2013
Workato pricing
Starting Price:
Not provided by vendor
Yes, has free trial
No free version
Workato does not have a free version but does offer a free trial.
Pricing plans
Workato Details
Workato
Founded in 2013
Workato videos and images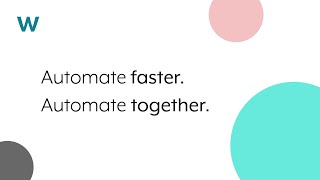 Workato deployment and support
Support
Email/Help Desk
FAQs/Forum
Knowledge Base
Phone Support
Chat
Deployment
Cloud, SaaS, Web-based
Mac (Desktop)
Windows (Desktop)
Linux (Desktop)
Windows (On-Premise)
Linux (On-Premise)
Chromebook (Desktop)
iPhone (Mobile)
iPad (Mobile)
Training
In Person
Live Online
Webinars
Documentation
Videos
Brad E.
Verified LinkedIn User
Self Employed
Used the Software for: 6-12 months
Source: GetApp
An essential part of any business' systems
Comments: My company is a contracting business in the energy efficiency industry with 20+ employees and $2-3M in annual revenue. Workato has transformed how our business operates by enabling us to automate what once was time-consuming, error-prone manual processes. Using the automation of Workato recipes has enabled us to save money by getting more production out of the staff we have and prevented us from having to hire new employees or contractors as the company has grown. Those costs savings have greatly exceeded the cost of Workato.
Pros:
The feature set and robustness of Workato is second to none. The breadth of customization that Workato allows in such a simple UI is truly remarkable and let's business operators without coding experience create complex integrations that would have cost us tens of thousands of dollars in custom development work. Workato blows other out-of-the-box integrations out of the water.
Cons:
Getting our Workato recipes running with the level of detail and granularity of our business processes required a steep learning curve. The basics of the software are easy to learn, but learning how to use formulas and other more complex features required a good amount of trial and error. When errors occur withing recipes, debugging them can be challenging, particularly given that errors are most often returned by the API of one of the software that Workato is connected to rather than Workato itself.
Blake H.
VP / Lead Architect in US
Verified LinkedIn User
Information Technology & Services, 2-10 Employees
Used the Software for: 1+ year
Source: GetApp
Great Product If You Know What You're Doing
Comments: As a consultant, I use Workato both in my own business and in multiple clients' accounts. I began using Workato because QuickBase promoted them as the preferred integrator when Intuit announced the sale of QuickBase. While they have a large number of pre-built connectors as well as the ability to setup HTTP calls, the process of building Recipes has an extreme learning curve, especially coming from a service like ItDuzzit. Additionally, the team often releases new or beta connectors without first having any supporting documentation, other than the connector's marketing page. Overall, they have a good product, but they seriously need to review their release process and the setup of their support portal.
Pros:
Lots of pre-built connectors. Chat agents are generally very quick to respond.
Cons:
Extreme learning curve - especially difficult if a user does not have any programming background. Support documentation is often lacking - especially for new connectors. When documentation is provided, the content is often very thin and is typically mostly text, with few reference images. Support portal provides no way to go back to your Recipe interface. Support Tickets can sometimes take 2 - 3 days for a response. Support Tickets have an internal "Priority", but no way for users to identify their own level of Urgency. From what I can tell, ALL tickets are given an initial Priority of "Low". Pricing / Plans lack any real sense of transparency. While the main pages tell users that Integrations are divided up into "Base" and "Professional" apps, you have to search through the Support Portal documents in order to find any comprehensive list of "Base" and "Professional" and there is no document that does a side-by-side comparison of the various Plans. And, if you look at the QuickBase plans, the apps are referred to as "Tier 1" and "Tier 2" vs "Base" or "Professional". Recipe logs only show information related to the last row of data processed. No way to see a "schedule" of active Recipe's.
Paul M.
Project Manager/Content Manager in US
Verified LinkedIn User
Computer Software, 51-200 Employees
Used the Software for: Free Trial
Has Potential to be Amazing!
Comments: I think Workato has great potential. It seems like their needs to be better guides and walkthroughs for each App integration.
Pros:
The recipes allowed a huge assortment of customizations to the automated "bots". Workato also supports most of the popular apps like sheets, slack, smartsheet, jira, etc... It is great for us that have a developer background as we can make changes to the code to update recipes.
Cons:
I had many issues getting the apps to connect properly so they could be used. It was not intuitive to figure out how to make a recipe as well.
Andy M.
US
Verified LinkedIn User
Used the Software for: 1-5 months
Source: GetApp
Reliable DIY Integration We Trust
Pros:
We are in the construction contracting business with 100 employees. Our primary use case was to have Workato keep our Salesforce and Quickbooks Online CRM data in sync and eliminate time-consuming manual updates. After a 1 month trial and some minor recipe tweaking, we found that Workato simply outperformed all of the other integration solutions we tested in terms of reliability and real "hands free" automation. The community has a wealth of pre-made recipes available that you can customize to suit your needs. Everything from the use of data pills, to the documentation is very intuitive and user friendly. The customer support team has been extremely helpful and responsive to anything that has come up. Our account rep Bala went above and beyond to get our first recipes running. We now plan to expand our use of Workato to help automate other crusty business procedures. I would recommend this product to anyone looking for DIY integration that delivers true automation without needing to be a developer.
Cons:
When evaluating whether Workato is the right product for you, I suggest taking a close look at the available triggers etc. for the specific integration you're seeking. What Workato can manipulate, it does so accurately and reliably. However the only limitations we've encountered are with what is actually exposed by the target software's API (Quickbooks Online etc). It also took some legwork to ensure that other automatic background processes aren't triggering Workato constantly and blowing through the transaction cap.
Jeff C.
Co-Founder, Chief Executive Officer in US
Verified LinkedIn User
Real Estate, 11-50 Employees
Used the Software for: 2+ years
Source: GetApp
Incredibly powerful Integrator
Pros:
Super robust. Workato was able to replace other less fully featured integrators when it became necessary as our business grew. Nearly anything is possible if you know what you're doing!
Cons:
Steep learning curve to understand how the integrations work. Basic stuff is simple, but gets complicated quickly if you need super customized robust integrations.