What is eClincher?
At the nucleus of your digital marketing strategy eclincher catapults your brand reach, boosts your social media ROI, saves hours daily, increases your productivity, & expands your business across all channels. Because we are constantly innovating our product & services, you won't have to sacrifice features or capabilities, while keeping your budget top of mind. Our award-winning team offers 24/7 support & live demos. Improve your social media presence, broaden your reach, & add real value!
Who Uses eClincher?
eclincher is ideal for any size of business, marketing agency, marketers and social media managers who are looking for a simple yet powerful tool to manage their online brand reputation and reach.
Where can eClincher be deployed?
Cloud, SaaS, Web-based, Mac (Desktop), Windows (Desktop), Chromebook (Desktop), Android (Mobile), iPhone (Mobile), iPad (Mobile)
About the vendor
eclincher
Located in Palo Alto, US
Founded in 2013
24/7 (Live rep)
Chat
Languages
English, French, Portuguese
eClincher pricing
Starting Price:
US$59.00/month
Yes, has free trial
No free version
eClincher does not have a free version but does offer a free trial. eClincher paid version starts at US$59.00/month.
Pricing plans
get a free trial
About the vendor
eclincher
Located in Palo Alto, US
Founded in 2013
24/7 (Live rep)
Chat
Languages
English, French, Portuguese
eClincher videos and images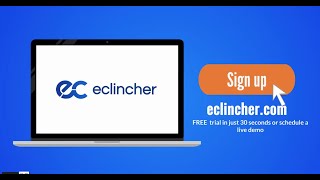 Features of eClincher
Automated Publishing
Brand Tracking
CRM
Campaign Analytics
Campaign Management
Collaboration Tools
Competitor Monitoring
Content Management
Conversion Tracking
Customer Engagement
Customer Segmentation
Customisable Reports
Dashboard
Engagement Tracking
Keyword Tracking
Multi-Account Management
Multi-Channel Data Collection
Multi-Channel Marketing
Performance Metrics
Post Scheduling
ROI Tracking
Real Time Notifications
Reporting/Analytics
Response Management
Review Generation
Review Monitoring
Sentiment Analysis
Social Media Integration
Social Media Monitoring
Alternatives to eClincher
Ifeoma
Developer in Nigeria
Verified LinkedIn User
, 1,001-5,000 Employees
Used the Software for: 1+ year
All our social media needs are covered.
Pros:
I love the interactive approach which the product team at eClincher have embraced. The team is always open to feedback from users like myself and I will assume every other administrator in each organization or team using eClincher. In time past , we leveraged on multiple applications to assist us manage our social media presence , however eclincher provides us with most of these functions brought together into a single workflow. The marketing team spends less time managing our social media accounts ,as most of our activity on social media is automated ,including content scheduling and engagement.
Cons:
Takes time to get acquainted with eclincher due to its interface and navigation not being intuitive enough. Although I expect every tool to have their own drawback and this is the only drawback I can lay my finger on since administering eClincher.
Matt
Partner in US
Verified LinkedIn User
Marketing & Advertising, 2-10 Employees
Used the Software for: 1-5 months
Everything you need in a Social Tool, but no expensive price tag
Comments: Very happy. Really easy to get setup. The support really helped in getting everything changed over. Don't have to sacrifice anything to get a better price.
Pros:
Fits all my needs. Can post to Youtube, Instagram, Facebook, etc. all from a unified place. Also, I was really happy to discover their auto queues. I haven't seen the tool before, but it seems unique. It allows you to have 50 old posts that are evergreen and recyclable to bridge the gaps in your social schedule. They also have super comprehensive reporting to effectively identify stats and trend lines for how my social channels are doing and how they are doing relative to the competition. Was really helpful in determining trending topics my competitors were using frequently in their posts to help my brands build more high quality content. Also, truly cutting edge being one of the only platforms I'm aware of that offers Tik Tok for Business which is great.
Cons:
Can't post stories and carousels to Instagram without a push notification which is a little annoying, but I couldn't find any others that could, so I'm assuming its a technical limitation.
eclincher Response
2 years ago
Hi Matt, thank you very much for taking the time to review your experience here at eclincher. We love that you love the UX/UI -- we wanted to focus on the capabilities and keep it simple yet elegant. We are elated we are giving you what your business needs especially as it pertains to competitor analysis! We will continue to push out capabilities that add value and create efficiencies in your day! P.s. We checked out your YouTube content and really enjoying your videos, so keep it up! Of course reach out to our team if you need anything at all 24/7. We thank you for your business.
Jamie
Co-founder & Content Strategist in US
Writing & Editing, Self Employed
Used the Software for: 6-12 months
Affordable, great customer service, lots of potential
Comments: I was very happy to find e-Clincher because it is reasonably priced but find that it lacks some features and wish it was a bit more intuitive for the user. For example, I find the Auto Post feature a bit complicated and took a while to figure out how to actually create a queue. BUT, every time I have been confused or frustrated, customer service has been excellent. Quick and friendly responses. Would love to see a feature where we can give clients access to review scheduled posts for their specific account(s) prior to publication. Looking forward to new developments and advances!
Pros:
Affordable, great customer service.
Cons:
Not very intuitive for user. Auto post is confusing and the 'Add and manage accounts' pop up looks messy/is confusing. App doesn't keep me logged in. Customer service tried to help me with this and said it was an issue with the browser. I used to use Sprout Social and loved that I was always logged in, their interface is gorgeous and they have tons of features (but are very expensive). When I schedule a post for LinkedIn it shows up as a thumbnail and takes a chunk of text from the About section of our website, resulting in a very sloppy-looking post which has forced me to publish manually to LinkedIn instead of using eClincher.
eClincher Response
6 years ago
Thanks Jamie, we appreciate your feedback and will continue to simplify the auto post functionality.
Katy
Account Executive in US
Marketing & Advertising, 11-50 Employees
Used the Software for: 6-12 months
One stop shop for Scheduling and Monitoring posts
Comments: We use this everyday and are happy. We are not switching to anything else anytime soon
Pros:
I love that you can schedule on all platforms easily and that it gives you suggestions for popular hashtags to use in regards to your post.
Cons:
I wish it were able to post stories from this platform as well as multiple pictures for instagram.
Aly
Marketing Communications Associatae in US
Nonprofit Organization Management, 11-50 Employees
Used the Software for: 1-5 months
Great timesaver so far
Comments: It saves a lot of time once you get the hang of it. I think it will prove helpful analytically too and when others are hired to help manage the accounts (with the reviewing/approval process).
Pros:
No logging in and out of accounts or different managers as well as can post and schedule to all the social channels needed. Pretty intuitive and user-friendly. Monitoring accounts and interacting is also easier. Robust features I really like, for example ideal posting times. Integration was pretty darn simple.
Cons:
Every now and then when selecting text to copy/paste or something, the message box freezes up and I have to remove that social account from the post and then just proceed with the others and do that one separately when done. And I wish you could see ideal posting times more easily.
Alternatives Considered: Sprout and Buffer
Reasons for Choosing eClincher: We also switched from Later as well as Facebook Creator Studio, Business Manager and Business Suite – those are all quite confusing.
Switched From: Hootsuite
Reasons for Switching to eClincher: It was viewed positively via word of mouth and when I did a little research it stood out.
eclincher Response
2 years ago
Hi there Aly, Thank you so much for taking time to review your experience with eclincher. We appreciate your feedback and will continue striving for perfection! We want to communicate that we are developing an upgrade to the "best time to post" to make posting times easier for our #eclincherfam. Happy Holidays and Happy New Year!