What is Workiz?
Trying to manage your field service team with pen and paper or Excel spreadsheets?
Workiz is designed for growing field service teams who need to streamline their business. We provide an all-in-one platform that makes scheduling, estimating, invoicing, payment processing, and communication easier than ever before.
With Workiz, you can finally take your business to the next level. You'll have more time to focus on what you do best – providing top-notch service to your customers.
Who Uses Workiz?
The Most Efficient Way To Manage Your Home Service Team. Increase your revenue by up to 22% with Workiz.
Where can Workiz be deployed?
Cloud, SaaS, Web-based, Android (Mobile), iPhone (Mobile)
About the vendor
Workiz
Located in San Diego, US
Founded in 2015
Phone Support
Chat
Countries available
Canada, United States
About the vendor
Workiz
Located in San Diego, US
Founded in 2015
Phone Support
Chat
Countries available
Canada, United States
Workiz videos and images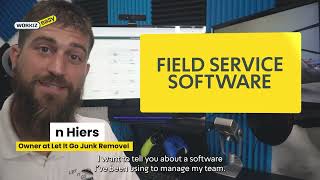 Compare Workiz pricing with similar products
Features of Workiz
Accounting Integration
Activity Dashboard
Activity Tracking
Alerts/Notifications
Automated Scheduling
Billing & Invoicing
CRM
Calendar Management
Calendar Sync
Call Recording
Callback Scheduling
Client Management
Confirmation/Reminders
Contact Database
Contact Management
Contract/License Management
Customer Database
Customer History
Customer Management
Customisable Templates
Dispatch Management
Document Storage
Electronic Payments
Electronic Signature
Email Management
Employee Management
Employee Scheduling
Equipment Tracking
Estimating
For Commercial and/or Industrial Electrical Contractors
For HVAC Companies
For Janitorial Services
For Locksmiths
GPS
IVR / Voice Recognition
Inventory Control
Inventory Management
Invoice Creation
Invoice History
Invoice Management
Job Costing
Job Management
Job Scheduling
Location Tracking
Maintenance Scheduling
Messaging
Mobile Access
Mobile Alerts
Mobile App
Mobile Payments
Mobile Signature Capture
Multi-Location
Online Booking
Online Invoicing
Online Time Clock
Payment Collection in the Field
Payment Processing
Preventive Maintenance
Project Management
Quality Control Management
QuickBooks Integration
Quotes/Estimates
Real Time Notifications
Real-time Updates
Reminders
Reporting & Statistics
Reporting/Analytics
Routing
SMS Messaging
Scheduling
Service History
Surveys & Feedback
Task Management
Technician Management
Time & Expense Tracking
Time Tracking
Timesheet Management
Work Order Management
Oleg C.
Founder & CEO in Canada
Verified LinkedIn User
Consumer Services, 2-10 Employees
Used the Software for: 1+ year
Excellent development team.
Comments: We can provide you over the phone more details of our experience from our technicians.
Pros:
Interface, excellent for appliance repair industry. "Custom fields" option is great. "Product and service" is very good.
Cons:
Missing user guide. I wish to get more changes in CRM soft for our needs.
Workiz Response
last year
We do have an amazing dev team! We just launched a new academy, highly recommended for new employees and clients. Check it out here: https://www.workiz.com/academy/
Recreational Facilities & Services, 2-10 Employees
Used the Software for: 2+ years
3 years with Workiz and then this….
Comments: My overall experience with Workiz. Three years of use and it took me three years to write a review that they deserved a long long time ago. It's nice to know that three years down the road I still have nothing but nice things to say about Workiz and the great people that work at Workiz.
It was a recent interaction with Workiz that was just over the top amazing when I thought I had already been amazed by them. I wish I knew the person I spoke with name but I don't but they deserve s as huge shout out and Thank you from FUN FIX USA
Pros:
We have been using Workiz for three years of our business after trying all the other ones for a brief time. We're keys at the time had everything we needed plus they had more and when I say more it was a huge thing for us and that was the ability to have our phone ran through them. So they have a whole phone system that you can customize with different phone numbers and different answering options like virtual receptionist etc. and then when the client calls or the customer calls it will either pull up an existing customer that's been input with that phone number or any other relevant information that it has. It didn't make scheduling real easy when you just add a new job for the number that just called you. I don't think I have found another company that offered the phone with the software and in addition the software really really exceeds all of our needs and I'm sure we're not even using a third of its capabilities. And then the customer support. In three years I can only say I've probably had to talk to them 5 to 7 times total. Normally, it's not even a call, I just go to the chat bot thing on their website and then someone is always right there in general they will pick up the phone and call me right away to assist in anyway that they can. It is weird because I don't know how big Workiz as a company is but it feels like I may be one of 10 customers and they might have four or five employees. It feels very small almost like a family. I Would highly recommend EVERYONE!
Cons:
The one thing I like least about the software which is actually a huge factor and has really kind of been left weighing our options but they offer customer self scheduling where you can put a link in your website to allow the customer to contact you and schedule service which is great but you can't charge the customer from there. So each customer I then have toReach out to so that I can charge them so it's kind of double stepping in makes more work and I'm hoping they change it because every other company out there I'm finding does offer that ability. If a customer wants a service call is $128 and they want to schedule it online and pay for it because they won't be there at the time of service well then it doesn't allow them to do that. They can tell us they want it but then we have to turn around and call them back and it makes a one step conversation now a multiple step conversation. Come on Workiz
Kala O.
Operations Manager in US
Construction, 11-50 Employees
Used the Software for: 6-12 months
Alternatives Considered:
Workiz WORKS for US!!
Comments: The best part about Workiz is the ability to access our files from our sales teams' mobile devices. The majority of our staff do not sit in an office, rather they work almost exclusively from job sites and their trucks. Being able to access customer information from their mobile phones makes coordinating with our office staff and customers so simple.
Pros:
Workiz has made managing our projects so simple! We are able to store project information, manage our AP and AR, photos and paperwork so efficiently.
Cons:
At first, we did have some issues integrating other software with Workiz. However your support team was always available and eager to assist.
Philip P.
Owner in US
Verified LinkedIn User
Construction, 2-10 Employees
Used the Software for: 1-5 months
Alternatives Considered:
Mediocre at best
Comments: I would say overall would never come back to utilize the service. I've utilized plenty of different softwares and this used to be great when it was SendAjob but since the transition to Workiz. You guys fall short and don't meet our needs. Maybe a one man show and or someone who doesn't need detailed, efficient workflow.
Pros:
It seemed like a great software that would be able to customized to our needs. They used to be "SendAJob." When they were the service was great and flowed well.
Cons:
The cons can go on and on. Very hard to distinguish the schedule. if you need a client with multiple properties and sub addresses this is the worst software I have ever encountered for such client management. The card processing wasn't efficient. the technical team when needed would only answer very generic and not try to create solutions.
Workiz Response
last year
Sorry to hear you didn't like it Philip. We're always listening to our clients and we want to thank you for submitting this review. We're making Workiz even more robust this year. We've just launched an update to our CC payments and we're soon launching more automations for owners of larger businesses as yourselves. Check out another software and share with us your experience. No software is perfect but we're sure we can beat our competition... Would love it if you gave us another shot soon :-)
Retail, 11-50 Employees
Used the Software for: 2+ years
Source: SoftwareAdvice
Poor customer service
Comments: The software is good the customer service is bad
Pros:
Great software, how many features in overall it's pretty good I do like the phone system best
Cons:
The customer service of this company is very poor , every time I have an issue I have to contact them numerous amount of times and it usually takes many days to resolve. It is extremely hard to get a representative