15 years helping British businesses
choose better software
Local product
What is ScreenCloud?
ScreenCloud is cloud-based digital signage software offering a seamless, secure and flexible solution for organizations of all sizes. We believe 'screens that communicate' are perfect for teams looking to unlock connections with hard-to-reach employees, students and customers at scale.
Control one screen – or thousands – from anywhere in the world. Use the content already in your systems or create something brand new with ScreenCloud's 80+ free, built-in apps and 150+ editable templates.
Who Uses ScreenCloud?
We work with any business or organisation that wishes to communicate using screens. So they could be small business, enterprise, startups, retail, hospitality, places of worship, education, etc.
Where can ScreenCloud be deployed?
Cloud-based
On-premise
---
About the vendor
ScreenCloud
Located in London, UK
Founded in 2015
ScreenCloud pricing
Starting Price:
US$20.00/month
Yes, has free trial
No free version
ScreenCloud does not have a free version but does offer a free trial. ScreenCloud paid version starts at US$20.00/month.
About the vendor
ScreenCloud
Located in London, UK
Founded in 2015
ScreenCloud videos and images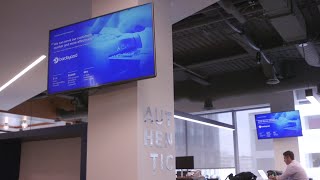 Features of ScreenCloud
Access Controls/Permissions
Auto Update
Content Scheduling
Customisable Branding
Customisable Templates
Data Security
Digital Menu Boards
Layout & Design
Media Library
Multi-Screen Support
Playlist Management
Remote Display Management
Visual Editor
XML/RSS
Alternatives to ScreenCloud
Fabian
Marketing and Communications Manager in US
Verified LinkedIn User
Education Management, 51–200 Employees
Used the Software for: 1+ year
Reviewer Source
Real-Time automated Digital Signage
Comments: It allows real-time and automated information about events and happenings at our school.
Pros:
We use screen cloud to display live Twitter and Instagram feeds throughout our Campus. The interface is clean, easy to use and accessible via a web browser from everywhere. Lots of additional app integration are available and being added regularly. The Screencloud staff is very responsive and helpful. What I particularly like is the clean design of the displayed apps. It looks very professional.
Cons:
Ideally, I would like even more customization on the look and fell of certain apps. But overall there is nothing I dislike so far.
Josué
Director Creativo in El Salvador
Automotive, 51–200 Employees
Used the Software for: 2+ years
Reviewer Source
Great value for your money
Comments: The main features we needed are cover, but some minor details were missing, but the support and easy of use it's amazing.
Pros:
What we love is the ability to schedule content, also there are Channels that can contain playlist or files inside so its easier to manage content for multiple screens.
Cons:
Video Wall is missing unless you have the correct hardware, it would be nice if you can set inside Screenloud the layout that you have with your screens, maybe like a drag and drop tool choosing screens by size so you can arrange them in the way you want, so that can work as a mask and set there the video to be play.Another thing missing is to set a website with the touch capability, not all websites are compatible.
Alternatives Considered: Yodeck
Reasons for Switching to ScreenCloud: Nice UI and easy of use, and has all the main features
ScreenCloud Response
2 months ago
Hi Josué, We're glad to hear that ScreenCloud has been easy to use and covers all the main features you need to communicate with your team. If you would like to try, you can embed videos via other apps such as RSS Feed or YouTube and use layouts to feature them. We appreciate your feedback regarding the touch capability and hope to implement more in the future. Thank you for choosing ScreenCloud!
Construction, 501–1,000 Employees
Used the Software for: 1-5 months
Reviewer Source
Great potential but a lot still to develop
Comments: This is just used as our entry way marketing material. This has been more of a head ache than it should have been.
Pros:
Ease of use is a fact. I liked the layouts and basic idea of this product. That was about it.
Cons:
Needs more native apps. Not a very "smart" program (i.e. have pictures in a custom zone to a special size - this requires me to go back to marketing team to re-edit the photos down to what the app can handle. This should be done as part of the program to allow for overall easier use). While the support team is quick to respond, they missed the mark greatly in actually addressing the issues and are rather snarky when you point out the pitfalls of the program. There are misspellings in the warnings that pop-up throughout their app. It is all around a work in progress.
ScreenCloud Response
4 years ago
Hi Mitch, this is Adam, the Head of the Support team at ScreenCloud. I'm really sorry you've been experiencing these issues. We take your feedback seriously, so thank you so much for taking the time to share this with us. We're always trying to improve our app and stay on top of an agile work environment and sometimes we don't meet the standards we want to achieve for our customers. Although we've built ScreenCloud to optimize your images to look at their best for your screens, in some cases you'll need to edit the dimensions of the image to capture the area you want to show the most. To make this easier, we've been developing a new app to help you do just that. We've also been revising our on-boarding experience to share the good practices as early as possible. I'd really appreciate it if we had a call to get to the bottom of this and also show you what we've been working on. I'll make sure to personally reach to you.
Tember
Project Manager in US
Religious Institutions, 51–200 Employees
Used the Software for: 2+ years
Reviewer Source
Lots of capabilities
Pros:
I love all the options ScreenCloud provides to be able to manage multiple screen in our building. I can schedule different playlists throughout the days and weeks, do unique layouts with channels to have more than one image/playlist, or even show recent posts from our Instagram. ScreenCloud continues to evolve the service to fit our needs better.
Cons:
Currently I dont have any cons, since ScreenCloud started offering the studio version it meets all my needs.
ScreenCloud Response
2 months ago
Hi Tember, thank you for your review. If you need any assistance or have any further feedback, please reach out to our support team at [email protected].
Alexis
Administrative Assistant in US
Commercial Real Estate, 1,001–5,000 Employees
Used the Software for: 1+ year
Reviewer Source
ScreenCloud is a must use application!
Comments: The team and I have had a great experience with ScreenCloud! It's been great being able to display all of our business content, fun flyers, etc. around the office for the employees to see.
Pros:
We like the many features ScreenCloud has to offer. It is able to pick up things from my Microsoft Teams account which is very helpful. Many different designs and layouts to choose from. The thing that we love the MOST is the customer service aspect. Our customer rep, [sensitive content hidden], is always checking in and making sure we are getting the most our of our membership. It's been a great partnership!
Cons:
I wouldn't say I liked anything the least - I'm still learning new things about ScreenCloud everyday.
ScreenCloud Response
last month
Hi Alexis, thank you for your review. If you need any assistance or have any further feedback, please reach out to our support team at [email protected].