What is Teachable?
Teachable is an online courses and coaching creation software that allows entrepreneurs, creators, and businesses of all sizes create personalized engaging online courses and coaching products complete with videos, lectures, and quizzes.
Collect payments through Teachable so you don't have to handle any of the nitty gritty around VAT, taxes, and author payments. Track sales, gain insights into sold courses, and collect feedback via surveys on a unified dashboard. All with zero tech headaches.
Who Uses Teachable?
We help entrepreneurs, creators, and small business owners earn money sharing what they know through courses and coaching.
Where can Teachable be deployed?
Cloud, SaaS, Web-based, Mac (Desktop), Windows (Desktop)
About the vendor
Teachable
Founded in 2014
Chat
About the vendor
Teachable
Founded in 2014
Chat
Teachable videos and images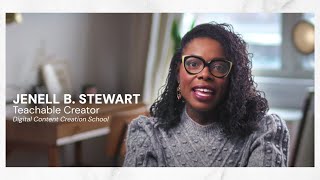 Compare Teachable pricing with similar products
Features of Teachable
Activity Dashboard
Assessment Management
Asynchronous Learning
Blended Learning
Built-in Course Authoring
Content Management
Course Authoring
Course Management
Course Publishing
Course Tracking
Customisable Branding
Customisable Templates
Data Import/Export
Learner Portal
Learning Management
Learning Paths/Tracks
Media Import
Mobile Learning
Multi-Language
Multimedia Support
Progress Reports
Progress Tracking
Quizzes
Real-time Broadcasting
Reporting & Statistics
Screen Sharing
Storyboarding
Synchronous Learning
Tests/Assessments
Training Administration
User Management
Virtual Classroom
eCommerce Management
Alternatives to Teachable
Marilyn "M.E."
CEO in US
Verified LinkedIn User
Religious Institutions, 2-10 Employees
Used the Software for: 2+ years
Alternatives Considered:
Teachable Moments
Comments: Overall Teachable solved a revenue issue for us! We needed a place for people to go and purchase out products and downloadable services without having to start from scratch - which is quite costly - and Teachable allowed us to do that. It help us generate necessary revenue with ease.
Pros:
Teachable is very user friendly. I am not a very technically inclined person and this program gave me the ease I needed to set our digital classroom. AT the time we began using the company could not afford more than $100 a month and Teachable was very affordable for out small nonprofit.
Cons:
I would say that my least favorite aspect of Teachable is or was the design templates, although they recently upgraded this feature and you can do a few more fancy things to your store and landing page.
Melissa
Course Developer in US
E-Learning, Self Employed
Used the Software for: 1+ year
Alternatives Considered:
Teachable - It's not for everyone
Comments: Overall it is a good platform. It is a bit pricey and you'll need to be patient as it is not beginner friendly. If you already are having success in your online courses, this would be for you. If you are just starting, you might try elsewhere.
Pros:
I really liked about teachable is that it allows you to setup and integrate your coaching calendar within Teachable to allow for bundles. I also really liked how easy it was to integrate the quizzes as well. The tracking module was also really good.
Cons:
It was really difficult to set up the sales page. There are no marketing tools integrated with this. It is very expensive in comparison to other options as well. I did not typically have the best response with customer service - it wasn't bad though, it just wasn't good.
Katie
Owner in US
Verified LinkedIn User
Education Management, Self Employed
Used the Software for: 1-5 months
No Customer Service
Comments: Using Teachable itself was okay, but the customer service is unacceptable. The only way you can contact them is through email and they may not get back to you for several days. I left Teachable for a different company six months ago and they STILL have a claim on my domain. If you try to access my site without the 'www', you get sent to a Teachable 404 page. I have gone through the DNS settings multiple times with my current company, and we can't do anything about it. Every time I email with an agent, they assure me that my account is closed and that Teachable isn't connected to my domain. They share screen shots, then ask me to provide them with my own. When I send them the shots showing the specific information they have asked for, they won't respond. Regardless of your course content, you need fast, effective customer service. Teachable does not provide that.
Pros:
Teachable is easy to use and I was able to set up my courses quickly in a format that was conducive to the content.
Cons:
Assessments are an important part of my curriculum, but the available quiz templates were too basic for my needs. Also, when I had questions or needed help, it took days to get a response for customer service.
E-Learning, 2-10 Employees
Used the Software for: 6-12 months
Great user experience, API access expensive
Pros:
Great user experience. Creating courses is incredibly easy and the interface is beautiful and pleasant to use.
Cons:
API access requires a much higher tier in subscription which is inaccessible for smaller businesses
Sam
Course Creator in United Arab Emirates
E-Learning, 2-10 Employees
Used the Software for: 2+ years
Alternatives Considered:
Teachable: Course Creators are Lost Without it!
Comments: It's a smooth journey and you have everything you need in one place. Excellent UI and overall it's all you need.
Pros:
The overall coverage of all features a course creator needs. They even provide a payment gateway, which alone saves you plenty in commisions and monthly fees.
Cons:
Just need an Android app. Not having an Android app forces most of my students to watch the courses on their browsers.