What Is Teachable?
Teachable is an online courses and coaching creation software that allows entrepreneurs, creators, and businesses of all sizes create personalized engaging online courses and coaching products complete with videos, lectures, and quizzes.
Collect payments through Teachable so you don't have to handle any of the nitty gritty around VAT, taxes, and author payments. Track sales, gain insights into sold courses, and collect feedback via surveys on a unified dashboard. All with zero tech headaches.
Who Uses Teachable?
We help entrepreneurs, creators, and small business owners earn money sharing what they know through courses and coaching.
Teachable Details
Teachable
Founded in 2014
Teachable Details
Teachable
Founded in 2014
Teachable videos and images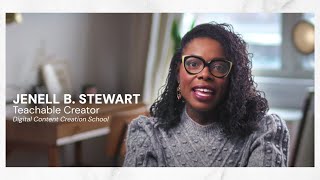 Compare Teachable pricing with similar products
Starting price
US$39.00/month
US$49.00/month
US$129.00/month
US$39.00/month
Teachable deployment and support
Support
Email/Help Desk
FAQs/Forum
Knowledge Base
Chat
Deployment
Cloud, SaaS, Web-based
Mac (Desktop)
Windows (Desktop)
Training
Live Online
Webinars
Documentation
Videos
Marilyn "m.e." P.
CEO in US
Verified LinkedIn User
Religious Institutions, 2-10 Employees
Used the Software for: 2+ years
Alternatives Considered:
Teachable Moments
Comments: Overall Teachable solved a revenue issue for us! We needed a place for people to go and purchase out products and downloadable services without having to start from scratch - which is quite costly - and Teachable allowed us to do that. It help us generate necessary revenue with ease.
Pros:
Teachable is very user friendly. I am not a very technically inclined person and this program gave me the ease I needed to set our digital classroom. AT the time we began using the company could not afford more than $100 a month and Teachable was very affordable for out small nonprofit.
Cons:
I would say that my least favorite aspect of Teachable is or was the design templates, although they recently upgraded this feature and you can do a few more fancy things to your store and landing page.
Sam B.
Course Creator in United Arab Emirates
E-Learning, 2-10 Employees
Used the Software for: 2+ years
Alternatives Considered:
Teachable: Course Creators are Lost Without it!
Comments: It's a smooth journey and you have everything you need in one place. Excellent UI and overall it's all you need.
Pros:
The overall coverage of all features a course creator needs. They even provide a payment gateway, which alone saves you plenty in commisions and monthly fees.
Cons:
Just need an Android app. Not having an Android app forces most of my students to watch the courses on their browsers.
Music, Self Employed
Used the Software for: 1+ year
Good in some areas. Poor in others.
Comments: Leadership of the company tends to focus on the money angle but I guess that's to be expected. ("You can make mega-$$$ with your courses!" and some have.) You won't find information on crafting your course but you will find plenty on how to give it a high price tag. If you can avoid the hype and have a third party email app you like to use, then Teachable is a good option. I've found it to be affordable and profitable in spite of the email problems.
Pros:
The teaching platform (curriculum videos, PDFs, etc.) is good and uploads are easy. I found that building a sales page was not difficult and sending people to the sales page with discount coupons was a smooth process. Payments were collected and paid out promptly at the end of the month (for my plan). Support is by email only (no chat) and took a couple days but the answers were helpful. The plans are reasonably priced for individual teachers and consultant.
Cons:
I have experienced serious problems with their built-in email application. Since this is the primary way teachers communicate with students, it should be a priority for them. There were days when it wasn't working when I needed to send links to live classes and webinars. It's difficult to customize "Welcome" emails and there's no way to schedule sends or save drafts. They recently announced that all emails would come from a strange looking email address that belongs to them (and has been labeled "spam" by my email hosting service). I've drawn their attention to these problems several times. The response is polite but there has been no move to improve the service. It's a very amateurish response. I would recommend looking at other services first OR be prepared to use a third party email service every time you want to reach your students, including new sign-ups.
Twanna T.
Business Coach in US
Professional Training & Coaching, Self Employed
Used the Software for: 6-12 months
Great customer support but…
Comments: I didn't like holding funds for a period of time and the fees.
Pros:
I love the customer support and how long you are able to try out the platform before making a commitment.
Cons:
I wanted to love and use this platform but it was not user friendly and some of the policies didn't sit well with me.
Cushi M.
owner in Bermuda
Verified LinkedIn User
Marketing & Advertising, Self Employed
Used the Software for: 6-12 months
Alternatives Considered:
A good solution for e-courses, but not the easiest to learn
Comments: It definitely does the trick. I set my online course up and created my sales page reasonably quickly considering I'd never used the software, or any e-course software before.
Pros:
I love the aesthetics and the User Interface. It's all very clean and feels comfortable. I like the simplicity of the sales page builder as well, although I'd like it more if it were more custmizeable with options like more fonts, and different layouts.
Cons:
The flow between webpages is super awkward and it was sometimes hard to find the page I was looking for. Every time I go to do anything, it opens a new tab. The over all user experience just felt unnatural to me.