15 years helping British businesses
choose better software
What is Lucidchart?
Lucidchart is the intelligent diagramming application within the Lucid visual collaboration suite—it's the quickest and easiest way for individuals and teams to map out their organization's processes, systems, and people. Since it's cloud-based, you can work from anywhere, at any time, on any device or browser. This makes it easy to collaborate and align with teammates as you visualize complex ideas and bring those ideas to life.
Who Uses Lucidchart?
Lucidchart makes it easy for anyone to visualize a complex idea, process, or system!
Where can Lucidchart be deployed?
Cloud-based
On-premise
---
About the vendor
Lucid Software
Located in South Jordan, US
Founded in 2010
Lucidchart pricing
Starting Price:
US$7.95/month
Yes, has free trial
Yes, has free version
Lucidchart has a free version and offers a free trial. Lucidchart paid version starts at US$7.95/month.
About the vendor
Lucid Software
Located in South Jordan, US
Founded in 2010
Lucidchart videos and images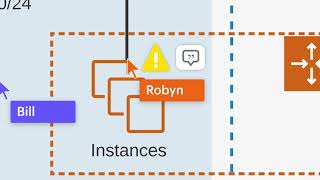 Features of Lucidchart
Access Controls/Permissions
Alerts/Notifications
Brainstorming
Business Process Automation
Collaboration Tools
Commenting/Notes
Component Library
Customisable Templates
Data Import/Export
Data Linking
Data Visualisation
Design Management
Design Templates
Desktop Interface
Diagramming
Document Management
Drag & Drop
Drag & Drop Editor
Employee Photos
File Sharing
Flowchart
Forms Automation
Gantt/Timeline View
Graphical Workflow Editor
Mind Maps
Mobile Interface
Mockup Creation
Network Diagram
Organisational Charting
Process Modeling & Designing
Publishing/Sharing
Real Time Data
Rules-Based Workflow
Search/Filter
Task Management
Templates
Third Party Integrations
UI Prototyping
Version Control
Wireframe Creation
Workflow Configuration
Workflow Management
Alternatives to Lucidchart
Joseph
Business Platform Owner in US
Verified LinkedIn User
Financial Services, 1,001–5,000 Employees
Used the Software for: 1+ year
Reviewer Source
A dream compared to Visio
Comments: Lucid has been a pleasure to work with, they incorporate the latest features and are constantly improving the product. They also provide excellent support with great resources and excellent training for the products.
Pros:
I like the ease of building flows and drawings. All the tools are readily available and visible and intuitive to work. I especially love the templates and the breadth of areas they cover.
Cons:
It takes users a little bit of time to become proficient with the interface as most are coming from tools like Power Point and are not used to moving the canvas along with moving objects. Once this is overcome the tool is a breeze to use.
Alternatives Considered: Visio
Switched From: Visio
Reasons for Switching to Lucidchart: Visio provided more features at a similar or lower price point than licensing Visio Professional
Thomas
Quality Engineer in US
Biotechnology, 11–50 Employees
Used the Software for: 6-12 months
Reviewer Source
Lucidchart - Easy to use flowcharting tool
Comments: I create flowcharts on a daily\weekly basis and Lucidcharts is an easy-to-use tool to help in designing flowchart diagrams. From the ease of installation, the excellent technical support when needed, and the easy to learn interface is quite valuable.
Pros:
The ease of installation The online support Ease of use, not a big learing curve.
Cons:
I don't use the collaborative tools much.
Larni
Practice Manager in Australia
Health, Wellness & Fitness, 11–50 Employees
Used the Software for: Free Trial
Reviewer Source
Happy for the free trial but cannot use ongoing
Comments: Not worth it in our business model to use/expand to the paid version. Others may find it more useful and can justify the cost.
Pros:
I appreciated the free trial to test out the product for creating a Sales Journey/Customer Experience Map. I love the idea and being able to create mind map and sales journey to create visuals for the team and management.
Cons:
The free portion of the program was difficult to customize for our situation. Couldn't justify the price to continue to use it.
Christian
Human Resources Manager in US
Verified LinkedIn User
Health, Wellness & Fitness, 1,001–5,000 Employees
Used the Software for: 1+ year
Reviewer Source
Excellent app for flowcharts and collaborative teams
Comments: Lucidchart is amazing for creating high-quality, visually appealing charts and diagrams. Although its primary function is in flowcharts, its versatility is immense. It's easy to use, and we appreciate how well it works with Confluence.
Pros:
Lucidchart is my go-to software for making system diagrams, modeling data, and analyzing and bettering business processes. It works wonderfully for each of these purposes. Using Lucid is a breeze because of its drag-and-drop interface.
Cons:
The functionality of Lucidchart are behind those of some installed alternatives because it is a web-based tool. I also find it frustrating that there appears to be no method to attach a connector to a form in such a way that the connector would automatically re-orient itself when I re-position the shape, as is often the case when trying to optimize a procedure.
Elvis
Registry Officer in Kenya
Capital Markets, 11–50 Employees
Used the Software for: 2+ years
Reviewer Source
Lucidchart diagrams are the secret to visualizing work process.
Comments: We have achieved a new and more beneficial work strategy with Lucidchart where we create flowcharts and diagrams to have virtual representation of our work project and processes. This gives us accurate oversight on the work that we are supposed to do and this allows to focus on the work.
Pros:
Lucidchart helped us come to an understanding that better work results are relevant if you have a clear visuals of the work. It offers quality diagraming tools like flowcharts which makes it easy to have typical representation on the entire work process from start to completion. With Lucidchart, we are able to understand what work is needed of us and this helps us keep focus on what we are doing. Plus there us no manual drawing of flowcharts as we can use the AI tools to the work for us.
Cons:
Our great times with Lucidchart has always lasted since the start and we have not seen and flaws about it.