What is REACH?
Starting at only $20/month, REACH makes it simple to create and deploy content to one or an entire network of displays. With our powerful integration engine, users can easily integrate existing data and automate content from sources such as OneDrive, Canva, PowerBI, SharePoint and more. Choose from over 100+ apps and 500+ templates included with our free layout design services. Our 6,000+ clients all have one thing in common -- they love our AMAZING and UNLIMITED customer support. Try us today!
Who Uses REACH?
REACH serves industries such as corporate, manufacturing, education, healthcare, government, credit unions, restaurants, retail, fitness / recreation centers and more!
Where can REACH be deployed?
Cloud, SaaS, Web-based, Mac (Desktop), Windows (Desktop), Linux (Desktop), Windows (On-Premise), Linux (On-Premise), Chromebook (Desktop)
About the vendor
REACH Media Network
Founded in 2005
Phone Support
24/7 (Live rep)
Chat
Languages
English, French, Spanish
About the vendor
REACH Media Network
Founded in 2005
Phone Support
24/7 (Live rep)
Chat
Languages
English, French, Spanish
REACH videos and images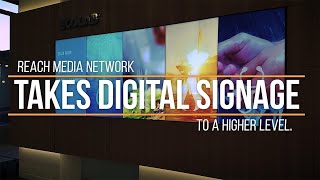 Compare REACH pricing with similar products
Features of REACH
Audit Trail
Auto Update
Content Scheduling
Customisable Templates
Layout & Design
Media Library
Multi-Screen Support
Playlist Management
Remote Display Management
Visual Editor
Jeff
Director of Design + Digital in US
Verified LinkedIn User
Religious Institutions, 51-200 Employees
Used the Software for: 1+ year
A Solid Piece of Software - Offering Custom Branding and Integrations
Comments: I've observed firsthand people coming into our facility and getting up-to-the-minute accurate information to help them find their way, be informed about upcoming events, and be entertained and inspired. REACH's support team is great and they are super friendly... Willing to work through anything with you! It's been a pleasure doing business with them and we are excited to keep expanding our network of displays in new and exciting ways in the future.
Pros:
I love that they work with you to design a custom template that matches your organizations brand. Then, they offer integrations (we use the eSpace integration for building schedule) and modules (weather, social media, video, graphics) that pull in data from multiple sources onto one screen seamlessly. I've seen other digital signage solutions that offer either split screen solutions or out-of-the-box templates, but those fall short in creating a seamless brand experience. I also love how I can schedule graphics and videos for different days and times across multiple players/screens, and set them to expire and be removed automatically on a certain date.
Cons:
One downside is they don't really offer weekend support. (I was able to get someone to message me back once, but the problem couldn't be resolved until Monday). We are a church and if something goes down on Sunday, we are out of luck. Most of the issues we were having were related to our players being on WiFi, which has as much to do with us as it does with them. Since we've hardwired all our players, we've been pretty much incident free. Their lower-end PC's, which they ship by default, leave much to be desired. Consider upgrading a level or two for enhanced performance and reliability. I wish the dashboard was mobile friendly. It is doable to scroll around and edit a few things on a smartphone, but it's less than ideal. In today's mobile world, I need to be able to make simple edits and check on player status' on the go quickly. Overall, it's backend dashboard is stuck in the past... but it does what it needs to do!
Wayne
Web & Digital Developer in Canada
Verified LinkedIn User
Marketing & Advertising, 2-10 Employees
Used the Software for: 1-5 months
Alternatives Considered:
An honest consumer review for the Reach CMS
Comments: Ultimately, Reach has allowed for quick updates to our client ads. Although most features offered by Reach are not something our company needs, they do however open potential opportunities for us to offer to our clients and utilize in the future. Furthermore, Reach did not have a specific feature that one of their competitors does offer (Watchfire Ignite), but I was able to provide the details of this new feature to a Reach Support Representative and they promised to submit this as a potential feature for the Reach CMS. This may or may not be implemented, but my concern was gladly heard - as such, the Reach customer service has been a very positive experience for myself.
Pros:
Features available enable us to compete with most of our competition and surpass others. Which in our case, allows us to offer our clients state-of-the-art service.
Cons:
Due to this being a web-based system, certain clunky response times for content updates, caching concerns, CSS consistency errors, etc - all account for a demerit in consumer value. Most of which can be addressed with future front-end updates to the Reach software. Largest concern from a front-end development standpoint would be major inconsistencies in responsive view (mobile, tablet). There should be no limitations between devices. Granted, although many of these appear concerning, the web-based route allows for flexible updates on a diverse set of systems, web-based integrations for RSS Feeds/Social Content, and many other valuable features which would hold its weight in limitations if Reach were a standalone application.
John
Executive Director, Building Operations in US
Education Management, 201-500 Employees
Used the Software for: 1-5 months
Alternatives Considered:
REACH Digital Signage - New Customer
Comments: Excellent so far- bringing signage players online, SSO setup, interaction with Customer Service and scheduling content
Pros:
Ease of use and setup; VERY Customer Service focused- support is amazing; great library of company produced tutorial videos
Cons:
Really surprised the future scheduling of content doesn't show up in the upcoming timeline of events. That should really be addressed.
Verified Reviewer
Chief Operating Officer in US
Verified LinkedIn User
Used the Software for: 2+ years
Great for First Impressions
Pros:
This platform allows us to showcase our offerings. We use it to show our videos of our programs in the lobby area. We also use to inform our constituents our schedule and offerings. It helps us to be more green as we do not need to print out as many flyers. We have also increased the number of current participants that may not know other offerings we have and now
Cons:
We are not able to connect it to our current software. We have to manually create the feeds through the REACH Program. It would be easier if it was able to work together.
Naomi
General Manager in US
Cosmetics, 11-50 Employees
Used the Software for: 1+ year
Alternatives Considered:
Good Software
Comments: We had a wonderful experience with them. They made marketing for our salon very easy.
Pros:
We loved the availability of marketing choices they offered. The basically did all of the work for us and all we had to do was reap the benefits. They made it extremely easy to reach out to our clientele from the past and kept us up to date with several new marketing options.
Cons:
At the time we weren't able to continue with their service only because they did not integrate well with our new booking software but I am sure they have upgraded that information by now.