What Is NewBook?
NewBook's all-in-one property management suite is helping accommodation businesses streamline their operations, reduce costs, boost revenue and bookings. Our solutions offer all the tools you need to efficiently run your property in one central platform including a PMS, Booking Engine, Channel Manager, Automation, Self-Service, automated communications, reporting and so much more. It's easy to use and learn - It's property management made simple!
Who Uses NewBook?
NewBook is a powerful property management suite servicing accommodation providers including Resorts, Campgrounds, RV Parks, Marinas, Hotels, Motels, Hostels, Vacation Rentals and more!
Where can NewBook be deployed?
Cloud, SaaS, Web-based, Android (Mobile), iPhone (Mobile), iPad (Mobile)
About the vendor
by NewBook
Founded in 2010
Phone Support
24/7 (Live rep)
Languages
Chinese, English, Korean, Russian
NewBook pricing
Starting Price:
Not provided by vendor
NewBook has a free version.
Pricing plans
About the vendor
by NewBook
Founded in 2010
Phone Support
24/7 (Live rep)
Languages
Chinese, English, Korean, Russian
NewBook videos and images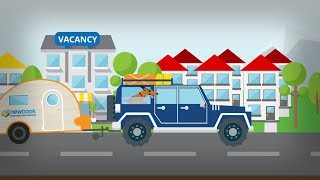 Jermaine W.
Consultant in UK
Verified LinkedIn User
Hospitality
Used the Software for: 2+ years
Amazing!
Pros:
A very easy to use system that was very easy to implement and is great value for money. I love the fact that there are always updates, which means that Newbook are always ahead of the game when it comes to features. The support team are very friendly and know their stuff and the Wiki and support request features are all great. My favourite features that other systems do not offer is the read receipt of emails sent through the system and the feature suggestions. Once up and running, the direct connection with Airbnb will be
Cons:
Direct connections are that are offered are very Australian based and do not fit into the London Hotel & Apartment sector.
NewBook Response
4 years ago
Hi Jermaine, Thank you for your recent review of NewBook. We are happy to see everything is going well! We have added some global integrations this year and are always looking to add more. If there are any in particular that you¿re looking for, feel free to add a feature suggestion so others can vote and the team can review your requests. Best Regards, The NewBook Team
Pelin U.
Complex General Manager in Germany
Hospitality, 10,000+ Employees
Used the Software for: 1+ year
NewBook combines multiple booking channels for us
Comments: NewBook is pretty fine to meet our needs in multiple channel booking management and helps us avoid multiple bookings and update the availability in all online sales channels as well as in our website and this way we avoid multiple bookings and helps us save time in booking operations.
Pros:
Management of all reservation channels is really a hard operation especially if you have a website that already has a huge demand and always there is the risk of multiple bookings or delays in updating the room availability. NewBook solves our multiple channel reservation problem along with the reservations in our website so that whenever we accept a booking through a particular sales channel, Newbook reflects it to all other remaining channels as well as our website.
Cons:
NewBook neither cover our requirements in-hotel facility reservation side like SPA bookings nor helps us to provide digitization in providing access to our other services such as room service. That would be better to have a version that covers the in-hotel service portfolio along with multi-channel room booking management.
Alternatives Considered: Hotelogix and ReservationKey
Reasons for Choosing NewBook: NewBook is better with its feature to manage multiple sales channels along with our website which was the dominant factor in our switch.
Switched From: ReservationKey
Reasons for Switching to NewBook: Multiple sales channel management module of NewBook was much more better then the others.
NewBook Response
last year
Hi Pelin, Thank you so much for sharing your experience with NewBook! We appreciate your feedback and we're very happy to hear you're enjoying using our system. Please feel free to add your suggestions for hotel management features to our Feature Suggestion page - our team is constantly reviewing votes and requests for future development! Kind regards, The NewBook team
Heidi C.
Owner/Manager in Australia
Hospitality, 2-10 Employees
Used the Software for: 6-12 months
Fantastic Product
Comments: The implementation of Newbook has helped with our time management, processes and sales.
Pros:
Easy to use, affordable and the staff at Newbook are extremely friendly, helpful and experienced.
Cons:
As we have not been with Newbook for very long there is nothing that comes to mind at this time.
Alternatives Considered: RMS Cloud
Reasons for Switching to NewBook: As we are a small caravan park therefore it was mainly the cost. We also had a couple of good reviews about Newbook from friends and other businesses.
NewBook Response
4 weeks ago
Hi Heidi, Thank you for sharing your review of NewBook! It's great to hear that you've enjoyed your experience so far, and we can't wait to keep delivering valuable features to you. We hope you have a happy holiday season! Kind Regards, The NewBook Team
Prasad K.
Business owner in Australia
Hospitality, Self Employed
Used the Software for: 1-5 months
Very unprofessional team ,
Comments: Initially they were good, but later sales people sold me expensive version but it was totally not value for money.
Support system is very bad specially when you have issues.It is not supported by lot of websites.
Pros:
Payment system integration, and taking payment is very easy
Cons:
Support very poor , very complex to use , do not provide connection to lot of websites
NewBook Response
3 years ago
Hi Prasad, It is disappointing to see that you are posting this incorrect review of NewBook on Capterra. Our team provided solutions to all of your needs and complex requirements. Our system can be either easy or complex depending on how complex your individual property/rate setup is. As a property management system NewBook has a large number of OTA's directly connected such as Expedia Group, Hotels.com, Booking.com, AirBnB, HomeAway, TripAdvisor, Trip.com Agoda, Lido and many others but we never promoted to have hundreds like a separate channel manager would, i.e Siteminder (which we also support). If posting a bad review is an attempt to avoid paying your outstanding bills I can assure you we do not operate that way and are confident potential clients will see the large number of positive reviews and know we really do take care of our clients and offer top notch service and support. Regards, Shaye Illich Business Development Manager
Paul R.
Park Owner in Australia
Leisure, Travel & Tourism, 2-10 Employees
Used the Software for: 1-5 months
Newbook at Lakes Main Holiday Park
Comments: Intergration and time saving plus less room for error. Support staff and assistance is absolutely first class - nothing is a hassle, every single time we have called they have been fantastic. That really says a lot to me as a person whose been in numerous businesses over 21 yrs.
Pros:
Simple enough to use, very visual and easy to customise. It offers excellent tutorial videos and Newbook seem to be continually adding features/new capabilities.
Cons:
Unsure. I really don't have any major gripes with it at this point..
Alternatives Considered: RMS Cloud
Reasons for Choosing NewBook: Referred from another Park Owner - the old system was exactly that - old
Reasons for Switching to NewBook: Suggested to me by a friend who owns a Park and he is using RMS but said Newbook better and he is considering switching.
NewBook Response
2 months ago
Hi Paul, Thank you for sharing your experience with NewBook so far! It's great to hear that you're saving time, finding the system easy to learn and that our support team are doing such a great job. Thanks again for the review! Kind Regards, The NewBook Team