What Is TeamGantt?
TeamGantt is effortless project collaboration and planning. Everything you need to plan and execute your work in one place. Intuitive, beautiful gantt charts combined with task level communication , file sharing, team resourcing and more wrapped up in a beautiful interface. Trying is believing, sign up for our 14 day free trial today!
Who Uses TeamGantt?
Anyone with a project that involves multiple people will love TeamGantt
Where can TeamGantt be deployed?
Cloud, SaaS, Web-based, Mac (Desktop), Windows (Desktop), Linux (Desktop), Android (Mobile), iPhone (Mobile), iPad (Mobile)
About the vendor
by TeamGantt
Located in Lutherville-Timonium, US
Founded in 2009
Chat
Countries available
United States
About the vendor
by TeamGantt
Located in Lutherville-Timonium, US
Founded in 2009
Chat
Countries available
United States
TeamGantt videos and images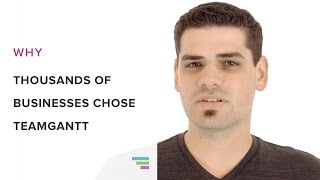 Compare TeamGantt pricing with similar products
Starting price
US$29.99/month
US$9.49/month
US$22.00/month
US$7.00/month
Gayan D.
Senior Project Manager in Sri Lanka
Verified LinkedIn User
Information Technology & Services, 51-200 Employees
Used the Software for: 6-12 months
Simple and easy Gantt Charts
Comments: Great user experience, with straightforward options to create Gantt charts, is what comes to mind when someone mentions TeamGantt. Gantt chart functionalities are top notch and are easily accessible and even a newbie can learn this tool and master in a relatively short span of time.
Pros:
User-friendliness and the straightforward UI are the first things that come to mind when you use TeamGantt. The ability to adjust timelines without having to do complicated data entering or calculations are helpful as well. Resource utilization overview is a neat feature as well.
Cons:
As a free user, the sharing of plans is pretty limited, and advanced timeline and project management options do not seem to be present.
Valerie H.
Project Manager in US
Information Services, 11-50 Employees
Used the Software for: 1+ year
Life Changing Product
Comments: Overall, TeamGantt has filled a huge gap that I was dealing with in project planning. I plan to continue using it for many years to come. I'm a huge fan of the ease of use and percent complete tracking. I've been able to use the percent complete to help estimate remaining work / budget for projects to keep stakeholders informed.
Pros:
TeamGantt gives me the ability to create a gantt chart for my projects in minutes (as opposed to hours). I can easily create new tasks and plot timelines by clicking and dragging. If you're currently using a product like Teamwork or BaseCamp, the milestone calendar is great for a day to day view - but for complex projects, I was having a very hard time seeing the big picture in any detail. TeamGantt gives me the ability to quickly create these high level views that can be used to easily shift timelines and deliverables - receive approval on the changes, before making major milestone calendar shifts.
Cons:
I'm not a huge fan of the hours allocation portion of the software. It would be a nice feature to have, but it's overly cumbersome. I can add hours for an individual and see how many hours they're slotted for per day - but I can't see a person by person ganttchart of their overlapping responsibilities or how many hours per day they're allotted per project. (This would be a combination of Floats software & TeamGantt, which is how we use the software now.)
Rosemely H.
Sales and Marketing Specialist in Costa Rica
Internet, 11-50 Employees
Used the Software for: 1+ year
Great Task Management Tool
Comments: Time tracking on projects. Resource management.
Pros:
TeamGantt has resource management tools, which aren't available on competitive platforms like Quire.
Cons:
Can't manage tasks in absence of internet connection.
Matthew R.
Project Manager in US
Used the Software for: 2+ years
TeamGantt offers simple gantt charting but lacks product polish
Comments: This tool makes sharing my gantt charts with clients a breeze.
Pros:
TeamGantt offers a clean view of the gantt chart and visually is nice to see who is working on what tasks in line with the bar. But really what lead me to purchasing this software, is its sharing capabilities. TeamGantt allows me to share my charts with other users without the need for a login. This combined with the ability to embed it in webpages has been critical for radiating timelines to clients. A common feature in these types of products I generally don't like is the "sync to calendar" feature. However, you can tell TeamGantt spent some time on this feature, and it works surprisingly well.
Cons:
Where TeamGantt fall short is in their overall product polish. The user experience and underlaying design is flat out annoying. Something as simple as undoing a date change can take minutes to figure out and may not even be possible if the site didn't record it in its history. Resizing the charts is a pain and you can't even resize the tasks column. The way projects are listed in the left panel is also very difficult to read and navigate. These things can all be summarized in just the UX design. The feature set is robust and I don't think its lacking anything their customers really are asking for, at this point it just needs to be giving some TLC.
Alex A.
Multimedia Designer in US
Higher Education, 51-200 Employees
Used the Software for: 1+ year
Source: SoftwareAdvice
Alternatives Considered:
Really great option
Comments: I really liked it, and if I'm ever looking for a project management system again, I'll heavily consider it. A really good app for a reasonable price.
Pros:
My brain processes projects like a Gantt chart, so that was a huge reason for using this. It really helps to visually map multiple projects over longer periods of time, and easily demonstrates capacity for the individual and org. We switched to a new product as the team evolved, but TeamGantt added some nice new features that perhaps would have swayed us back (kanban was a nice addition). I really liked how visual this tool was, but it was also easy to switch to different views. Felt like a growing company that was only going to get better.
Cons:
Support wasn't ideal, but wasn't bad either. They're reasonably speedy responding to chat. We never utilized any on-boarding services they offered, probably should have. Our team changed and grew and ultimately moved on to another service, but this was still a really great tool. I'm only writing this since we ran into so many other lemons looking for a different system, and came really close to coming right back. One thing (which might have improved); it would have been nicer for more customized timeline exports. Often our projects were so large that the exports weren't effective to print (which clients preferred). Maybe there was a third step we should have implemented too (you can also export to excel)