15 years helping British businesses
choose better software
What is Employment Hero?
We put the human in HRIS. Employment Hero is an end-to-end people management and payroll platform that covers every aspect of the employee lifecycle, from recruitment and onboarding to engagement, productivity and success.
Our cloud-based HR software helps UK small and medium businesses to reduce paperwork and save administration time by automating manual tasks and auto-populating data across the platform.
Over 200k organisations use Employment Hero and together we collectively manage over 1m employees. Visit our website to learn more.
Who Uses Employment Hero?
UK businesses with between 10 and 1000 employees who want to streamline their process and grow. This includes Business Owners, HR Managers, Payroll Managers, People and Culture Managers, CEOs, GMs, Payroll, HR and Business Advisors.
Where can Employment Hero be deployed?
Cloud-based
On-premise
---
About the vendor
Employment Hero
Located in Sydney, Australia
Founded in 2014
Countries available
Australia, Malaysia, New Zealand, Singapore, United Kingdom
Employment Hero pricing
Starting Price:
£3.00/month
Yes, has free trial
Yes, has free version
Employment Hero has a free version and offers a free trial. Employment Hero paid version starts at £3.00/month.
Pricing plans
get a free trial
About the vendor
Employment Hero
Located in Sydney, Australia
Founded in 2014
Countries available
Australia, Malaysia, New Zealand, Singapore, United Kingdom
Employment Hero videos and images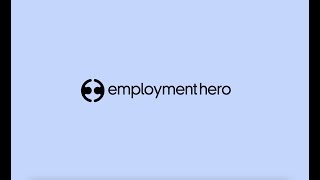 Features of Employment Hero
360 Degree Feedback
401(k) Tracking
API
Activity Dashboard
Activity/News Feed
Alerts/Notifications
Applicant Tracking
Application Management
Approval Process Control
Assessment Management
Asynchronous Learning
Attendance Management
Attendance Tracking
Automated Scheduling
Background Screening
Benefits Management
Blended Learning
Budgeting/Forecasting
Bulk Reference Request
Calendar Management
Candidate Profiles
Candidate Tracking
Careers Page
Certification & Licensing
Check Printing
Collaboration Tools
Commenting/Notes
Compensation Management
Compensation Plan Modeling
Compensation Statements
Compliance Management
Content Library
Course Management
Course Tracking
Customisable Reports
Data Import/Export
Deduction Management
Direct Deposit
Disability Insurance Administration
Document Management
Electronic Forms
Email Management
Employee Benefits Administration
Employee Database
Employee Directory
Employee Handbook
Employee Management
Employee Onboarding
Employee Portal
Employee Profiles
Employee Recognition
Employee Reward Programs
Employee Scheduling
Employee Self Service
Employee Time Tracking
Engagement Tracking
Feedback Management
For Accountants
For Small Businesses
Goal Management
Goal Setting/Tracking
HR Management
Interview Scheduling
Job Posting
Labor Forecasting
Leave Policy Management
Leave Tracking
Manager-to-Employee Recognition
Market Data Analysis
Mobile Access
Mobile App
Mobile Learning
Multi-State
Nominations
On-going Performance Tracking
Onboarding
Online Punch Card
Online Time Clock
Orientation Workflow Management
Overtime Calculation
Payroll Management
Payroll Reporting
Peer Appraisals
Peer-to-Peer Recognition
Performance Management
Performance Review Management
Real Time Data
Reference Request Automation
Reminders
Reporting & Statistics
Reporting/Analytics
Resume Parsing
Review Cycle Tracking
SCORM Compliance
Self Assessment
Self Service Portal
Shift Swapping
Sick Leave Tracking
Skills Tracking
Status Tracking
Survey/Poll Management
Surveys & Feedback
Tax Compliance
Third Party Integrations
Time & Attendance
Time Off Management
Time Off Requests
Time Tracking
Timesheet Management
Training Management
Vacation/Leave Tracking
W-2 Preparation
Wage Garnishment
Web-based Deployment
Workflow Management
Alternatives to Employment Hero
Reviews of Employment Hero
Dayna
Head Of Delivery in Australia
Verified LinkedIn User
Marketing & Advertising, 11–50 Employees
Used the Software for: 6-12 months
Reviewer Source
Our first 6 months utilising Employment Hero
Comments: Overall it has been an important tool that has made growing our team a lot easier and ensured we are supporting our team ensuring we are following all the best practices of HR.
Pros:
Employment Hero was the first time we were introducing an HR Platform within the business. The fact that it has a rewards program was very exciting to the team and created buy-in which allowed us to create engagement through the team. Having a great policy and performance review templates allowed us to create processes around how we engage with our team and set standards.
Cons:
Not being able to customise colours on the UI to match branding.
Alternatives Considered: BambooHR
Reasons for Switching to Employment Hero: Supporting an Australian business was important to us.
Employment Hero Response
2 years ago
Hi Dayna, Thank you for your lovely review- we really appreciate your support! I've passed on your feedback about UI colour customisation to our Product Team. Many thanks, Rosie
Rajesh
Management Accountant in Australia
Telecommunications, 201–500 Employees
Used the Software for: 2+ years
Reviewer Source
Source: SoftwareAdvice
Employment hero is amazing payroll end to end software, Only when it works
Comments: Experience with "key pay" was great and I myself configured and rolled out the new payroll system. It performed very well and now I have to look for something else has since "Employment hero" took over, it has been very slow and unreliable. Sometimes my staff do not get paid just because the payroll system is so slow that the pay run is not finished, and we do not meet cut-off times. Pathetic.
Pros:
Customizable. user friendly interface, Ease of use and easy to coach to new payroll person.
Cons:
Too slow, almost every Monday. Therefore, no matter how good your product is, if it's slow and frustrating, then it has already failed. It was good when it used to be called "key pay". I guess expansion cannot necessarily be sustained.
Employment Hero Response
2 weeks ago
Hi Rajesh, Thanks for your review and feedback. I am glad to hear that you find using our platform easy-to-use and intuitive. I'm interested in your feedback about speed, as I haven't come across this before. Please note that status updates for our platform are always available at: https://status.employmenthero.com/ If you continue to encounter this issue, please reach out to our support team. You can do this by logging into the platform as an admin, clicking the support button in the bottom right corner, and following the prompts. I hope we can work together to turn your overall experience around. Many thanks, Rosie @ Employment Hero
Kim
Business Development in Australia
Hospital & Health Care, 51–200 Employees
Used the Software for: 6-12 months
Reviewer Source
Source: SoftwareAdvice
Think twice.
Comments: If a seamless user experience and reliable software that's easy to use is important to you, do not choose Employment Hero. It has been working OK (just) since ironing out most of the problems but not work the time and money to get to this stage. The HR and Payroll software are clearly sold separately because the look and feel is different and you need to instruct managers to perform actions in one platform, despite being able to do it in another, causing confusion.
Pros:
The ability for employees to update their own personal information. Contract templates are helpful for those who don't have an internal legal or large HR department.
Cons:
The integration between the two products - HR and payroll is awful. They often don't communicate with each other seamlessly and you are required to learn by trial and error due to the poor deployment processes and cumbersome workflow regarding setup. Customer Service is helpful most of the time but you will be passed through numerous people who do not explain the fundamental use of all the features. Too much emphasis is on knowing the hundreds of pages of instructions and features. Timekeeping apps (Clock Me In/Workzone) are simply terrible.
Employment Hero Response
3 years ago
Hi Kim, Thank your for your feedback. We're sorry to hear that your experience with Employment Hero hasn't been as seamless as we'd like it to be. We'll be reaching out directly to reach a resolution and hope that we can get things back on track. Thank you again, Anna from Employment Hero
Renee
Business & Finance Manager in Australia
Architecture & Planning, 51–200 Employees
Used the Software for: 6-12 months
Reviewer Source
Employment Hero
Comments: Overall we didn't really need to spend the money and purchase the product, but now we have its good that we can keep everything together and the fact its linked to automatically update polices etc is great
Pros:
Employment Hero is easy to use, keeps everything in one place - updates policies automatically - plus there is the added bonus of all the benefits
Cons:
I don't like how Employment Hero doesn't communicate back and forth with Xero, its only one way and is frustrating as it doesn't always work when staff update EH files
Employment Hero Response
2 weeks ago
Hi Renee, Thanks for your review! It's wonderful to hear you're getting so much value from the platform. We're always looking to improve, so I've passed on your comments about our integration syncing to our team. Your support means the world to us. Many thanks, Rosie @ Employment Hero
Charlie
Corporate Services Coordinator in Australia
Consumer Goods, 51–200 Employees
Used the Software for: 1+ year
Reviewer Source
Source: SoftwareAdvice
Employment Hero was supposed to make our life easier...
Comments: Overall, the platform has decreased the amount of time we were spending on the HR & Payroll function, our biggest win was the automation of the onboarding process.We are still struggling (nearly 18 months down the track) with some of the Rule Sets in the payroll function that do not work how they need to - we are manually adjusting some payslips every week.The support team are not very supportive in the first instance. We have been left high and dry and missed the bank cutoff on our pay day on several occasions because of their lack of response - which has meant that 150+ people got paid a day late - not ideal. Once you actually get in contact with a support person, they are generally quite helpful, however, I am still waiting on a response to a support ticket that was placed over 4 months ago - seems its too hard, so they are just ignoring me. Even the Customer Success Manager has not followed it up.New features are rolled out without proper testing - for instance, the paid break feature. It seems that they are intent on creating new features that are not crucial to our business and leaving the core functionality behind.Should have gone with Elmo.
Pros:
The automation - onboarding, leave requests, timesheets, payroll.The app - mobile HR on the go.
Cons:
The implementation phase - we completed as many checks as we could, but as a manufacturing business that has hourly paid & salaried staff, with multiple shifts across 2 sites & a specific Enterprise Agreement, we could not identify every single scenario, so after we rolled it out, there we unforeseen issues that we were just left to deal with. Once the implementation team completed the implementation to their satisfaction, they wiped their hands of us and handed us over to the support team, who never answer the phone and take their time to respond to your queries.The system is not flexible - there are several feature requests that we have put through because it just doesn't work as we need it to. The reporting needs to be better - the graphs are pretty, but I would like to be able to download the data behind them - some reports you can, some you can't. The goals module may work for professional services businesses, but not for manufacturing.The payroll platform reporting also needs to be more flexible - you can only create custom reports on certain things. We need to slice & dice information and the only way to do that is to manipulate it in Excel.The integration of the HR & Payroll platforms. Leave requests & expense reimbursements do not integrate from HR to Payroll. Neither do terminated employees integrate from Payroll to HR - if you terminate someone in Payroll, you have to replicate it in HR, so double-handling.That stupid app SWAG - should never have changed it.
Alternatives Considered: ELMO Software
Reasons for Choosing Employment Hero: Outdated and cumbersome - needed efficient and relevant software.
Reasons for Switching to Employment Hero: The "integrated" payroll function and the LMS.
Employment Hero Response
7 months ago
Hi Charlie, Thank you for taking the time to share your experience with Employment Hero. I'm truly sorry to hear that the implementation phase did not meet your expectations and that you've faced some challenges with our support times too. I've passed on your feedback to our team, who has been working to address and resolve these challenges with you. We take all customer feedback seriously and appreciate your honest review. I wanted to assure you that behind the scenes we're implementing a number of initiatives to improve your overall experience, and feedback like this is crucial to the success of these initiatives. If you have any further concerns or feedback, please do not hesitate to reach out to us. We value your business and appreciate the opportunity to serve you. Many thanks, Anna @ Employment Hero