What Is Muck Rack?
Muck Racks Public Relations Management (PRM) platform enables PR teams to work together to find the right journalists for their stories, send customized pitches, build meaningful relationships with the media, monitor news and quantify their impact.
Thousands of organizations, including Taco Bell, Pfizer, Golin, International Committee of the Red Cross, Knight Foundation, Kauffman Foundation, and Penguin Random House, use Muck Rack to take their communications to the next level.
Who Uses Muck Rack?
Cloud-based solution for PR professionals that helps with data export, customizable pitches, search for journalists, reporting, alerts/notifications, database management and more.
Muck Rack Details
Muck Rack
Muck Rack Details
Muck Rack
Muck Rack videos and images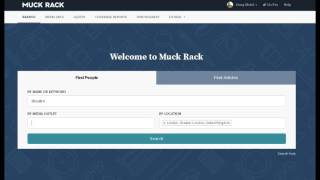 Compare Muck Rack pricing with similar products
Starting price
N/A
US$199.00/month
N/A
US$3,500.00/year
Muck Rack deployment and support
Training
In Person
Live Online
Webinars
Documentation
Features of Muck Rack
@mentions
API
Activity Dashboard
Activity Tracking
Approval Process Control
Article Author Database
Auto Update
Calendar Management
Campaign Analytics
Campaign Management
Campaign Planning
Clippings Management
Communication Management
Contact Database
Contact Management
Content Library
Content Management
Customer Segmentation
Customisable Reports
Data Import/Export
Data Visualisation
Digital Asset Management
Direct Mail Management
Distribution Management
Email Distribution
Filtering
Interactive Content
Monitoring
Multi-Channel Distribution
Multi-Channel Marketing
Newsletter Management
Press Monitoring
Press Release Builder
Real Time Analytics
Real Time Data
Real Time Reporting
Reporting & Statistics
SEO Management
Scheduling
Search/Filter
Sentiment Analysis
Social Media Integration
Social Media Monitoring
Social Performance Management
Social Promotion
Subscription Management
Tagging
User Management
Visual Analytics
Widgets
Christine J.
Associate Publicist; Crown, Hogarth, and Random House in US
Verified LinkedIn User
Publishing, 5,001-10,000 Employees
Used the Software for: 2+ years
Great for personalized pitches
Comments: Muck Rack is great for PR outreach and finding contacts outside of our usual pitching list. I've fostered relationships with media contacts using Muck Rack by referencing specific works or commenting on a subject that the contact cares about, which has resulted in more effective pitching than cold email blasts to an extensive list.
Pros:
Muckrack makes it easy to create specific, tailored pitches to appropriate media contacts. It's so helpful that it's not just name, title, and contact info - it provides examples of recent journalism that writer has done, and specific beats that they focus on. This makes it easy to figure out how to pitch them from an angle that will resonate, and connect with media contacts on a personal level.
Cons:
The UA could be simplified a little bit - looking at campaign searches can be a bit overwhelming when a bunch of less specific results show up.
Verified Reviewer
Vice President in US
Verified LinkedIn User
Marketing & Advertising, 51-200 Employees
Used the Software for: 6-12 months
Possibly a viable all-in-one alternative for media lists and coverage reporting
Comments: The process of evaluating and deploying Muck Rack is relatively easy. The problem arises when you realize that results and information output are maddeningly inconsistent.
Pros:
The user interface is superb and very intuitive. Results are displayed in an aesthetically pleasing format. Eager, but friendly salespeople, unlike some of the competition. No hard sell; they really demonstrated that they wanted to earn our business.
Cons:
First and foremost, it's an all or nothing proposition. You can't buy access on an a la carte basis. You either get everything or nothing. That's a huge turnoff. Muck Rack is inconsistent with its contact's emails and especially phone numbers in comparison to the competition. There have been many instances where MR only provides the outlet's news desk phone number while the main competitor's software is able to provide the contact's direct number. MR also does not have very many hyperlocal media outlets while the competition does.
Ashley G.
CEO & Executive Publicist in US
Public Relations & Communications, Self Employed
Used the Software for: 1-5 months
One of the most highly recommended media-monitoring platforms that was a no-brainer decision!
Pros:
The best feature outside of the main selling points of Muck Rack is the quick updates they make to the contacts in a media list if there were bouncebacks or missing information. This is a big plus!
Cons:
The only update I feel could be improved so far is ensuring that there is at least one contact found in every outlet that can be searched in the search criteria. I've come across a few podcasts located in the outlet's search criteria with no contact available.
Online Media, 2-10 Employees
Used the Software for: Free Trial
Seriously inaccurate information on Muck Rack, and unresponsive 'customer service'
Comments: No one answers the phone :(
Pros:
Nothing. The information it conveys is inaccurate
Cons:
I publish a popular hyperlocal news website called WEHOville.com. When one does a Google search, MuckRack pops up with stories from WEHOville that lists those who post comments on the stories as their authors. I have complained about this before and it still happens. DO NOT TRUST MUCK RACK!
Adam D.
Digital Marketing Coordinator in US
Medical Devices, 201-500 Employees
Used the Software for: 2+ years
Great way to find relevant media outlets
Comments: Muck Rack has made it much easier for me to find journalists that cover topics relevant to the products my business offers. I now spend less time searching for the right press contacts and I upset less people because I'm not pitching them stories they have no interest in.
Pros:
Muck Rack makes it much easier to find journalists based off what they cover and what their interests are. It's an easy way to save time and make sure your pitches are reaching the right people.
Cons:
There is nothing I dislike about Much Rack. It is a great software tool for marketing and PR professionals.