What is Concord?
Concord is the only tool you need for all your contracts. Spend less time juggling between applications, editors, and e-signature tools and save money.
Over 500,000+ companies trust Concord with their contracts.
With Concord, you can: draft, negotiate, sign, and manage every contract across your organization all in one place; work the way you want on Concord, Word, or Google Docs; collaborate with everyone your teams, customers, and vendors. Get started in minutes, not months.
Who Uses Concord?
Small, medium, and enterprise businesses. Concord is used by Legal, Sales, Procurement, HR, and virtually anyone who deals with contracts.
Where can Concord be deployed?
Cloud, SaaS, Web-based, Android (Mobile), iPhone (Mobile), iPad (Mobile)
About the vendor
Concord
Located in San Francisco, US
Founded in 2014
Phone Support
Chat
Countries available
Canada, United Kingdom, United States
Languages
English, French
Concord pricing
Starting Price:
US$17.00/month
Yes, has free trial
Yes, has free version
Concord has a free version and offers a free trial. Concord paid version starts at US$17.00/month.
About the vendor
Concord
Located in San Francisco, US
Founded in 2014
Phone Support
Chat
Countries available
Canada, United Kingdom, United States
Languages
English, French
Concord videos and images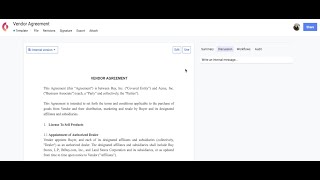 Compare Concord pricing with similar products
Features of Concord
Access Controls/Permissions
Alerts/Notifications
Archiving & Retention
Audit Trail
Authentication
Collaboration Tools
Completion Tracking
Compliance Tracking
Contact Management
Contract Drafting
Contract Lifecycle Management
Customisable Templates
Data Security
Document Capture
Document Classification
Document Management
Document Storage
Electronic Signature
File Conversion
File Sharing
Full Text Search
Mobile Signature Capture
Multi-Party Signing
Optical Character Recognition
Pre-built Templates
Reminders
Version Control
Workflow Management
Eric L.
Strategic Advisor in US
Verified LinkedIn User
Computer Software, 2-10 Employees
Used the Software for: 6-12 months
Source: GetApp
Bootstrap to Growth
Comments: I'm a fan of ease of use, as a long time SaaS user a product needs to be easy to use right away and i want to be able to get to work quickly. Concord has built just that . When needing to get a contract out quickly and struggling with making the contract sound "legal" enough Concord delivers. Concord has helped me take a 1 man PR agency to a 10 person Agency in 6 months.
Pros:
Ease of use, easy to roll out to the team as we grow and we don't need to hold hands to get contracts out
Cons:
None, the customer service is second to none
Clint B.
Legal Counsel in Australia
Electrical/Electronic Manufacturing, 51-200 Employees
Used the Software for: 6-12 months
A Good Contract Management Platform to use
Comments: Like most contract management platforms I've used, Concord is good but not perfect. All contract management systems have pros and cons, but Concord is the best I've seen... so far.
Pros:
Most liked features are: 1. Bulk Importing existing contract portfolios into Concord 2. Search function - fast, accurate and easy to use 3. Sharing contracts with others is very easy and secure
Cons:
Largest complaints are: 1. Records of draft contracts can not be changed to "signed" where a contract is executed outside of Concord. So if I started drafting and negotiating a contract in Concord and then had the final contract executed by way of a scanned copy or even DocuSign I have to create a new contract record in Concord. All negotiation history, internal / external discussions, etc are lost. This is one issue that is preventing wider adoption in my organisation. 2. Editing template contracts in Concord does not support features lawyers are ordinarily accustomed to. E.g. unable to use autonumbering in templates, unable to use indenting of template documents well. This become annoying when importing a Word or PDF document to create a template. Not all documents will import correctly, yet the native text editing features do not allow a user to 're-create' the form and structure of the original document as a template. 3. E-signature solution does not provide enough flexibility a signing request to be forwarded by an outside person (i.e. counterparty) to an authorised signatory. Concord's native e-signature solution kind of assumes the person who I share a negotiated draft document to is the person who can sign for that company. In an enterprise environment, this is not always the case as company's have rules on delegated authorities. 4. E-signature solution is limited in fields required to complete execution. End user signing experience is ok but not great.
Shannon W.
pARALEGAL in US
Computer Software, 201-500 Employees
Used the Software for: 1+ year
Alternatives Considered:
Product was not as advertised
Comments: The customer service is limited and consists a lot on You-Tube like videos to troubleshoot problems
Pros:
OCR search / reporting/ contract searches
Cons:
There is very limited reporting metrics - it does not allow for custom reporting or using Boolean type structures to create reports or complete contract searches
Jennifer H.
Benefits Coordinator in US
Warehousing, 501-1,000 Employees
Used the Software for: 1-5 months
Alternatives Considered:
Practical, effective and user friendly system
Comments: Overall we are very satisfied with Concord. We have about 20 users at this moment and everybody has had a positive experience so far. As with every new system, some questions have come up, but our Customer Success Manager,representative, is always very responsive and always provides effective solutions to our concerns.
Pros:
Easy to navigate platform Electronic signature Offers third party access Ability to track changes and set lifecyle
Cons:
The transition from our previous system to Concord took a little longer than we expected but we are very pleased with the system overall.
Hannah S.
Contracts Administration Manager in US
Legal Services, 201-500 Employees
Used the Software for: 1+ year
Alternatives Considered:
One stop shop
Comments: Concord is great, don't know what we'd do without it!
Pros:
This product has everything in one place. Negotiate, sign, and store all within Concord.
Cons:
The system sometimes glitches, it can be difficult to use.