What Is Arreya?
Trusted by business, government and integrators worldwide, Arreya Digital Signage and Chrome Enterprise come together into one all inclusive platform for secure, powerful, interactive cloud digital signage. Freely create interactive, dynamic content using Arreya Creative Studio or with the included templates. Easily integrate any of the included widgets like Alerts, Google Apps, Pixabay, twitter, videos and much more. All for the channel of content pricing. Try our FREE TRIAL or LIVE DEMO today!
Who Uses Arreya?
Industries such as schools, hospitals, corporations and government who need digital information delivered instantly and reliably to the viewer wherever they are located. Chrome Enterprise Partner.
Where can Arreya be deployed?
Cloud, SaaS, Web-based, Mac (Desktop), Windows (Desktop), Linux (Desktop), Chromebook (Desktop), Android (Mobile), iPhone (Mobile), iPad (Mobile)
About the vendor
by ARREYA
Located in Hiawatha, US
Founded in 1996
Phone Support
24/7 (Live rep)
Chat
Countries available
United Kingdom, United States
About the vendor
by ARREYA
Located in Hiawatha, US
Founded in 1996
Phone Support
24/7 (Live rep)
Chat
Countries available
United Kingdom, United States
Arreya videos and images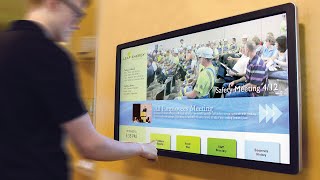 Compare Arreya pricing with similar products
Starting price
US$69.50/month
US$10.00/month
US$20.00/month
US$12.00/month
Features of Arreya
API
Access Controls/Permissions
Activity Dashboard
Advertising Management
Alerts/Notifications
Audit Trail
Auto Update
Automated Scheduling
Campaign Scheduling
Content Library
Content Management
Content Scheduling
Customisable Branding
Customisable Templates
Data Import/Export
Data Security
Digital Menu Boards
Digital Signage
Drag & Drop
Event Calendar
Image Library
Interactive Content
Layout & Design
Media Library
Mobile Access
Monitoring
Multi-Location
Multi-Screen Support
Multimedia Support
Offline Access
Playlist Management
Real Time Data
Real Time Monitoring
Real Time Notifications
Real-time Updates
Remote Access/Control
Remote Display Management
Reporting & Statistics
Scheduling
Social Media Integration
Template Management
Third Party Integrations
User Management
Video Management
Video Streaming
Video Support
Visual Editor
WYSIWYG Editor
Widgets
XML / RSS
ADA Compliance
API
Access Controls/Permissions
Activity Dashboard
Alerts / Escalation
Alerts/Notifications
Compliance Management
Configuration Management
Content Management
Custom Development
Customisable Branding
Customisable Reports
Customizable User Interface
Data Import/Export
Data Synchronisation
Digital Signage
Digital Signature
File Management
Filtering
Geolocation
IT Asset Tracking
Interactive Content
Inventory Management
Location Tracking
Mobile Access
Mobile Alerts
Monitoring
Onsite Printing
Order Fulfillment
Payment Processing
Policy Management
Real Time Notifications
Remote Access/Control
Remote Monitoring & Management
Remote Update / Installation
Reporting & Statistics
Secure Browsing
Secure Login
Survey/Poll Management
Surveys & Feedback
Task Scheduling
Third Party Integrations
Touch Screen
Two-Factor Authentication
Usage Tracking/Analytics
User Management
User Session Management
Video Streaming
Virtual Keyboard
Wireless Internet Access
Michael S.
President and CEO in US
Verified LinkedIn User
Public Relations & Communications, 11-50 Employees
Used the Software for: 6-12 months
It's about time...
Pros:
...that a digital signage suite lived up to the hype. Arreya does so in spades! Its interface is intuitive, customer service is on point, and the security level is military grade.
Cons:
We have literally found no weaknesses in either the hardware or software sides of Arreya.
Robyn P.
IT Director in US
Health, Wellness & Fitness, 11-50 Employees
Used the Software for: Free Trial
Perfect Fit
Comments: When we first started shopping for a digital signage solution, there were many competitors to consider. Our top 3 needs were: 1) a system that works efficiently and reliably, 2) something that wouldn't break the bank, 3) reliable support. Arreya has fulfilled all 3 of these needs and more. Our concept is unique and if there was ever a road block or challenge that we faced because of our unique operations, the development team was super helpful and quick to find a solution.
Pros:
The software works perfectly, the Arreya admin panel is easy to use and you can quickly create channels, update content and deliver it instantly to all devices in the field. The process of adding a new device to the Arreya device management panel takes just a couple of minutes, which makes deploying our channels in the field a fast and seamless process.
Cons:
Our content is delivered 24 hours a day at exact specified times, every day of the week. When we first began our trial with Arreya, it was a bit of a process for us to schedule a channel to play a video every 15 minutes. However, the development team was extremely helpful when I called and explained our challenge to them and they found a fast solution to this problem. I believe they're actually releasing a software update to accommodate long-term scheduling in the near future.
Tammy B.
DIRECTOR OF MARKETING in US
Used the Software for: 6-12 months
Overall, we have been enjoying using Arreya. It gives us the opportunity to easily deploy info.
Pros:
Arreya is easy to use and deploy. It works excellently with the Chrome devices we have deployed in our factory. The ability to cast using Chrome box and cast and the dost per channel was the main reason we started using Arreya over other apps. Support and customer service have been great - often feels like we're right next door ;). We are looking forward to more refined backend features.
Cons:
We'd like to see the functionality on the backed be more smooth. Many of the transitions cause issues, adding a slide always adds it to the bottom of the list - maybe have a slide sorter screen on its own would be helpful so that we can drag and drop slides more easily? Features like using google slides is slow so timing how long the arreya slides last is tricky as we get a lot of black screen time and miss content - to avoid this we've now stopped using google slides which was a neat feature especially since we have others that contribute to content. We have 6 screens running but none of them sync / play simultaneously. When adding an image to the slide it doesn't place the correct size - too small and we have to scale them even though they are made 1920x1080 they come in very tiny.
Jan S.
Teacher Librarian in US
Education Management, 51-200 Employees
Used the Software for: 1+ year
Arreya is versatile and easy to use
Comments: We installed monitors throughout our high school to post announcements and videos for school and community events. The software has many options for displaying information, and an easy learning curve for users.
Pros:
I don't have a lot of time to spend creating signage and need something easy and intuitive. Arreya makes sense. I can easily navigate the dashboard and develop customized signage for our high school. When I have time to play with it, I am always excited to see there are additional options for creating content. Best of all, there is always someone on the other end of the line when I call for help, and they are always patient and positive.
Cons:
Sometimes my monitors go blank, and I have to troubleshoot the problem. Most often it's our wifi, not the software.
Jon E.
Systems Administrator in US
Government Administration, 201-500 Employees
Used the Software for: 6-12 months
Absolutely what we needed, when we needed it.
Comments: We needed something that didn't require a degree to use that can be easily deployed and require minimal maintenace but still had the features of the more complex systems. After evaluating almost every option out there we found Arreya to be the perfect balance of function and ease of use. The personal touch to the extremely high level of service is simply icing on the cake. From start to finish Arreya has been exactly what we needed; when we needed it!
Pros:
Easy enough to use that digital signage doesn't have be to an IT burden and can be handed off to other employees to maintain; but still has the features and functionally of more complex options. Plus with no software to install and maintain it can be managed by anyone.
Cons:
The only negative I've come across so far is a lack of animation effects within the ineterface. But....(and this is really a pro I'm sneaking in) you can pick up the phone and *gasp* a person answers and can help advise on using Google Slides to animate certain functions.