What Is GanttPRO?
GanttPRO is online Gantt chart software used by 500K+ users worldwide. Project/product and portfolio managers, team leaders, CEOs, and other managers from different spheres trust it to keep their planning simple, team members - engaged, and clients/partners - in the loop. Task, resource, cost, deadline management, team collaboration, workload, templates, export, and more - get them for FREE on a trial.
Who Uses GanttPRO?
Project and portfolio managers, startups, creative/design/event agencies, construction companies, educational services, and any business that strives to plan and communicate better on projects.
GanttPRO Details
GanttPRO
Founded in 2015
GanttPRO videos and images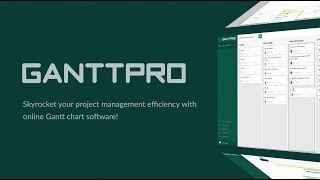 ▶︎
GanttPRO Details
GanttPRO
Founded in 2015
Compare GanttPRO pricing with similar products
Starting price
US$8.90/year
US$22.00/month
US$10.00/month
US$9.80/month
GanttPRO deployment and support
Support
Email/Help Desk
FAQs/Forum
Knowledge Base
Phone Support
24/7 (Live rep)
Chat
Training
In Person
Live Online
Webinars
Documentation
Videos
Joeri B.
Student in Netherlands
Verified LinkedIn User
Automotive, 2-10 Employees
Used the Software for: Free Trial
GanttPro is a very effective and handy tool for any project.
Comments: My project runs more smoothly now that progress is being tracked and planned using GanttPro. It is a lot better than using an Excel sheet as a Gantt chart of planning. GanttPro brings your planning alive and makes it easily adaptable to changes in planning or strategy.
Pros:
The software allows for projects to be alive and evolving throughout their lifespan. It is easy to set milestones and tasks and assign them to your team. The Gantt chart brings clarity to the progress of the project and can be changed at any time. It is also very to monitor the progress of your team, the workload of your team and the budget being spent.
Cons:
When just starting with the software it can be slightly overwhelming. There are so many options and tools that are very easy to be overwhelmed and quit setting up your project. I'd say the program does not work very intuitively but is well worth the time of getting used to.
GanttPRO Response
7 months ago
Joeri, thanks for the good feedback! If you have any questions, please, contact our support team via live chat on the site or email us at [email protected]
Publishing, Self Employed
Used the Software for: 1-5 months
Alternatives Considered:
Tested over 15 Gantt/Project Management apps and GanttPro really tops them all!
Comments: Sign in and, go! That was my personal experience the minute I started using this app. The application is very intuitive, but I am a technical person, the real test was when I brought the rest of the team and managers to the platform. The team felt comfortable on the application and there was not much training we had to provide. If you are used to excel and to-do list you already know how to use this application.
Pros:
Here are my pros, I have been using this software for a couple of months now. The app is quick to learn. You have actual printing formats; say you need to print a project map on tabloid or legal, the application outputs the right size for printing files formats. Drag and drop of tasks feels firm. Subtask numbering is a godsend. Modern look and feel. Ability to add resources like people, materials, etc.! Column view format for tasks. Is all there! GanttPro really replaces Microsoft Projects, and Gantt features on any popular project management app out there like Asana, Trello, and various others.
Cons:
Reporting needs some work. I would love to see more reports like, executive status report of project/s, dashboard-like reports for team meetings, birds-eye view, burn-down, burn-up, charts and other metrics for the project/s, and just more reports in general.
Rony N.
MBA Student in Brazil
Verified LinkedIn User
Computer Software, Self Employed
Used the Software for: 1-5 months
Great WBS planning tool with resource management
Comments: I've been using GanttPro for a few weeks now and I can say it's one of the best project planning tools I've seen.
GanttPro was by far the best balance between the number of features and ease of use I found. I do the International Executive MBA at SSBM (Swiss School of Business & Management) and validated that this software efficiently meets the requirements of the best management practices of WBS - Work Breakdown Structure in the project planning discipline. GanttPro is an excellent choice for small and medium complexity projects, delivering the essential resources for Work Breakdown Structure plan and tracking. Include resources management with costs allocation, and a kanban board to make simple the tasks update. It is a creative and easy-to-understand tool.
Pros:
User-friendly interface Smallest learning curve (it's possible to fully use all resources with just some small interactions) Great online tool compatible with Mac Resources planning with cost register
Cons:
Lack of Risk management, and Issues log. There isn't a good exportation view to put into follow-up reports (slide format)
Francesca E.
Producer in US
Used the Software for: 1+ year
Its SUPER slow to load. the design is terrible, almost unusable, started to transition away from it
Pros:
the gantt chart is useful.
Cons:
its SUPER slow to load, there is no way to easily mark things as done. It doesnt support more than 10 tasks without taking at least 20 seconds to load anything, just clicking on a new tasks takes on average 20 seconds to load, unusable. I regret investing in this product
XB Software Response
4 years ago
Dear Francesca. We deeply regret that you encountered problems with GanttPRO. However, thank you for pointing out to the problems with performance. They do really occur. We will do our best to fix them in the nearest future. And we would like to offer you again to join us in a few weeks and enjoy smooth project management with GanttPRO. Have a nice day!
Jose C.
Scrum Master in Mexico
Computer Software, 5,001-10,000 Employees
Used the Software for: Free Trial
Selected among several similar options
Comments: It has been a good experience, the product definitely delivers and it's by far the most affordable option
Pros:
I have just started using it after reviewing several other options that required to purchase licences for multiple other uses, which in my case I didn't need. GanttPro does allow to get a licence for a single user which makes it a far accessible option
Cons:
I think it still lacks some options such as being able to see your tasks in other arrangements different than status and some other reports.