What is vcita?
Get your invoicing and billing tasks out of the way, so you can save time and focus on boosting your business. Easily issue beautiful invoices from your desktop or mobile, and speed up payments with automatic client reminders.
Who Uses vcita?
Small businesses who provide services. Over 100,000 users rely on vcita worldwide: accountants, lawyers, business & marketing consultants, coaches, counselors, fitness trainers, educators, and more.
Where can vcita be deployed?
Cloud, SaaS, Web-based, Mac (Desktop), Windows (Desktop), Linux (Desktop), Android (Mobile), iPhone (Mobile), iPad (Mobile)
About the vendor
vcita
Located in Bellevue, US
Founded in 2010
Phone Support
Chat
vcita pricing
Starting Price:
US$19.00/month
Yes, has free trial
No free version
vcita does not have a free version but does offer a free trial. vcita paid version starts at US$19.00/month.
Pricing plans
get a free trial
About the vendor
vcita
Located in Bellevue, US
Founded in 2010
Phone Support
Chat
vcita videos and images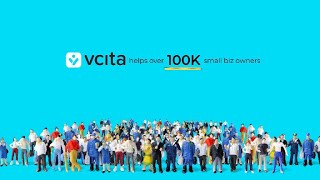 Features of vcita
Access Controls/Permissions
Alerts/Notifications
Appointment Management
Appointment Scheduling
Attendance Tracking
Automated Responses
Automated Scheduling
Availability Management
Batch Processing
Billing & Invoicing
Booking Management
CRM
Calendar Management
Calendar Sync
Calendar/Reminder System
Campaign Management
Case Management
Class Management
Class Registration
Class Scheduling
Client Database
Client Management
Client Portal
Client Profiles
Collaboration Tools
Color Codes/Icons
Communication Management
Confirmation/Reminders
Contact Database
Contact Management
Customer Database
Customer History
Customer Management
Customer Support
Customisable Branding
Customisable Forms
Customisable Invoices
Customizable Fields
Data Import/Export
Document Management
Document Storage
Electronic Payments
Email Campaign Management
Email Management
Email Marketing
Email Reminders
Employee Management
Employee Scheduling
Enrollment Confirmation
Event Management
Exercise Library
Faculty/Staff Management
File Management
File Sharing
For HVAC Companies
For Mac Devices
For Medical Purposes
For Mental/Behavioral Health Practices
For Physical Therapy
For Salons and Spas
For Startups
For iPad Devices
Gift Card Management
Group Registration
Group Scheduling
HIPAA Compliant
Healthcare Compliance
Interaction Tracking
Invoice Creation
Invoice History
Invoice Management
Job Scheduling
Landing Pages/Web Forms
Lead Management
Lesson Notes
List Management
Loyalty Program
Marketing Automation
Mass Texting
Medical Billing
Membership Management
Messaging
Mobile Access
Mobile App
Mobile Coupons
Mobile Optimised Emails
Mobile Payments
Multi-Currency
Multi-Location
Multi-Physician
Multi-Provider Practice
One-to-One Messaging
Online Booking
Online Classes
Online Invoicing
Online Payments
Online Registration
Parent Portal
Parent/Student Portal
Patient Communications
Patient Engagement Software
Patient Intake
Patient Management
Patient Portal
Patient Records Management
Patient Scheduling
Payment Collection in the Field
Payment Processing
Payroll Management
Performance Metrics
Physician Management
Physician Scheduling
Point of Sale (POS)
Practice Management
Progress Notes
Quotes/Estimates
Real-time Scheduling
Recurring Appointments
Recurring/Subscription Billing
Referral Tracking
Reminders
Remote Treatment Plans
Reporting & Statistics
Reporting/Analytics
Rescheduling
SMS Messaging
SMS Reminders
Scheduled Messaging
Scheduling
Search/Filter
Secure Messaging
Segmentation
Self Service Portal
Shared Contacts
Social Media Integration
Staff Management
Subscriber Management
Template Management
Territory Management
Third Party Integrations
Video Conferencing
Website Integration
Workflow Management
John S.
US
Verified LinkedIn User
Used the Software for: 2+ years
Source: GetApp
No-brainer for appointment based business
Comments: I provide business management consulting for optometrists. All my work is done through appointments and email. vCita flawlessly syncs my calendar and allows clients to schedule when I'm actually available. Prior to vCita, I spent way too much time suggesting times, getting voicemails, etc. Besides that, they have done a great job of allowing a feature-rich "live-site" that is easy to set up and super customizable. I think for many businesses it would suffice to be the landing page.
Pros:
Very simple appointment set-ups. Before vCita there was a ton of back and other emails, or worse than that - phone calls.
Cons:
The invoicing/billing system is not as robust as some other programs out there. Specifically I would like the program to send out regular monthly retainer billing.
Asha I.
Physician//Owner in US
Health, Wellness & Fitness, Self Employed
Used the Software for: 1-5 months
Great for scheduling, other features not so much
Comments: I was using acuity but looked for other software, because of hippa option. I was ecstatic to see the client portal, unfortunately it is not optimal. Most features however aren't hippa compliant. Really I only use client portal for scheduling and share patient handouts. Patients don't have to log in like other apps, as it recognizing emails.
Overall I do think it offers more than competition , but make sure you try every part to see what works for you and what doesn't. Also customer service must be more present. Even after you pay they limit features until you use for a while , which is ridiculous.
They will be better if they make conscious effort to improve
Pros:
Able to customize scheduling page to be more professional and to distinguish services offered. Like the idea of client portal. Clients can go to portal to pay , schedule and can share documents. Works for me who share patient education handouts.
Cons:
Some additional features are really glitchy and most features of the client portal I can't use. When customers pay online , they are not taken to confirmation page or automated message . Messaging IS NOT secure , sometimes links In messages, don't work. Documents are not secure. So since I'm using for health business, I had to get another program for secure messaging . Customer service good when you can each them, there is a 2 hour window only to call in a 24 hour day. Chat is not always available during business hours. It's even worse if you are on east coast.
Alternatives Considered: Full Slate
Reasons for Choosing vcita: Did not like hippa options Also like client portal with vCita
Switched From: Acuity Scheduling
Reasons for Switching to vcita: Has better reviews and more users.
Consumer Services, 2-10 Employees
Used the Software for: 1+ year
Good Place to Start for Small Business
Comments: Overall, Vcita helped us get our small business off the ground with the scheduling and billing features. It was a good place to start for our business.
Pros:
Calendar synch was helpful, scheduling and billing were easy to manage.
Cons:
Confusing layout, CRM features were not very robust, customer support was spotty.
Alternatives Considered: Square Payments and Acuity Scheduling
Photography, 2-10 Employees
Used the Software for: 2+ years
Sinking Ship
Comments: Having been a customer for several years, vCita offered an all-in-one solution that few others compared to at the time. However, very little has changed in the last 3 years other than some unnecessary aesthetic updates and very minor enhancements. I got on board fully aware that there were several missing features I needed which were on the top of the feature request list and I put in place workarounds to suffice until these features were going to be implemented. I'm talking about pretty fundamental things, like the ability for online payments to be accepted with sales tax automatically calculated, and add-on/bundled products/services. Instead of the development team addressing critical upgrades the community is begging for, we get branding updates, color scheme changes, and random issues where things that have always worked fine no longer work properly.
Customer service is all but useless, and I constantly get the feeling their priorities lie in marketing the outdated product they have rather than improving it.
If you try the product and feel that it accomplishes 100% of what you need it to do, go for it. But if you find that it looks great but misses the mark on a few key areas, don't jump on board hoping it will be addressed in the next decade. Keep looking. I'm done waiting.
Pros:
Relatively easy to use and deploy. Client interface is mostly intuitive and easy to use.
Cons:
Product development is nonexistent. Customer support is a joke. On the rare occasion there is an update, I find something on my website no longer works, instead of being improved.
Alternatives Considered: Acuity Scheduling, Jobber and Schedulicity
Phoebe M.
Sports Therapist in UK
Health, Wellness & Fitness, Self Employed
Used the Software for: 1+ year
Vcita awesomeness
Comments: Really good, they are brilliant at helping you to set up and get going, as well as allowing you to personalise your site. Vcita works really well with my website, which gives me peace of mind. I have been complimented on it several times, as well as referring a few friends of mine to vcita.
Pros:
Its easy to use once you know how. I love the fact that new clients and appointments go straight to the app on my phone. I use the computer version to make any edits. Its a great way of personalising a payment website to your phone. I wish my app would keep me logged in all the time, sometimes I have to wait for an email before I realise I have a notification on the app.
Cons:
-Its quite expensive, and once you have upgraded our plan, you can't go back to a simpler plan. - If you want to add a staff member onto it its extremely expensive. I currently use it just for myself, but if I wanted to add someone , I would probably have to use a different company. -Its also very American! which I find sometimes very difficult to deal with, acronyms and wording is sometimes confusing. -I wish my app would keep me logged in all the time, sometimes I have to wait for an email before I realise I have a notification on the app. -Additionally some features are over complicated for what they do, sometimes simplicity is key!! Its very easy to overcomplicate things, therefore if Vcita was a bit more minimalist it would rank even higher that I already perceive it.