What is Hub Planner?
A modern resource management, planning & visual scheduling software with timesheets and powerful reports to plan your resources. Stay in control and have an overview of your projects and resources in one place. Hub Planner's Scheduler, Timesheets and Extension features create a combination of tools that meet everyones planning requirements, no matter which industry you are. Customize your own Hub Planner and pay only for what you use. Try our 60-day free trial to see for yourself.
Who Uses Hub Planner?
Hub Planner helps enterprise and small-medium sized businesses plan and strategize their resources, staff and team on all levels across different industries as the tool is highly customizable.
Where can Hub Planner be deployed?
Cloud, SaaS, Web-based
About the vendor
Hub Planner
Located in Stockholm, Sweden
Founded in 2013
Phone Support
Chat
Hub Planner pricing
Starting Price:
US$7.00/month
Yes, has free trial
No free version
Hub Planner does not have a free version but does offer a free trial. Hub Planner paid version starts at US$7.00/month.
Pricing plans
get a free trial
About the vendor
Hub Planner
Located in Stockholm, Sweden
Founded in 2013
Phone Support
Chat
Hub Planner videos and images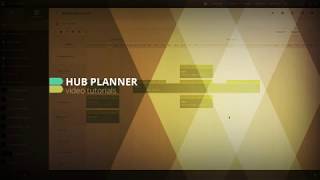 Features of Hub Planner
Activity Dashboard
Budget Management
Capacity Management
Collaboration Tools
Customisable Templates
Forecasting
Gantt/Timeline View
Mobile Access
Progress Tracking
Project Planning/Scheduling
Reporting/Project Tracking
Resource Allocation & Planning
Resource Management
Resource Request
Resource Scheduling
Skills Tracking
Task Management
Time & Expense Tracking
Utilisation Reporting
Visualisation
Alternatives to Hub Planner
Verified Reviewer
Team Lead Digital in Germany
Verified LinkedIn User
Design, 51-200 Employees
Used the Software for: 1+ year
Ressource Management and holiday
Pros:
Holiday and resource planning + overviewing with just one click
Cons:
the initial startscreen shows up complete company and you need to choose your team to show only...
Hub Planner Response
last year
Thanks for posting your review of Hub Planner. Super glad the planning and viewing is working out well for you. Just to note, you can custom set your start up screen in your profile settings. Go to Settings -> My Profile -> My Preferences and select which option you would like to open Hub Planner. Thanks again for your review. Best, Team Hub Planner
Verified Reviewer
Building Services Engineer in Malta
Verified LinkedIn User
Construction, 51-200 Employees
Used the Software for: 6-12 months
Structure to our time management and leave requests
Comments: Overall, the experience has been a good one. I can't complain, honestly.
Pros:
Before this software, my company used to use an excel sheet which had to be filled in at the end of the week every week. It was very tedious and I used to forget to do it quite often. We also didn't have a formal way of requesting vacation leave and checking exactly our leave balances. We now use Hub Planner to do both of these things. Additionally, our head of department assigns tasks and there are hours allocated for each task which really helps with resourcing and balancing the workload.
Cons:
A real-time tracker would be nice. Something like a button that you click on when you start on a specific task and then click again to stop it. I would also like to have it as an app on my phone. I am not sure whether it exists already and it's something the company has not informed us about. Correcting mistakes is always difficult as well. I have to contact the administrator every time I input data in a wrong field.
Hub Planner Response
2 years ago
Awesome, thanks so much for the super positive review! I'm glad the process of migrating from spreadsheets to software was a positive experience and the overall capacity planning has improved for your team. The good news is that a new version of Timesheets is on the way ! Do keep an eye out on the blog for new feature releases and updates. https://hubplanner.com/blog/ Best, Team Hub Planner
Verified Reviewer
Software Engineer in Argentina
Verified LinkedIn User
Program Development, 51-200 Employees
Used the Software for: 1+ year
Good product for managers
Pros:
Is really easy to use from minute zero, and you can easily master
Cons:
The pricing is not so good, but it woth the money
Stephen B.
Change Management Consultant in Australia
Information Services, 51-200 Employees
Used the Software for: 2+ years
An easy, affordable, well featured solution for time-sheeting and resource management.
Comments: We went from having one staff member dedicated full-time to resource management to having them freed up for thirty hours of the week. We suddenly had almost another head-count to help with project co-ordination, rather than just keeping the wheels turning. And timesheet compliance went up too, because it was so easy to use!
Pros:
It's affordable, extensible, good to look at, and easy to use.
Cons:
There aren't really any detractors to this one. Perhaps it's not a high-powered analysis tool, but the dashboards it does supply are quite thorough out of the box, and more than likely to meet all the needs of the vast majority of companies.
Alternatives Considered: Microsoft 365
Reasons for Choosing Hub Planner: We had been using an in-house developed custom tool, and it was erratic, unreliable, hard to use, and didn't have any features that could help us in analysing our hours easily: we had to export everything to Excel, and do most things manually.
Reasons for Switching to Hub Planner: We looked into building out a simple, but more robust, SharePoint List based system ourselves. We could have had our own features, custom developed for us. Then we looked at how many hours even the simple version of that would take, and at the Hub Planner licencing costs, and realised that we could get 10x the functionality, and it would take us more than a year to hit the same costs. And Hub Planner looked better, and would be easier for our staff to use. It was a no-brainer. We purchased our licenses a week later.
Ellie M.
National Management Trainee in UK
Government Administration, 1,001-5,000 Employees
Used the Software for: 1-5 months
Useful and effective software
Comments: Overall, HubPlanner helps our management team in our Change department to view how much work resources anticipate they will do and how much they have actually done. We can see any gaps in time and so allocate a person more work or a new project. While most people are working from home, HubPlanner really helps keep track of what everyone is doing when you can't actually see them doing it.
Pros:
There are a wide range of features and it is very customisable to suit our needs.
Cons:
There are some limitations as it is not 100% customisable, but these are mainly small things, for example our working hours divide to be 7.25 a day (and 7 on Fridays) but it doesn't allow us to allocate smaller than 1 hour or half an hour. Also, on a laptop screen, it doesn't have a great view. Everything is quite chunky which makes it hard to view a few people's schedules at the same time. It would be easier if the customer support team shared individual email addresses rather than a generic one for the whole team so that you can continue conversations with a specific person.
Alternatives Considered: monday.com and Smartsheet
Reasons for Switching to Hub Planner: It suited us best due to having so many different features we could make use of.
Hub Planner Response
2 years ago
Hello Ellie, Capacity Planning and the ability to measure the scheduled versus actuals is a core competency of Hub Planner, I'm happy to hear that this is working well for you and your team. Especially in this current pandemic, Hub Planner has really helped a lot of teams keep up performance levels and track who is working on what and who is available. Thanks for your feedback. I myself have been switching from a display to laptop with the current working from home. I find the Ctrl & 0 or zoom in and out options work for me. RE customer support, 9/10 times, once an agent responds to an initial ticket, it is automatically tagged to that agent for any future responses. It's only if that agent might be on leave or not available or another department needs to step in for example, would another agent take over so that your query is answered more quickly. Of course, you can request the agent of choice too, the rest of us won't be offended :) Thanks again, Team Hub Planner