What Is Recruitee?
Recruitee delivers the complete solution to help internal HR teams work with the rest of their organization to hire better, together. As an easy-to-use collaborative hiring software, thousands of scaling businesses like Harver, SEMrush, and Framestore, have used Recruitee's recruitment management and applicant tracking system to find, interview, and hire the best talent. More than 118K users from 3500+ companies are using our software to hire the best people!
Who Uses Recruitee?
Recruitee is used by collaborative hiring teams from rapid-scaling companies across the globe such as Breitling, Taco Bell, Rakuten, Framestore, Karl Lagerfeld, SEMrush, Hotjar, Asus, and Allianz.
Recruitee Details
Recruitee
Founded in 2015
Recruitee pricing
Starting Price:
€99.00/month
Yes, has free trial
Yes, has free version
Recruitee has a free version and offers a free trial. Recruitee paid version starts at €99.00/month.
Pricing plans
get a free trial
Recruitee Details
Recruitee
Founded in 2015
Recruitee videos and images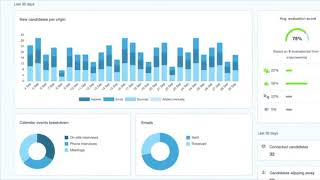 Recruitee deployment and support
Support
Email/Help Desk
FAQs/Forum
Knowledge Base
Phone Support
24/7 (Live rep)
Chat
Deployment
Cloud, SaaS, Web-based
Android (Mobile)
iPhone (Mobile)
iPad (Mobile)
Training
In Person
Live Online
Webinars
Documentation
Videos
Aislinn K.
Marketing Assistant in Canada
Verified LinkedIn User
Management Consulting, 11-50 Employees
Used the Software for: 1+ year
Entreflow Consulting Group's use of Recruitee
Comments: It's helped us the most because we do our recruitment on a regular basis. So rather than having all the applications go to your inbox, clogging up your email, and potentially losing really awesome candidates falling through the cracks of all your email mess, it sends all of the applications to one cool app and through the app you're able to manage the applicants based on the pipeline stage that they're in, and the actions need to happen with them.
Pros:
The spotlighted feature for this app is really that it's super easy to track your applicants. It makes it really easy to see where everyone's at in their state different stages, you can add comments, you can rate them, you can pass them over to someone else on your team to review, and a lot of other functionality and workflow love in there. Some more of the top features; you can do a job board posting through the app itself. So once you get your job ad in there you can basically have it sent to, at the moment for Canadians at Glass Door and Indeed, hopefully some more Canadian job boards in the future. There's a career site that comes along with it too. So basically it helps you to build out a careers page that's on brand with the rest of your website, so people can go and see your careers page all your jobs posted there really easily and apply for those. There's the candidate pipeline, so being able to see visually where the candidates are in the pipeline so if you're out the need to do a phone screen, or in-person interview, or second interview, what have you. Really easy to see where you're at. Also, we use this app with our clients that we do recruitment for and it makes it really easy for us to collaborate. So, they're able to gain access to see where the applicants that we're recruiting are in the pipeline and be able to comment on some of the applicants we have in there.
Cons:
At the moment you can send a calendar invite to a candidate through the app which is pretty cool but it'd be great to be able to send them a link for them to book time based on your calendar. So almost like a Calendly plugin or something like that. This way, if you're having trouble getting in touch with somebody you can just send them a link and then they can book the time based on when they're available. That would speed things up a little bit. We'd love to see a Craigslist integration as well, at the moment you have to go out to Craigslist post the job. From there the resumes and everything will come into Recruitee, but having to go out into Craigslist to post is a little bit of a nuisance.
Recruitee Response
2 years ago
Hi Aislinn, Thank you for your review, it's great to see some love from Canada! We are happy that you appreciate the collaborative aspect of Recruitee as this what we are all about. Following your comment, Craigslist.org is now available for you to post your job on, should you come across other job boards that you would like to have integrated, let us know or post directly on our Roadmap! Pro tip: our recent Scheduler feature allows candidates to book an appointment themselves based on your availability, check it out on our Help Center or contact us and we will help you out. Best regards, Customer Success Team
Paul I.
Recruitment PM in Romania
Information Technology & Services, 201-500 Employees
Used the Software for: 2+ years
Source: SoftwareAdvice
fit perfectly to our needs
Comments: I am as happy as can be with this product - I have implemented it in 2 different companies and will probably do the same in the future - everybody was always excited when I pitched Recruitee to them, and even more so when they started using it.
Pros:
Ease of use - has all that I need, lacks what I do not and would make the use heavier.
Cons:
maybe the search function could work a bit better, but there is nothing really that I do not like.
Alternatives Considered: CATS
Reasons for Choosing Recruitee: because I knew about recruitee and how it offers everything that I need and not so many features that for me are useless and just make work more difficult.
Switched From: JazzHR
Reasons for Switching to Recruitee: This was the first ats I replaced with recruitee - main reason here was cost-related and some features that I was missing.
Tarek s. M.
Tech Talent Acquisition in Egypt
Verified LinkedIn User
Management Consulting, 2-10 Employees
Used the Software for: 6-12 months
It's very useful and easy to use but expensive comparing it to similar tools
Comments: I am happy with it but due to the expensive price we are moving to another solutions
Pros:
You can easily get used to it and it's very handy
Cons:
relatively expensive comparing it to similar software solutions
Ken H.
Managing Partner/CEO in
Staffing & Recruiting, 51-200 Employees
Used the Software for: 1-5 months
Source: SoftwareAdvice
Buyer Beware
Comments: For Americans this isn't the best bet as they are in Europe on pretty much an opposite time zone. Also is not good for recruiting teams, staffing agencies, and the like as they aren't really capable of supporting a mass amount of jobs without some negotiation. I look at service in a 360 perspective. The first 180 was good when we signed up but the other side of the coin was a huge let down - they literally just stopped communicating with us even though they are holding 500+ applicants and all of the data we have on them. It's still there now, with no way to access it or do anything about it without shelling out cash to a third party. Hugely disappointing. It is due to my overall experience that I can not, in good conscience, recommend this product to anyone but my competitors because I know ultimately it won't go the distance for them and will put them at a disadvantage, which in the long run will benefit us. It is what it is.
Pros:
This product was very easy to use, also the customer service during our companies onboarding to the product was great. There was no shortage of help. They even worked with us to develop a solution that included more jobs as we maxed out their highest plan almost immediately.
Cons:
Ultimately we left Recruitee because we needed something that could handle ATS, hiring, onborarding, and communications with and to existing staff. When we let it be known that we were leaving the tone of everything abruptly changed. No more customer service, our contact no longer communicated with us, and the IT team just sent us a link to their API to retrieve our data encompassing over 500 applicants in varying stages. Upon further investigation the API that they provided left the data in several pieces. In order to retrieve it we were forced with the option of developing custom script on our own or paying a developer a rate, which was the lowest bid we could find due to the time it would take to extrapolate it all. Ultimately with this Recruitee let us down. They boast that all of the data you insert into their system is yours but that's not necessarily true.
Simone Response
4 years ago
Dear Ken, We're sorry to hear about your experience. We always aim for the highest standard of customer service and experience. We appreciate your feedback and we would like to take this chance to improve. First of all, we're happy to hear that you had a positive experience during the onboarding. As you can see on other reviews, our Customer Support is rated highly by all users. To make sure all of our customers experience the same standard of support, we have a dedicated Customer Support team based in the US. They can be reached via different channels such as the live chat, email, and phone. I wish you would have had the chance to meet them, they would have been more than happy to help you during your office hours. Second, it is correct that we have tailored plans for companies with a bigger number of jobs. The main reason is that bigger companies often need more support for onboarding. To personalize these services, we find it important to discuss in order to offer the best tailored package if you're interested. Finally I would like to let you know that the data in Recruitee is yours. We never use or sell candidate data or any other information you collect. We offer a standard API export for all users. We hope in the future, we could customize it further so that it can fulfill more complex export requests. Best regards, Simone
Amena T.
People Ops Manager in Egypt
Information Technology & Services, 11-50 Employees
Used the Software for: 1+ year
Source: SoftwareAdvice
I love it!
Comments: AMAZING! Love what you guys are doing.
Pros:
Everything is awesome; the public roadmap, the option to select who can see the comments, the ease of use and bulk actions, customizable everything, the customer support! And of course the careers site!
Cons:
Sometimes it feels confusing navigating around the settings part.
Alternatives Considered: JazzHR, Greenhouse and Zoho Recruit
Reasons for Choosing Recruitee: The careers site feature, and the drag and drop feature, that it's per job (not per user/candidate) and the pricing
Switched From: JazzHR
Reasons for Switching to Recruitee: same reasons as above. Recruitee had it all in my opinion :)
Recruitee Response
11 months ago
Dear Amena, We really appreciate you taking the time to share your Recruitee experience! It's great to read that you love Recruitee; we do too! Thank you for your support and kind words. Please know that if you ever feel confused with the product settings, our Customer Suppor team is always available to help. Don't hesitate to reach out with any questions. And keep an eye out on our public roadmap for 2021! More awesome updates are coming. Kind regards, The Recruitee Team