PracticePanther Legal Software
What Is PracticePanther Legal Software?
PracticePanther is the top rated law practice management software on Capterra! See why tens of thousands of law firms in over 170 countries use PracticePanther to automate their workflows and get more done in less time. Never miss deadlines, get paid faster, seamlessly track billable time & expenses. Work from anywhere, on any device, with our mobile app. It's easy, user-friendly and intuitive. Spend less time managing your firm and more time making money. Try it free, no credit card needed.
Who Uses PracticePanther Legal Software?
Tens of thousands of solo practitioners, small, medium, and enterprise-sized firms worldwide who don't want to sit through hours of training webinars. Simple software for the modern lawyer.
PracticePanther Legal Software Details
Paradigm
Founded in 2006
PracticePanther Legal Software pricing
Starting Price:
US$39.00/month
Yes, has free trial
Yes, has free version
PracticePanther Legal Software has a free version and offers a free trial. PracticePanther Legal Software paid version starts at US$39.00/month.
Pricing plans
get a free trial
PracticePanther Legal Software Details
Paradigm
Founded in 2006
PracticePanther Legal Software videos and images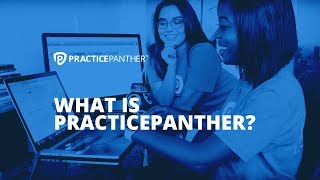 PracticePanther Legal Software deployment and support
Support
Email/Help Desk
FAQs/Forum
Knowledge Base
Phone Support
24/7 (Live rep)
Chat
Deployment
Cloud, SaaS, Web-based
Mac (Desktop)
Windows (Desktop)
Linux (Desktop)
Android (Mobile)
iPhone (Mobile)
iPad (Mobile)
Training
Live Online
Webinars
Documentation
Videos
Features of PracticePanther Legal Software
Scott m. W.
Lawyer in US
Verified LinkedIn User
Law Practice, Self Employed
Used the Software for: 2+ years
Amazing program!
Comments: I bought this program when I first opened my practice about 2.5 years ago. I knew going into my own firm that I wanted a comprehensive client management tool. After spending hours online reviewing various programs, I decided to give the 30-day free trial a shot. I think I purchased the monthly subscription immediately after starting to use the program. Since that time, I have built on my knowledge, incorporating the MailChimp and QBO features first, then started learning how to streamline my document preparation through the template feature. What would have previously taken me multiple hours a week to manage, now takes minutes.
Pros:
PracticePanther is intuitive and very user friendly. It has a ton of features that expedite minuscule tasks and free up admin time. It syncs with all my favorite resources, like QBO, MailChimp, and Box, making communication with clients a lot easier and keeps routine mailings operational. If you use a lot of form templates, the template builder is a major time saver and cuts down on user error and oversights. I use this program every day in my law office and am very grateful for how easy it is. Even better, the customer support team is phenomenal. I rarely have any issues with the program (it is easy to use), but when I run into something I need help with, a quick message to the PP team is responded to within minutes and the problem is solved or at a minimum I am given an update and expected time of completion. I couldn't recommend this program more to a solo or small legal practice.
Cons:
Nothing, the team is constantly updating its software and programs that it connects to. They provide online videos to help and I frequently learn of new ways to use the program from regular updates by the team.
PracticePanther Legal Software Response
3 years ago
Thank you so much Scott for the extra kind feedback!
Brenda S.
Legal Assistant in US
Law Practice, 2-10 Employees
Used the Software for: 6-12 months
Love PracticePanther
Comments: This software has saved us time on the tasks that would take a long time like creating letters or pleadings as they are automated now. Since the information pulls from the fields there is also a very low risk for typing errors.
Pros:
Super easy to use! We love that we can create custom fields for a contact or matter and have really enjoyed the automation portion of the software. The templates are easy to create and automatically pull the information from the contact and matter sections that we need.
Cons:
Under Matter, instead of editing the whole section, it would be nice if I could hoover over the field I only need to update. I also wish I could highlight text in the matter or notes section. I create multiple matters under one client and some of the information in the fields is always the same. It would be nice if I could select an option so any time I create a new matter for that client, the information in the matter auto fills for any new case going forward.
Alternatives Considered: Clio, Smokeball, Tabs3 and CosmoLex
Reasons for Choosing PracticePanther Legal Software: Had to upgrade every so often and had to log onto our server to use. With PracticePanther, I log in from anywhere.
Switched From: Tabs3
Reasons for Switching to PracticePanther Legal Software: Price and ease of use
Law Practice, 2-10 Employees
Used the Software for: 6-12 months
PracticePanther has helped keep my firm organized and grow
Pros:
PracticePanther has helped keep my firm organized. We handle a large number of cases and we needed software that could help us manage them all, stay on top of tasks, and store information efficiently. PracticePanther has also been key in allowing for rapid growth in my practice. My favorite feature is the payment plans through PantherPayments. My collections are significantly higher than some of my colleagues and it helped simplify this process. We can easily set up payment plans that automatically pull funds from a credit card or bank account which means I don't have to spend a ton of time chasing clients for money that I could be spending on their case.
Cons:
I started out practicing solo and quickly grew to more staff. Every firm has growing pains, so I was initially worried about acclimating new staff to PracticePanther. Thankfully, those hesitations were put at bay and we've been able to use the platform with ease.
Alternatives Considered: Clio
Reasons for Switching to PracticePanther Legal Software: I researched several different software options, such as Clio, before making my final decision. I found that PracticePanther provides all of the same features as Clio and more, but at half the price. No other software in PracticePanther's price range is anywhere near as robust.
Jeff P.
Managing Attorney in US
Legal Services, Self Employed
Used the Software for: 1-5 months
Source: SoftwareAdvice
Terrible practice management software
Comments: When you sign up, you'll get an invitation to a live webinar two weeks out. Totally unhelpful for someone trying to get up and running. I have been using PracticePanther for about one month, and I'm already considering changing to another PMS. The money I spent on PracticePanther is a sunk cost. I really think I should just cut my losses because if I don't, I'll end up spending a lot of time trying to manage and work around the software. I really don't feel like it's saving me any time at all. I would probably be better off with T-sheets, Quickbooks, and Law Pay only.
Pros:
Clients can pay online. I honestly can't think of anything else to say.
Cons:
Where do I start? The time keeping function is terrible. You cannot edit start and stop times. You cannot start and stop multiple timers in the mobile app. The software auto-saves frequently, and when it does, it moves the cursor in the entry to the end of the text. This is annoying. You cannot start a timer and then add the client-matter without causing the time to round up. The syncing with G Suite is bad. The software will not sync with all the fields in Google Contacts, and the "custom fields" in PracticePanther do not sync into Google Contacts. This results in a lot of duplicate data entry, which is what I was trying to void with practice management software. The software does not sync will with Google Drive well at all either. Apparently, you can't have any folders in Google Drive with the same name. For example, Client_01\general and Client_02\general would result in an error and none of your Google Drive documents will be visible in PracticePanther. The software billing feature is terrible. First, you cannot have multiple companies or entities tied to the same individual. Thus, if you have a contact who owns multiple businesses that are clients, you will not be able to list all those businesses under the client's name. To make matters worse, you can only email invoices to individuals who are listed under the company. I had to create multiple dummy contacts called "Accounts Payable" just so that I could email my clients their invoices. I ran out of space.
PracticePanther Legal Software Response
2 years ago
Hi Jeff, Thank you so much for taking the time to join our team on a training call, and for discussing the features and functionalities you would like to see incorporated into the software on our follow up call. As mentioned, some of the functionalities, specifically regarding Google, are limited by our integration partners. However, we will, of course, update you if any of the discussed functionalities change at any point. We are constantly working on improving our user experience and your comments and feedback are greatly appreciated. Thanks again for your time, please feel free to reach out to us if there is anything we can help you with.
Law Practice, 2-10 Employees
Used the Software for: 1+ year
Great Software - Would be Lost Without It, but there are still some kinks to work out.
Comments: My overall experience is amazing. I love this software and it makes my life so much easier. I would recommend to anyone with a law firm.
Pros:
I love how seamless this software makes my practice. It is so user-friendly. The client portal is wonderful, and I love how the accounting features are organized. Customer service is amazing. The templates feature saves me countless hours. The tasks feature really keeps me on track. I love how you can link relationships, create emails that sync automatically with the matter, and create events that send text notifications to clients. The support is quick and always friendly and helpful. The e-signature feature is also really cool.
Cons:
(1) the phone app should be able to have multiple timers up at once, so you can go back and forth between working on different projects, like the desktop version. (2) The "history" section at the bottom of matters should include time entry descriptions. I cannot stress that enough. I do not use the "history" section at all as it is currently operating, but it would be invaluable if that one change was made! If time entry descriptions were included, the "history" section would actually tell me the history of the work that's been done on the matter. (3) We need a better text integration that's part of Practice Panther, so that clients can text us through the software, or something like how we can create a new email that links with the matter, but for texting. (4) Company contacts - love the idea, but when you link a subordinate member of a company contact to a matter, the only email address you can actually auto-populate is the number one contact of the company contact. It's very annoying. I've had to create separate individual contacts for all the members of a company contact. Like for court services, I would like to be able to have all the employees of court services under the Court Services company contact, and then be able to link the particular officer assigned to supervise my particular client. But right now I have to link the court services company contact AND the individual contact to be able to send emails to the correct officer.
Alternatives Considered: Clio
Reasons for Switching to PracticePanther Legal Software: I felt like Practice Panther was just as good as Clio, but more cost appropriate for my smaller firm. Also, I liked that I always have the option to figure things out myself, or with a virtual helper, instead of having to call support. The same was true with the purchasing experience. I didn't get bombarded with phone calls, but I knew someone would be available to speak with me if I wanted to have a conversation. I felt that spoke volumes to the kind of company you are and the understanding and respect you have for your customers' time.