What Is SimplyBook.me?
SimplyBook.me offers the most extensive online booking system on the market, one that makes you look professional and solves all your online needs. You get a full blown booking website, or a widget for your own website, where you can present your business and accept appointments, sell products, membership, packs, gift cards and service add-ons. Manage your business with one solution; website, accept bookings, marketing initiatives, business statistics and,online and on site payments (POS).
Who Uses SimplyBook.me?
SimplyBook.me suits all small & med sized companies accepting bookings like beauty salons, schools, consultants etc. The Enterprise solution allows to manage all subsystems within the admin interface.
Where can SimplyBook.me be deployed?
Cloud, SaaS, Web-based, Android (Mobile), iPhone (Mobile), iPad (Mobile)
About the vendor
by SimplyBook.me
Located in Limassol, Cyprus
Founded in 2008
24/7 (Live rep)
Chat
SimplyBook.me pricing
Starting Price:
US$10.00/month
Yes, has free trial
Yes, has free version
SimplyBook.me has a free version and offers a free trial. SimplyBook.me paid version starts at US$10.00/month.
Pricing plans
get a free trial
About the vendor
by SimplyBook.me
Located in Limassol, Cyprus
Founded in 2008
24/7 (Live rep)
Chat
SimplyBook.me videos and images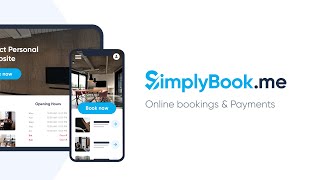 Features of SimplyBook.me
Jesus P.
CEO/President in US
Verified LinkedIn User
Marketing & Advertising, Self Employed
Used the Software for: 6-12 months
Affordable and Powerful Booking Software
Comments: This software works very well for booking. We had complicated requirements for customer support and coaching and this software handled both well.
Pros:
I loved the features included with the base package and the ability to add extra features alacarte to keep costs low. Customers can self-cancel and outgoing emails can be customized. Zapier included!
Cons:
The moment you need an extra feature after your first three alacarte ones, the price jumps up into the next alacarte tier. Also, you cannot create booking "buffers" or delays for different departments. For example, if you want customer service customers to wait at least 1 hour before booking a customer service call, but want coaching customers to wait 24 hours before booking a call, it cannot accommodate those different delays in different departments. The entire company must be either a 1 hour delay, or a 24 hour delay.
Korie T.
Owner/Founder in US
Entertainment, 2-10 Employees
Used the Software for: 1-5 months
I did my research and found a great fit!
Comments: My experience has been awesome! I was able to seamlessly set up my site with ease, set up my payment processor and have a beautifully designed live booking page for clients to book. I highly recommend this for small businesses and providers who accept appointments.
Pros:
I love how user friendly this software is! I found the video tutorials very helpful and the customer service was prompt and friendly. I appreciate how they would always send article links to refer back to after the chat and would email me when we got disconnected. I also love the booking site themes to choose from, they are all very well designed.
Cons:
If I had to give one improvement it would be to allow users to get more than three custom features with the first upgrade tier. I would have loved to get five to test it out, and would have definitely upgraded once my business bookings began. The jump from three to unlimited is a big jump, maybe offer a tier in between for new subscribers. Other than that the software itself is pretty amazing.
Alternatives Considered: Acuity Scheduling, Square Virtual Terminal, Mindbody, Shopify and Wix
Reasons for Switching to SimplyBook.me: The easy links to a payment processor, allowing different service providers with different services, including a booking site, and access to create an intake form. Also, integration with social media was a huge one!
SimplyBook.me Response
10 months ago
Hi Korie, Thank you so much for taking the time to leave us your fantastic feedback, we appreciate it greatly! All the best The SimplyBook.me team
Thompson H.
Project Manager in Taiwan
Accounting, 2-10 Employees
Used the Software for: 2+ years
Decent scheduling software management software integrate with payment system
Comments: it is good, overall it is cheap, so just use what it offer and if sometimes the function doesn't fit perfectly , just work around it.
Pros:
it is super cheap and integrate with the local online payment service provider
Cons:
it is essentially made for business selling service , booking for service. not perfectly fit to me use where my business is space rental business and the product is time duration
SimplyBook.me Response
last month
Dear Thompson, Thank you so much for taking the time to leave us your positive review, we appreciate it greatly! All the best The SimplyBook.me team
Medical Practice, 11-50 Employees
Used the Software for: 1-5 months
Lots of Features but more limited than we were told, and Customer Service is not good
Comments: Not good, huge waste of time.
Pros:
I found it easy to set up and look pleasing for my website.
Cons:
We do not require prepayment to book an appointment. However, we offer a 20% discount if the client prepays. With that offer, we get a much higher show rate. Originally, I was told this was not an issue. However, after hours upon hours of setting up the program I found that I cannot offer both options. If we require prepayment for the discounted appointments, it now requires payment for the non discounted appointments. So basically, I cannot offer how we do business. Customer service is terrible, because it is only by text. They will not let you call. Forget all the money we wasted; I am more upset about all the lost time.
SimplyBook.me Response
last month
Hi Aaron, I am sorry to hear that you did not have a good experience with our product. Our prepay solution is set up a little bit differently from what you are used to so unfortunately with our system a defined % can not be applied if the client chooses to prepay. You could however have a different service where you indicate that it requires prepayment and then have that service with 20% lower price. Our customer service is only online but they are online 24h during the working week and are always quick and ready to help all users immediately, no matter if you are a small or a big one. All the best The SimplyBook.me team
Paula P.
Vice President, Director of Marketing in Canada
Verified LinkedIn User
Professional Training & Coaching, 2-10 Employees
Used the Software for: 1-5 months
Very happy we found SimplyBook.me
Pros:
What's nice about SimplyBook.me is that you can customize which features you want.
Cons:
There are nothing I 'dislike' about SimplyBook.me. I would make a couple of improvements, though: 1. We are glad there are both session confirmation and reminders, but we would really like it if we could schedule a reminder around 1000 days from the date of training. This might sound like a long time, but the certifications we offer are good for 3 years and 1000 days would still give them a couple of months to schedule their recertification training. 2. It would be nice if the 'unlimited' tier of add-ons wasn't so much more than the tier that gives you 8 add-ons. At most, I would like one or two more, but it's not worth such a huge jump in price. 3. We really like the idea that email can come from our business email address, but at the moment, it's just not working for us because the SMTP settings just aren't being accepted.
Alternatives Considered: Calendly
Reasons for Choosing SimplyBook.me: SimplyBook.me has the most features we need.
Switched From: Ubindi, Google Calendar and Calendly
Reasons for Switching to SimplyBook.me: SimplyBook.me has the ability to easily schedule multiple training sessions running concurrently.
SimplyBook.me Response
3 months ago
Dear Paula, Thank you so much for taking the time to leave us your fantastic feedback, we truly appreciate it! Regarding your request to add this to your system that you can send a reminder 1000 days after training, within the come-back-soon feature then we could probably add this to your system. Please pm me and send me your booking website. All the best The SimplyBook.me team