15 years helping British businesses
choose better software
What is MeisterTask?
MeisterTask is a web-based task and project management tool that is perfect for agile project management. Beautifully-designed interfaces, intuitive functionality and seamless integrations with other tools make it a logical choice for project teams.
Who Uses MeisterTask?
MeisterTask was designed with the needs of agile project teams in mind. It accommodates all kinds of workflows - from simple static project boards to software sprints, Kanban systems and more.
Where can MeisterTask be deployed?
Cloud-based
On-premise
---
MeisterTask support
Phone Support
24/7 (Live rep)
Chat
MeisterTask pricing
Starting Price:
€12.50/month
Yes, has free trial
Yes, has free version
MeisterTask has a free version and offers a free trial. MeisterTask paid version starts at €12.50/month.
MeisterTask support
Phone Support
24/7 (Live rep)
Chat
MeisterTask videos and images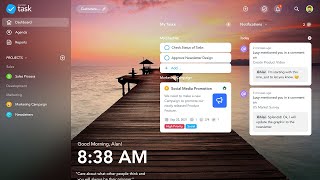 Features of MeisterTask
@mentions
API
Access Controls/Permissions
Activity Dashboard
Activity Tracking
Agile Methodologies
Alerts/Notifications
Assignment Management
Backlog Management
Bar Chart
Billable & Non-Billable Hours
Brainstorming
Calendar Management
Collaboration Tools
Color Codes/Icons
Commenting/Notes
Communication Management
Content Management
Create Subtasks
Dependency Tracking
Discussions/Forums
Document Management
Drag & Drop
Email Management
Email-to-Task Conversion
File Sharing
For IT Project Management
Gantt/Timeline View
Idea Management
Import Tasks
Issue Management
KPI Monitoring
Kanban Board
Milestone Tracking
Mobile Access
Notes Management
Online Time Tracking Software
Portfolio Management
Prioritisation
Product Lifecycle Management
Product Roadmapping
Productivity Analysis
Productivity Tools
Progress Tracking
Project Planning
Project Planning/Scheduling
Project Scheduling
Project Time Tracking
Project Tracking
Real Time Notifications
Recurring Tasks
Reporting & Statistics
Reporting/Analytics
Reporting/Project Tracking
Requirements Management
Resource Management
Roadmapping
Search/Filter
Status Tracking
Surveys & Feedback
Tagging
Task Editing/Updating
Task Management
Task Progress Tracking
Task Scheduling
Task Tagging
Time & Expense Tracking
Time Tracking
Visual Workflow Management
Web-based Deployment
Alternatives to MeisterTask
Shayla
Human Resources Specialist in US
Verified LinkedIn User
Internet, 1,001–5,000 Employees
Used the Software for: 2+ years
Reviewer Source
I can sort of all pending and completed tasks
Comments: With MeisterTask, we can manage and work on several projects at the same time, even if we are in separate places. Using this software has the added advantage of being simple, affordable, and widely accessible, all thanks to its cross-platform interoperability.
Pros:
With MeisterTask, customers may take use of this project management solution in a matter of minutes thanks to its simple and intuitive design. Managing many projects and sub-tasks at the same time is also a breeze. Good for teams/collaboration and excellent mobile applications. Kanban task management method. Exactly one year ago, I was searching for an alternative to Trello.
Cons:
MeisterTask does not include a workflow calendar, which would provide for a more full picture of the productivity of a project.
Meister Response
2 years ago
Thanks so much for taking the time to write such an extensive review, Shayla! It's always great to hear from users who've benefited from our collaborative Kanban-tool. :D I've forwarded your suggestion regarding a workflow calendar to our project manager, who is always happy to collect and consider user feedback. In the meantime, you might want to try out direct integrations with Google Calendar and iCal. We'd also love to hear more about your experience with MeisterTask, including any improvements or suggestions you might have! Please don't hesitate to reach out to us on Twitter at @MeisterTask if you have any feedback. Thanks again, Your MeisterTask Team
Douglas
Chief Software Architect in US
Verified LinkedIn User
Retail, 201–500 Employees
Used the Software for: 2+ years
Reviewer Source
The most productive task / project planner
Comments: I've been using MeisterTask for a number of years now and it is my go to piece of software for managing all of my projects in one location. I can keep track of things on my iPhone and iPad as well as on my desktop.
Pros:
My hands-down, favorite part of this entire app is all of the automation tools. It gives you to help streamline your process and illuminate repetitive tasks.
Cons:
A better way to manage all of my tasks from multiple projects on a single dashboard. The agenda option that they give us and the pinning are a good start, but I'd like a little more flexibility and automation built into the agenda dashboard.
Alternatives Considered: monday.com, ClickUp and Asana
Reasons for Choosing MeisterTask: Initially, it was to have a Kanban on board but now it's to stay because of all the automation
Switched From: Things
Reasons for Switching to MeisterTask: Very powerful and easier to use
Verified Reviewer
Verified LinkedIn User
Design, Self Employed
Used the Software for: 2+ years
Reviewer Source
A great tool for a long time on the market.
Comments: The appearance and style of the tool is great and UX is slicker than Trello, the tool i used prior. The kanban boards look great and easy to share.
Pros:
The design of the tool felt better and more grown up than Trello and was easier to use.
Cons:
The pricing changed a lot since I implemented it and it became too expensive.
Alternatives Considered: Trello, ClickUp and Asana
Reasons for Choosing MeisterTask: Design. Meistertask always felt more "ready" than trello.
Switched From: Trello
Reasons for Switching to MeisterTask: Pricing and design.
Federico
Management in Uruguay
Verified LinkedIn User
Investment Banking, 2–10 Employees
Used the Software for: 2+ years
Reviewer Source
Very nive product in the free version but only three projects allowed!
Comments: Very good projects, easy to use and their organization is great.
Pros:
Great user interface, beautiful colors and excellent organization.
Cons:
Unfortunately, the free version only allows three projects, in Trello there are unlimited projects.
Alternatives Considered: Workzone and Taiga
Reasons for Choosing MeisterTask: Better and nicer user interface
Switched From: Trello Gamification
Reasons for Switching to MeisterTask: Because its paid version had all the indicators we needed.
Meister Response
2 years ago
Hi Federico, thanks very much for reaching out! We're glad that you found MeisterTask to be both intuitive and beautiful, but sorry sorry to hear you were disappointed in the free version's limitations. Unfortunately, it is expensive to maintain our apps and websites, so we do have to charge for certain features. Be sure to check out our affordable tiered subscription services at MeisterTask.com/pricing to learn more about an option that best suits your team's needs. Best, The Meister Team
Tariq
Services Account Executive - SAE in Kuwait
Information Technology & Services, Self Employed
Used the Software for: 2+ years
Reviewer Source
MeisterTask: Wish it gets better
Comments: Project managementTask management
Pros:
Ease of use ..Fast Deployment Multi-platform support.
Cons:
- Timeline: Horrible!- Colors and UI theme: outdated.- Reporting is very limited !! Should be highly customization -> Benfecial for reviews and team meetings .. as for customer-facing meetings and status updates.- The mobile view could be better. How do you mark it a success? If a user can use the mobile version independently - with no desktop or web - then this is a success.- Consolidated project view: missing. The agenda view is useless.- Drag and drop tasks among projects- Multi-task selection is not smooth- Time reminders are not fluid or practical enough- Automation needs many and many improvements --> Need to link a header with dates. Then if a task is created in this kanban, it immediately inherits this date .. Mapping a kanban to a calendar day (Sunday, Monday, .. etc) is gonna be very useful. We need to talk to explain this to you guys ..
Alternatives Considered: Airtable and Asana
Reasons for Choosing MeisterTask: The project management concept is missing from OmniFocus.
Switched From: OmniFocus
Reasons for Switching to MeisterTask: Simplicity .. Yet many features are missing (sorry to keep nagging).