Local product
What Is 10to8?
Powerful appointment scheduling and online booking software Trusted by 50,000+ businesses worldwide.
Let clients book your free slots and take payments online. Automatically send SMS & email reminders and reduce no-shows by up to 90%. Track client activity and attendance history.
Avoid double-bookings by setting up calendar sync with Google, iCal, and Outlook. Integrate with over 1,500 apps, works on any device and operating system.
Get Started Free Today!
Who Uses 10to8?
Businesses of all sizes regardless of sector or industry. We have clients in banking, healthcare, education, customer service, sales, beauty, and even alpaca farming.
Where can 10to8 be deployed?
Cloud, SaaS, Web-based, Mac (Desktop), Windows (Desktop), Linux (Desktop), Chromebook (Desktop), Android (Mobile), iPhone (Mobile), iPad (Mobile)
About the vendor
by 10to8
Located in London, UK
Founded in 2012
Phone Support
Chat
10to8 pricing
Starting Price:
US$12.00/month
Yes, has free trial
Yes, has free version
10to8 has a free version and offers a free trial. 10to8 paid version starts at US$12.00/month.
Pricing plans
get a free trial
About the vendor
by 10to8
Located in London, UK
Founded in 2012
Phone Support
Chat
10to8 videos and images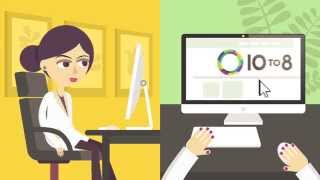 Laura G.
Owner, Lead Photographer in US
Verified LinkedIn User
Photography, Self Employed
Used the Software for: 1+ year
Best choice for scheduling, hands down!
Comments: I have used 10to8 for close to 3 years now and it makes scheduling my photo sessions a breeze. The text message feature is a major plus!
Pros:
What I liked about 10to8 is that along with scheduling, you get the choice to also automate SMS text messages to clients. It also integrates with emailing platforms like MailChimp, so you can add those leads into an email workflow. That streamlines marketing offers without being constantly on the phone with leads!
Cons:
There was a bit of work to do in the beginning to get everything set up, but it's nothing too extreme or that can't be accomplished by anyone just a bit tech savvy!
Verified Reviewer
Executive Director in US
Verified LinkedIn User
Human Resources, 2-10 Employees
Used the Software for: 6-12 months
Easiest booking
Comments: I have individual clients booking coaching sessions (both online and face to face.) 10to8 has greatly simplified this process, and with the payment integration and text message reminders -- I'm having fewer no-shows.
Pros:
This is a great booking system to get started with, because the free version has 98% of the features of the paid... the only limitation is a max of 100 appointments scheduled per month, which is ideal for those coaches, counselors, massage therapists, etc. just starting out. It integrates with payment systems, syncs with your calendar(s), and even sends SMS text reminders to your clients ahead of their booked appointment.
Cons:
The ability to book an entire sequence of sessions is a bit awkward. Although they are working on this features....
Alternatives Considered: Microsoft Bookings
Switched From: Calendly
Reasons for Switching to 10to8: At this time, 10to8's feature set is stronger, although that may not be true in a few months.
Jacqueline S.
Owner in US
Health, Wellness & Fitness, Self Employed
Used the Software for: 1-5 months
Great Price, But Disappointing
Comments: I set up a very small online yoga business earlier this year and selected 10to8 for ease of set up and price. Unfortunately, it has been letting me down. There are glitches delaying bookings and casuing issues with payments through PayPal. There are also functions I could really use that 10to8 doesn't offer, or only includes with their most expensive package.
Pros:
The price is my favorite thing about 10to8.
Cons:
There are frequent glitches (usually delayed registrations) which have been costing me money and customers.
Alternatives Considered: Acuity Scheduling, Bookeo, Mindbody and Vagaro
Reasons for Switching to 10to8: I chose 10to8 after testing many, many booking systems. I went with 10to8 because it was easy to set up and worked with PayPal.
10to8 Response
last year
Hi Jacqueline, Thank you for sharing your thoughts; Feedback from our customers, be it negative or positive, helps us improve. I'm sorry to hear that you've had some issues with 10to8. Recently, we faced some system errors that had been causing some delays. I apologize for the inconvenience this might have caused you. We've upgraded our systems and put even more enhanced solutions in place to deal with potential system difficulties. This will help eliminate glitches in the future. We'd love to hear your feature requests, as we're always keen to improve our software and delight our customers. You can share your requests via [email protected] or through the in-product widget. Thanks again for your feedback and help. Cheers, Anna from 10to8
Emilia C.
Receptionist in US
Hospital & Health Care, 2-10 Employees
Used the Software for: 1-5 months
Makes My Life Easier
Pros:
This product is über user-friendly, and patients like it. Plus, 10to8 allows businesses to send a certain number of reminders each month for free. Their generosity in offering their service partially free has built customer loyalty from our business. The software works seamlessly and we have yet to experience any issues in the few months since we began using it. It has made patient reminders quick and effortless; I used to have to type out personalized reminders by hand daily, and it was a time-consuming hassle. Now, I no longer have to worry about the potential for typos when rushing through reminders at the end of the day. Plus, automated reminders are more professional. I would highly recommend this software; it has been a blessing to us.
Cons:
We haven't experienced any issues with this software.
Marketing & Advertising, 2-10 Employees
Used the Software for: 1-5 months
Great full-feature scheduler
Comments: I really like 10to8. You can't beat the price and it's working really well. People set appointments with us often for different reasons. I've also been able to segregate the reasons so that I know what time I'm to meet someone and for what reason.
Pros:
I like the ability to include calendars for other members of my staff so that they can book their appointments separately. That way, we're aware of whose appointments are whose. This doesn't happen with my currently paid appointment scheduler.
Cons:
It's a bit difficult to set up in order to get things the way you want them and that will be 100% clear to people making appointments. I figured out some go-arounds, but others may not be as tech savvy.
Alternatives Considered: Acuity Scheduling
Reasons for Choosing 10to8: Time Trade is just OK. The features are... It has only one, and that's that the appointments make it to your Google Calendar. Otherwise, it's straight set an appointment and go to calendar. The people on my team and my own appointments are added to my calendar, which makes it sometimes confusing. I feel that 10to8 has more of the features I need.
Reasons for Switching to 10to8: Price and 10to8 just felt better to me and seems like it's more efficient for my clients. That's the main thing. A scheduler has to be user-friendly.