What Is In-recruiting?
An AI-powered Applicant Tracking System. Cloud-based software specifically designed to manage end-to-end Recruitment and Talent Acquisition, and specifically to handle repetitive, low-value activities. From attraction to onboarding, the technology allows you to centralise the entire process with ATS features, find the most qualified candidates with recruitment marketing tools, automate tasks and workflows with proprietary artificial intelligence, and monitor progress with analytics. Try it now!
Who Uses In-recruiting?
In-recruiting serves companies of all sizes and in all sectors, plus job agencies. Used by over 600 brands inc: McDonald's, Guess, Synergie, Vimar, Würth, Euronics, Renault, Bata, Bofrost, Mediobanca.
In-recruiting Details
Intervieweb
Founded in 2009
In-recruiting Details
Intervieweb
Founded in 2009
In-recruiting videos and images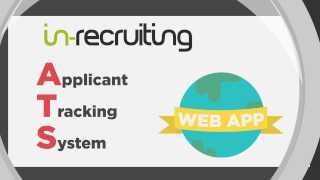 Compare In-recruiting pricing with similar products
Starting price
€49.00/month
N/A
US$249.00/year
US$143.00/month
In-recruiting deployment and support
Support
Email/Help Desk
FAQs/Forum
Knowledge Base
Phone Support
Chat
Deployment
Cloud, SaaS, Web-based
Mac (Desktop)
Windows (Desktop)
Linux (Desktop)
Chromebook (Desktop)
Training
In Person
Live Online
Webinars
Documentation
Videos
Features of In-recruiting
Claudio M.
HR Recruiter in Italy
Verified LinkedIn User
Automotive, 201-500 Employees
Used the Software for: 2+ years
Ottimo compagno di viaggio
Pros:
Sistema intuitivo, costantemente aggiornato da nuove funzionalità da chi conosce la materia del Digital HR, tracking del processo recruitment molto puntuale e utile, ottima visibilità grazie all'annuncio multipost, interessanti i webinar che vengono proposti ai clienti sulle principali tematiche di DIgital HR, strumento apprezzato anche dai candidati che spesso lamentano, su altri portali, la difficoltà a presentare la candidatura. Consiglio, in un mondo sempre più smart, di inserire in form di registrazione snello.
Cons:
E' già di base un efficace strumento di recruitment sia nella fase di adv che nella fase di tracking dell'iter selettivo. Attenzione al titolo della Job profile richiesto perché su alcuni portali, cui è collegato InRecruiting, potrebbe esserci una visibilità limitata.
Rebecca M.
Project Manager in Italy
Human Resources, 11-50 Employees
Used the Software for: 1+ year
Personalizzazioni
Comments: In-recruiting ci ha aiutato a rendere i nostri processi di ricerca e selezione sempre più snelli, efficienti e di successo. Siamo complessivamente molto soddisfatti non solo con il prodotto, ma anche con il supporto che c'è dietro.
Pros:
La software è estremamente user-friendly e facile da usare, anche per persone che non hanno mai lavorato con degli ATS. L'aspetto più importante del prodotto per noi è sicuramente la possibilità di personalizzazioni ad hoc alle nostre esigenze. Anche il fatto di poter usare il sistema da parte dei nostri clienti è fondamentale e ci permette di sfruttare ed efficientare al massimo i processi di ricerca e selezione del personale. Inoltre, il customer support è di massima qualità con personale sempre disponibile.
Cons:
Un fattore che potrebbe essere migliorato o integrato ulteriormente, sono le statistiche. La raccolta di più dati e informazioni sugli utenti, il Paese di origine del candidato, l'età media, l'abbandono della compilazione del form dell'annuncio ecc. sono alcuni esempi di statistiche che potrebbero essere interessanti per gli utenti del sistema. Inoltre, l'interfaccia con il sistema Outlook per la pianificazione di colloqui ecc. sarebbe utile.
Fulvia M.
referente ufficio selezione e formazione in Italy
Management Consulting, 51-200 Employees
Used the Software for: 2+ years
Una scelta vincente!
Comments: L'utilizzo di In-recruiting ha permesso un notevole risparmio di tempo, una gestione specifica per cliente e un DB con un ottimo motore di ricerca.
Pros:
In-recruiting si è rivelato un ottimo compagno di lavoro, un amico insostituibile che permette di gestire l'intero processo di selezione e di convogliare tutte le informazioni, dati e candidature in un unico DB, permettendoci di gestire tutti i nostri clienti e le loro diverse selezioni. E' intuitivo, in continua evoluzione, personalizzabile e offre notevole autonomia di modifiche e integrazioni.
Cons:
La sezione statistiche è stata ultimamente implementata ma, potrebbe essere ancora migliorata.
Federica D.
head hunter in Italy
Human Resources, 2-10 Employees
Used the Software for: 1+ year
Facile e pratico
Comments: positiva
Pros:
Intuitività, facilità d'uso, costo, disponibilità nel supporto quando ci sono problemi
Cons:
che non si possono vedere subito alcuni dati dei candidati per procedere ad uno screening veloce a volte su alcune province performa meno
Chiara F.
Recruiter in Italy
Verified LinkedIn User
Human Resources, 2-10 Employees
Used the Software for: 2+ years
Alternatives Considered:
Semplice e intuitivo
Pros:
è molto semplice e intuitivo e permette di avere panoramica su tanti aspetti per gestire al meglio le varie commesse.
Cons:
Ahimè è un po' lento nel passare da una schermata ad un'altra.