Who Uses Paymo?
Small and medium project-based businesses (Advertising and Marketing Agencies, Web Development and Design Agencies, Non-Profits, Architecture firms, Law firms, Universities, Virtual Assistants etc.).
What Is Paymo?
Paymo is a modern and intuitive work and project management solution for small businesses and remote teams that bundles advanced task management, planning, scheduling, time tracking, collaboration, and invoicing. This means that you can keep track of the entire lifetime of a project - from creation until getting paid - without having to use and pay for several apps.
Paymo Details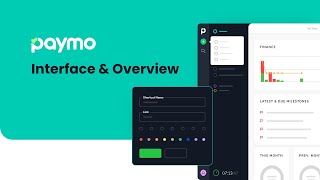 Play
Paymo has a free version and offers a free trial. Paymo paid version starts at US$9.56/month.
---
Paymo deployment and support
Support
Email/Help Desk
FAQs/Forum
Knowledge Base
Chat
Deployment
Cloud, SaaS, Web-based
Mac (Desktop)
Windows (Desktop)
Linux (Desktop)
Android (Mobile)
iPhone (Mobile)
iPad (Mobile)
Training
Live Online
Documentation
Videos
Leticia M.
Co-founder and Creative Director
Design, 2-10 Employees
Used the Software for: 2+ years
Overall Rating

Ease of Use

Features & Functionality

Customer Support

Value for Money

Likelihood to Recommend
Reviewer Source

Reviewed on 16/06/2020
"Our main tool to run the business"
Comments: We have been working with Paymo for more than 5 years now and over the years we've seen constant improvement with new features. It's a rich feature tool for a low price and it suits our company as no other does, not only in what they offer but in an intuitive and easy-to-use tool. The timer, invoices using the timesheet, team scheduling, sending estimates, all those make the difference in our business and has help us to save and make money.
Pros: The timer is the best feature of Paymo. We search a lot but none of the other tools allows us to easy time our work and bill our clients as Paymo, with an always-visible timer. And the ability to bill our clients with the timesheet completes our process perfectly.
Cons: It's lacking a client portal, where they have all information about their project and invoices
Alternatives Considered: Harvest, Invoicera, Invoice Ninja and Toggl Track
Reasons for Switching to Paymo: The always-visible timer and invoicing with timesheet abilities.
Vendor Response
by Paymo on 18/06/2020
Time tracking FTW, Leticia - thank you :)
I think there's a misunderstanding. The current client portal allows clients to view their invoices. Just be sure to add them as contacts too: https://help.paymoapp.com/en/articles/900000-how-do-i-add-a-contact-to-a-client
They can't see the project progress, something that is going to be fixed with the next release of the client portal. That will grant guest users in-app access.
This is our #1 priority right now, so stay tuned!
Kind regards,
Marcel
Reviewer Source

Reviewed on 16/06/2020
Jelena J.
Founder
Information Technology & Services, Self Employed
Used the Software for: 2+ years
Overall Rating

Ease of Use

Features & Functionality

Customer Support

Value for Money

Likelihood to Recommend
Reviewer Source

Reviewed on 01/07/2020
"My time and sanity saver!"
Comments: I've increased my productivity with Paymo's Kanban board view, combined with Table view, and saved TONS of hours on admin, invoicing, timesheets, client and project management. Just this time saving alone pays off the monthly subscription. Sanity and nerves saving is the bonus! :) Why? Because Paymo helped me maintain good client relationships, timesheet transparency and great records&data representation for a client. So when a client comes up with a random question about a specific task, Paymo's records make finding (and presenting) a specific information or record so much easier, transparent and more reliable.
Pros: Paymo has been a lifesaver in many business management areas: project management, client management, time tracking, accounting. With built-in budgeting, time tracking, expense tracking, estimate calculations, professional invoicing and getting paid online (and on time!), different project 'views' (list, table, board for kanban, gantt), extensive filters, dashboard and insights, resource scheduling, live time reports, client portal - and all that in one app - it's a sanity saver! One of the things I also personally quite appreciate is the professional and clean look of the invoices (and how easy it is for clients to pay them online). With a click of a button, you can add the unbilled time/fees for a specific time period and/or projects to an invoice. Paymo does all that heavy admin stuff for you and it has saved me a lot of time! Cherry on the top: all invoice items are presented so neatly and professionally, so that my clients can see exactly everything I've worked on for them and what I'm billing them for, as well as how much time is tracked for each project and task. And Payoneer, in addition to PayPal/Stripe/Authorize.Net payment gateways is a big plus! It's brilliant. The moment I first tried it, I could immediately feel that Paymo is the tool designed for actual freelancers in mind, whether you work on a project basis, or a pay-as-you-go basis. It's not complex, and all the features it has are just *right*. Exactly what I need. And it's getting even better!
Cons: I wish the app was just a little bit faster, but I read somewhere that they already have this improvement on their roadmap. Still, if you ask me, it's totally worth the wait for every new feature and improvement their team is cooking for us :)
Vendor Response
by Paymo on 10/07/2020
Thank you, Jelena <3
Speed improvements are already something that we're addressing. Stay tuned for more goodies such as a task calendar view, improved mobile app with team collaboration features and guest access.
Cheers,
Marcel
Reviewer Source

Reviewed on 01/07/2020
Joanne H.
Owner/Writer
Marketing & Advertising, Self Employed
Used the Software for: 1-5 months
Overall Rating

Ease of Use

Features & Functionality

Customer Support

Value for Money

Likelihood to Recommend
Reviewer Source

Reviewed on 10/08/2021
"Can't live without it now."
Comments: Really pleased with customer support!
Pros: I've always done freelance work and tried to track my time on Excel. No more. I love being able to track my time to the minute on projects and tasks with Paymo, then have those timesheets translate automatically into invoices which I can then send directly to my clients. Also helps me see what I'm spending my time on. Although I've barely scratched the surface of its functionality, it's become a necessity (and a luxury) now that I've gone full-time freelance.
Cons: I'd like to be able to drag-and-drop tasks, projects, etc. (if only because I may have set them up incorrectly in the first place). That's not available yet.
Alternatives Considered: Microsoft Excel
Reasons for Switching to Paymo: The option to track my time with a click is amazing.
Vendor Response
by Paymo on 23/08/2021
You GO, Joanne!
If you want to move already existing tasks from one project to another, you have this option: https://help.paymoapp.com/en/article/can-i-move-tasks-to-another-project-1gtfxl4/
We've also redesigned the task area so you can access the full task details by just clicking on a task :D
We hope you like it!
Reviewer Source

Reviewed on 10/08/2021
Cameron N.
Founder
Marketing & Advertising, 2-10 Employees
Used the Software for: 1-5 months
Overall Rating

Ease of Use

Features & Functionality

Customer Support

Value for Money

Likelihood to Recommend
Reviewer Source

Reviewed on 08/01/2020
"Monopolize you cause you can't export ANYTHING easily"
Comments: Would NOT recommend it to anyone who has even the slightest of "outside the box" process for projects or billing/invoices.
Pros: Yet another system that after several months of use only did what we needed it too at 75% of the way, then AFTER buying into the "huge discount" and special they had going, did I find out they do not allow refunds at all! If you put ANY data into the system and ever need to export it for any reasons ...find a data entry person and hope you didn't enter a lot of information because unless you are a developer that can setup custom API's...your info is stuck in their system!
You can enter clients, companies, etc. and change view to "Table" and see it in table mode, but that view still only gives you the general company information, NOT the contacts for that company and that is 1 of 2, yes that is right 2 places in the entire system of everything you may have entered where you can download/export that view into Excel/CSV file....everything else is PDF if you are lucky!! If you are a VERY small, VERY basic bookkeeping/accounting freelancer (NO TEAM, just you and very basic billing) - fine, it may work...but if you have more than 1 person in your team other than you, have different rates or even the SLIGHTEST out of the norm billing or cycles...GOOD LUCK!!! I am furious with this system after being told what it could do and I explained in detail, and "oh yeah, that is not a problem at all"...only to find out, everything I explained about what we needed, went in one ear and out the other just to make the sale...now I have a barely usable system and wasted $$$$!!
Cons: Can't export anything unless you have a developer standing bye.
System is very "inside the box" thinking even after being told it would easily do what I had explained that I needed it to do
support seems to take longer than usual and they are quick to respond with an answer that has NOTHING to do with what you originally asked (bots maybe?!?!)
Can't get a refund, no matter how many lies they told you to make the sale in the first place!!!
Vendor Response
by Paymo on 28/01/2020
Hi Cameron,
Sorry to see you disappointed. Our goal is to help you improve the way you work, not to sell you on something.
Indeed, you can export client, project, user lists, as well as time reports in csv format - invoices and Gantt Charts are available in PDF only.
However, due to the fact that there's no standardised data structure for project management data, the only practical way to export it is via our API.
And no, we're no bots, and don't force anyones hand to make a sale.
Reviewer Source

Reviewed on 08/01/2020
Ayman S.
Sr. Planning Engineer
Construction, 10,000+ Employees
Used the Software for: Free Trial
Overall Rating

Ease of Use

Features & Functionality

Customer Support

Value for Money

Likelihood to Recommend
Reviewer Source

Reviewed on 07/08/2021
"Utilizing paymo Now is a great time to track your projects."
Comments: Simplify the project follow-up and control process as much as possible. All members of the work team now have the opportunity to do so, because by assigning priority to each member of the team, all project priorities will be determined in the end, and following them will be a simple process that does not demand considerable effort.
Pros: Paymo streamlines the process of tracking multiple projects at once, allowing for effective and efficient project monitoring and follow-up on multiple activities in a professional manner, where you can easily find all required tasks, as well as all data and information pertaining to any of your projects. One of the leading ideas in project management is the participation principle, in which all members of the work team and stakeholders are partners in the follow-up and control of tasks, each according to his or her specialization, saving time and effort and resulting in humiliating results in the end. The program's archiving capability for all project data is unique, and it aids in the storage and retrieval of all data at any moment. Financial claims, completion rates, delayed activities, and risk analysis are among the reports you'll receive based on the information you submit. Finally, one of the most essential ways to improve the project team's performance is to save time and effort. Reducing office work time allows the project team to focus more on fieldwork, resulting in the project being completed on time, on budget, and to the appropriate quality standards.
Cons: Overall, I don't think there's anything I don't like about the application; it's easy to use and understand for all members of the team, and it applies novel display strategies.
Vendor Response
by Paymo on 23/08/2021
Hi Ayman,
Thank you for the kind words, although we don't have any risk analysis reports :D
Reviewer Source

Reviewed on 07/08/2021